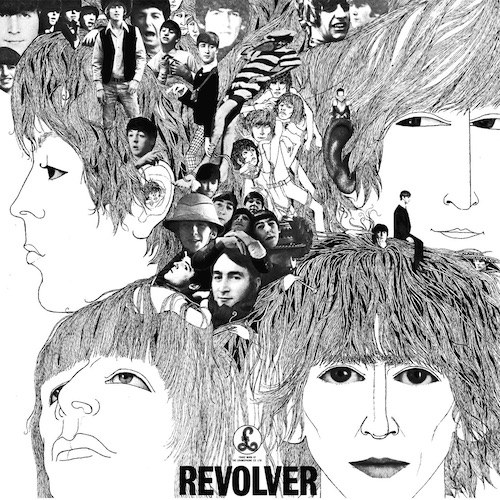 Revolver
1966, Parlophone. Producer: George Martin.
Purchased Vinyl, 1988.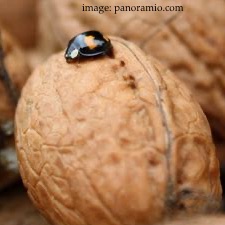 IN A NUTSHELL: Revolver has it all. Every song sounds new, and each has its own style. The band swerves from gentle love songs to caustic rockers; fun kids' music to heart-wrenching grown-up songs; Byrds-ian folk-rock to experimental drone. And throughout the record, the amazing vocals – harmonies, backup, lead – guitars, drums and bass remain intact. The playground that was the modern 1966 recording studio is added to that genius, giving the record the sound of four expert musicians (and an unmatched producer) in full control of all their powers having the time of their life.
NOTE: The setup – below the line ↓ – might be the best part … Or skip right to the album discussion.
~ ~ ~
And now: NUMBER 1!! But first – my favorite Beatles' ALBUM COVERS, ranked, in order, from #1 to #13.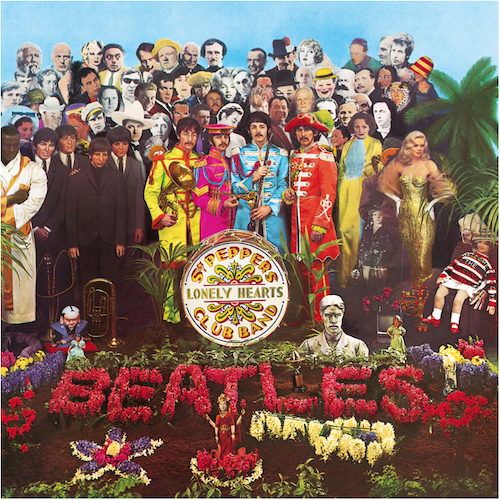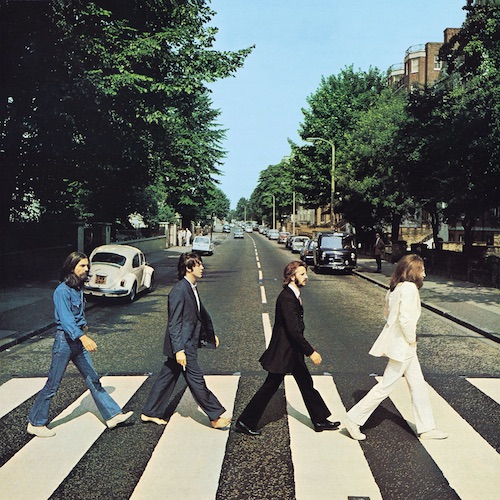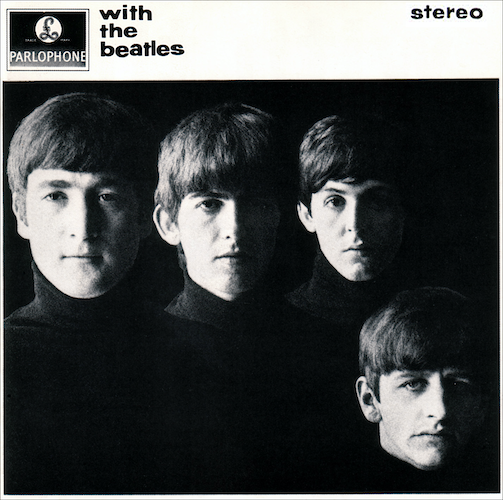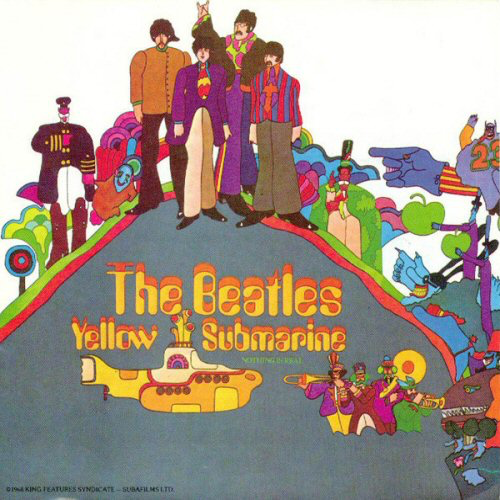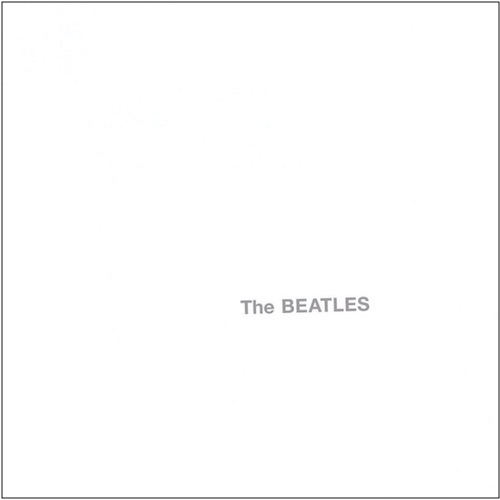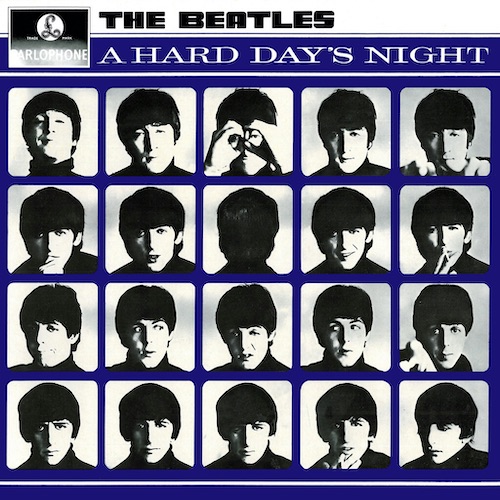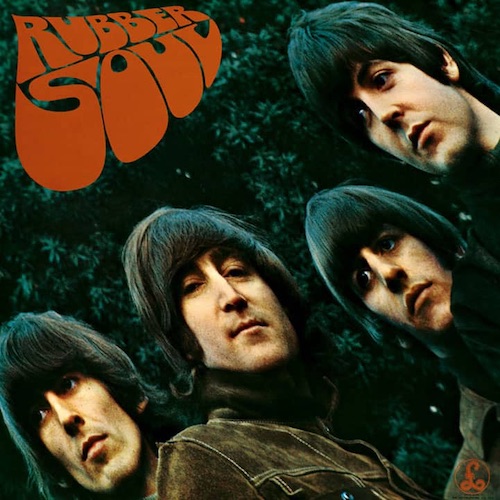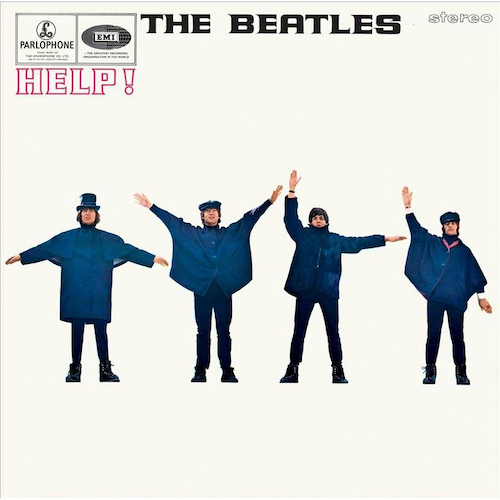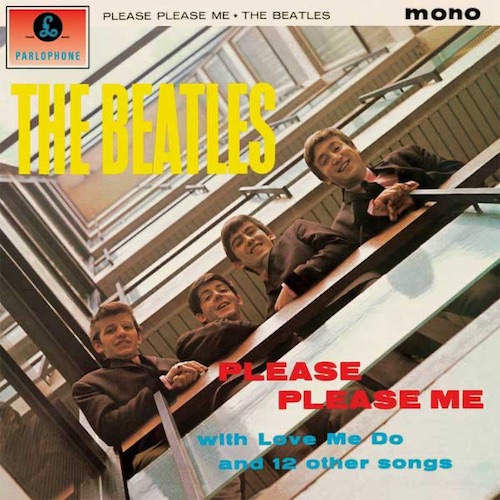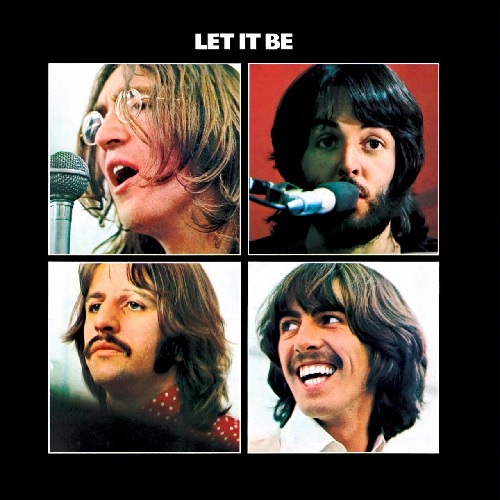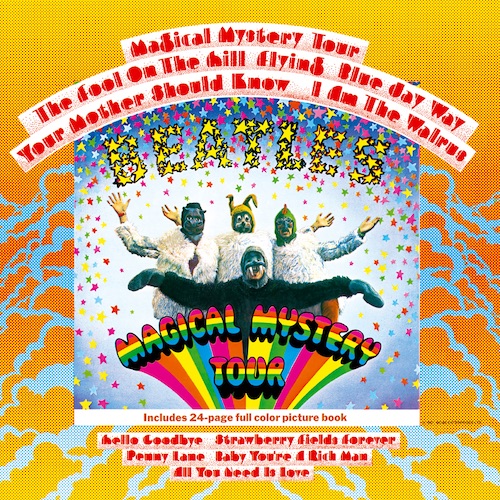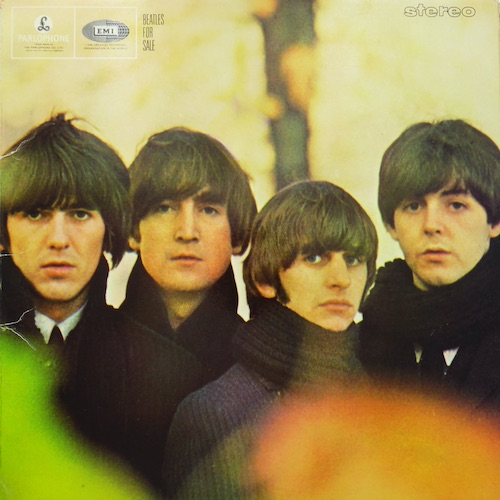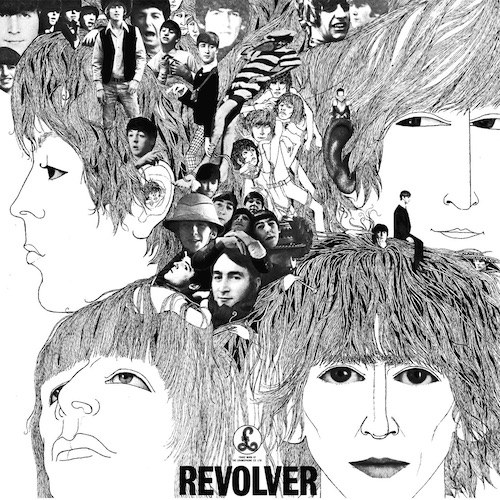 It pains me to say it, since I love love love the songs so much, but I just find this album cover … amateurish. To me it looks like a rough draft that was accidentally approved.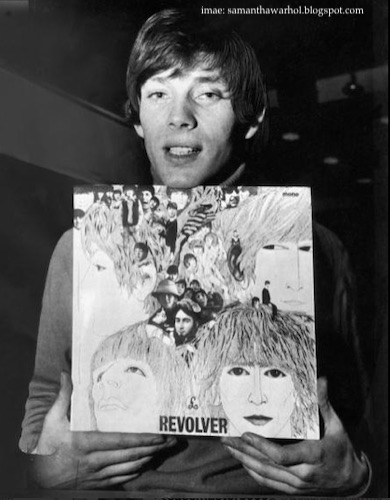 "Okay, Klaus," someone at Parlophone said to Klaus Voorman, the cover illustrator, an artist and Beatle-friend, and future Lennon bassist. "We'll go with this one!"
"Great, I'll get started on the final version."
"What? No – there's no time. We're just going to use this one – as it is."
"But all I've really finalized are the intricate strands of hair on the four large faces. The photos are just slapped in, the drawings are just sketches, it's incomplete … why, I only just gave Ringo and George the photograph eyeballs, and three of them don't have the photograph lips …"
"Thanks, Klaus. Goodbye."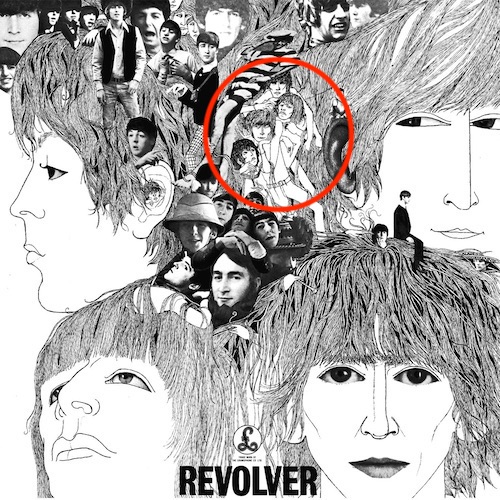 One thing that always confused me about the cover was the smaller line drawing between the larger heads of John and Paul. There are four images, four Beatles, one would presume. The bottom two are clearly John and Paul. But the top two … are they supposed to be George and Ringo?
I always thought they looked more like Keith Richards and Mick Jagger: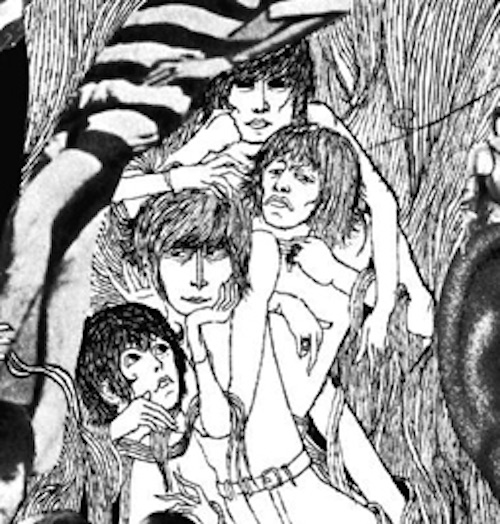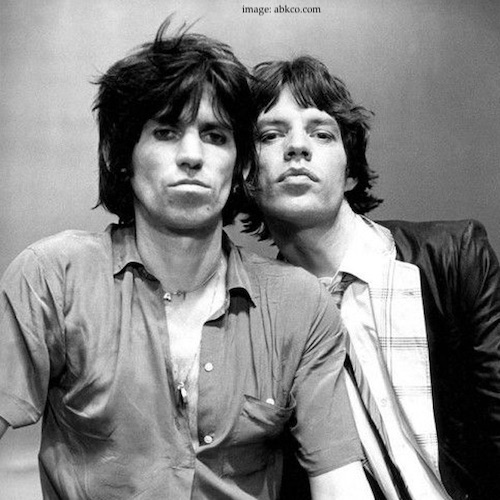 Starting at the bottom, Paul is gazing up and John appears self-satisfied, and then the "Mick" figure looks distressed. It's as if he's hearing the amazing songs on Revolver and thinking, "our songs are shit, aren't they[ref]To be clear, I do not think the Stones' songs are shit. (Mostly).[/ref]?" And the dark-eyed head above "Mick" must be zombie-eyed, drug-hazed Keith, sulking against a balled-up fist, no? For years I thought this was a great knock by one talented songwriting pair on another talented pair. After all, the bands had a well-known (and completely manufactured) rivalry.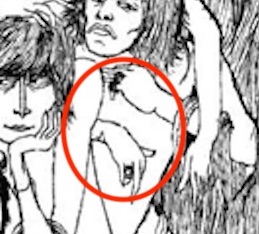 But I recently noticed something about "Mick," something that makes it clear I've been wrong. It also indicates that others may have told Klaus that they dug his Glimmer Twins stunt. He made sure that the person's namesake jewelry are clearly visible on both of "Mick's" hands.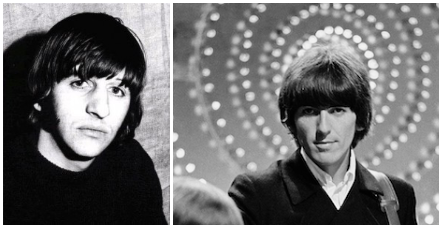 So I suppose it is The Fab Four after all, even though I'm not convinced the likenesses of Harrison and Starr are all that accurate. I'm especially unconvinced because I've seen several thousands of pictures of George and Ringo over the years, and I will bet everything I own that both men, in 1966, had, in fact, no more than two arms each. Yet, this doesn't appear to be the case on the cover of Revolver.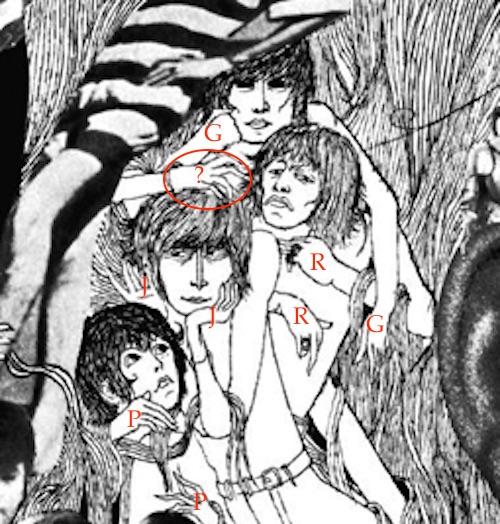 And there's one more question I have about the drawings: who the heck is popping out of Paul's ear, apparently listening with displeasure?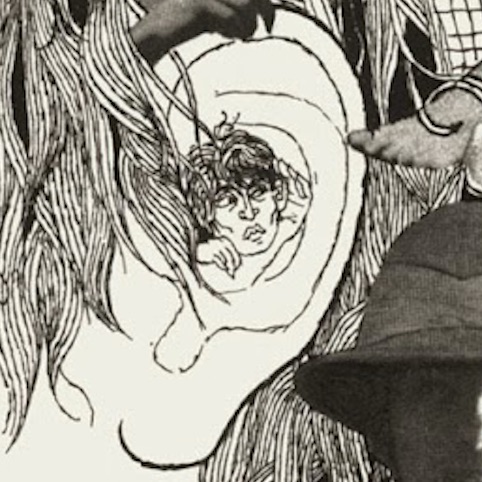 When I tried googling, I came up with a phony April Fool's column from 15 years ago, which claimed the figure is Paul. But it looks less like Paul than George and Ringo look like George and Ringo, so I don't buy it. Others on a Beatle Fan site say the figure is artist Voorman. Perhaps? He clearly wasn't great at drawing good likenesses of others, so one would expect a self-portrait would also be difficult. (Okay, that was a cheap shot. I can't draw AT ALL – and he's clearly an actual artist!) I would love to know who that is. If you know, please leave a comment!
But enough of the pictures … let's get to the sound. Strap in for a long post, as I've gotta go pretty deep on Number One! And Number One on Number One is "Taxman."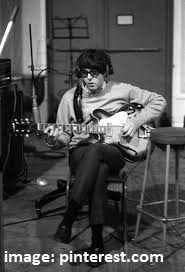 The Beatles have always known how to open an album. Please Please Me shot their canon out of a cannon with an urgent count-off. With the Beatles and Beatles For Sale opened with bare voices. A Hard Day's Night featured the most famous chord ever, and Help! a shouted plea. Rubber Soul began with a classic guitar and bass riff. In 1966, Revolver opens with a cough, a creepy fake count-in and then the real McCoy. "Taxman" is the first Harrison song to open a Beatles album, and it is a song that is equal to the task. The bass riff by McCartney is a rock classic, and Ringo's drumming (the fill at 0:21) and percussion (tambourine at 0:34, cowbell at 0:49) are excellent. Speaking of bass, check out what Paul does around 0:55 – he's incredible. He also played the George-esque, raga-inflected guitar solo at 1:13. The harmonies are terrific throughout, as George complains about taxes that, at 95% for the extremely wealthy in 1965 UK, do sound rather high[ref]Then again, if Bezos lost 95% of his wealth he'd still have $9B, and maybe we'd have a decent healthcare system. Oh, but I guess he did 'earn' all that money himself … get the fuck outta here.[/ref]. At 1:33 a guitar riff mirrors the bass, and it sounds so good! As does the outro solo. What a way to open a record!
And they follow it up with a completely different song, and a completely new pop sound: the string quartet!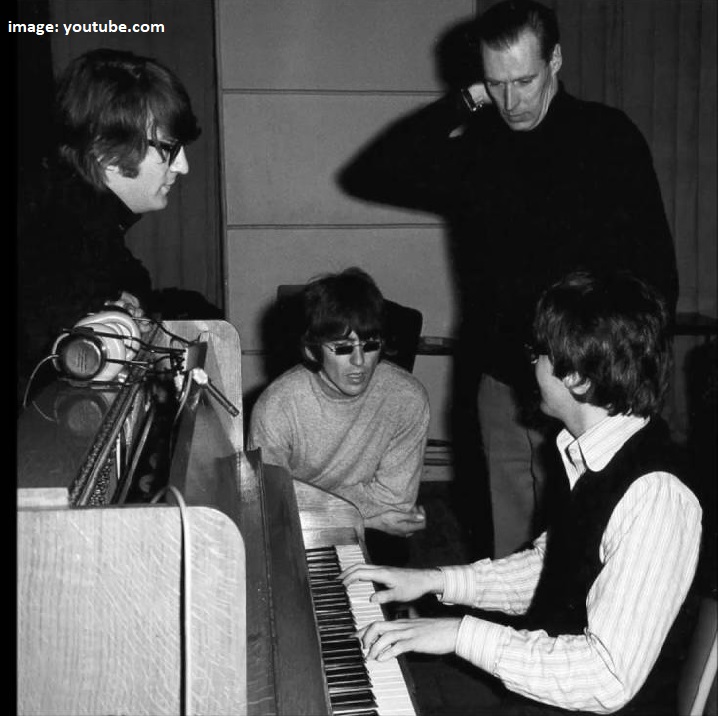 Actually, it's a double string quartet, a string octet, I suppose, and it gives the song a melancholia that perfectly captures the loneliness described in the lyrics. Paul sings lead, and the harmonies of John and George (which have their own Wikipedia section) are brilliant, as is the contrapuntal "look at all the lonely people." I like a variety of sounds and styles on my albums, which is a big part of why my #1 non-Beatles album is London Calling. After a guitar rocker and a string quartet, it's hard to predict what might come next.
How about a drowsy ode to … well, sleep, I guess? … that features guitar recordings played backwards?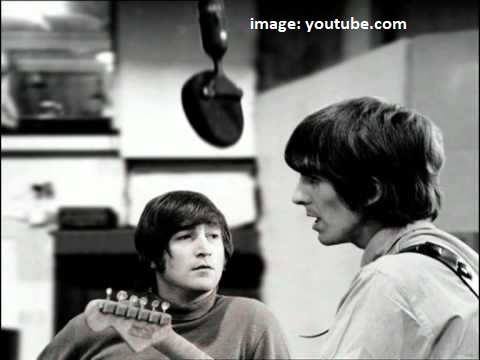 "I'm Only Sleeping" has a phenomenal sound. From the acoustic chord that opens the tune, a millisecond before John's lethargic voice, to the splashing thunk of Ringo's snare and Paul's relaxed bass line, there's a thick feeling of doziness about the track. When George's backwards guitar lines are added throughout, the result is a song that truly sounds like its lyrical content. The precise "ooos" and harmony backing vocals (I love Paul's "going by my window," at 1:16) are wonderful, and provide a dreamy sensation. When Paul yawns at 2:00, one wonders if it's real! But the song is not boring – that's what's amazing. It's an exciting, interesting song about sleeping. Genius.
So after those three songs, is there any way the boys can mix things up some more? How about an Indian-inflected song about the fleeting nature of life and a philosophy of how to proceed through it?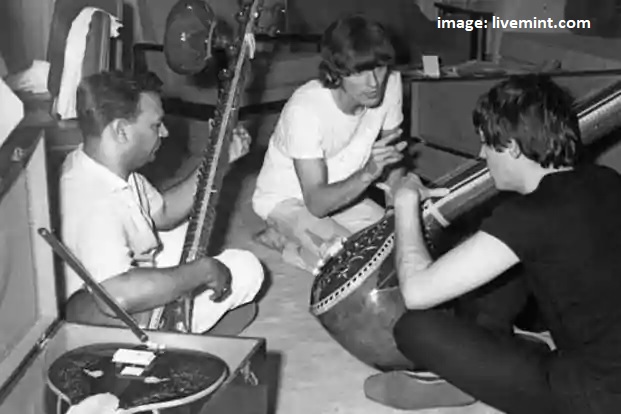 Yes, yes, it's certainly ironic that the man who just complained three songs ago about taxes would now be singing about the meaninglessness of money in the context of existence. Hey, people are complex, what can I say? As with "Within You Without You," on Sgt. Pepper's, "Love You To" is a song that has grown over the years into one of my favorites. George plays sitar on this song[ref]This is according to most references. Some have said it's an Indian musician.[/ref], including the 30 second opening of the song, and all the other instruments except the tabla and tanpura. The song has a lovely, droning sound, and it's enhanced by George and Paul's close harmony, as at 0:53. Revolver is a record of varying sounds, all of them interesting, and it's hard to imagine – after all this – what could possibly come next.
How about a brilliant love song, destined to become a standard?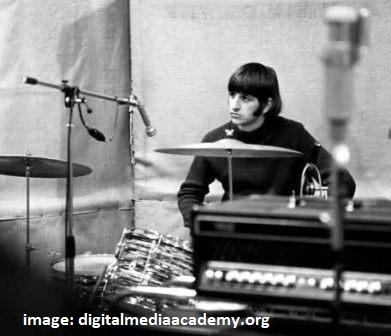 "Here, There and Everywhere" is a song I was fascinated by for years. I've always loved how clever the lyrics are. Verse one begins with the word "Here," verse two with "There," and the bridge prominently features "Everywhere." That kind of thing tickles my nerd brain. Often overlooked in the song are Ringo's subtle, orchestral drums. And how about the background harmony!! Holy moley!! George's guitar chords are lovely, as is his line that mirrors the melody in the "but to love her is to need here" lyrics. At 1:57 listen for the finger snaps that start – the kind of hidden treasure I love discovering! I'm never as big a fan of Beatles' love songs as I am of rockers, but "Here, There and Everywhere" is an exception. (Even though I'd prefer an oxford comma in the title.)
The band keeps everyone guessing at what's coming next on Revolver, and I'd guess that in 1966 few expected the band to release a full-on children's song.
"Yellow Submarine" is a fun one, perfect for Ringo's singing style. He gamely describes his seafaring experiences on the ship, and the background noises and voices of the crew have made it an ever-popular song. Of course, the band eventually made a cartoon movie out of the song. I don't have much to say about it. The band and their friends had a lot of fun recording the song, coming up with sound effects and funny voices.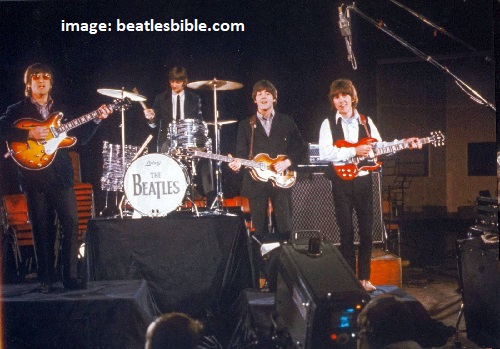 Childhood whimsy is pushed aside for the brash sounds, drug-induced words and changing meter of one of my favorite songs ever (but not my favorite on Revolver!), "She Said She Said."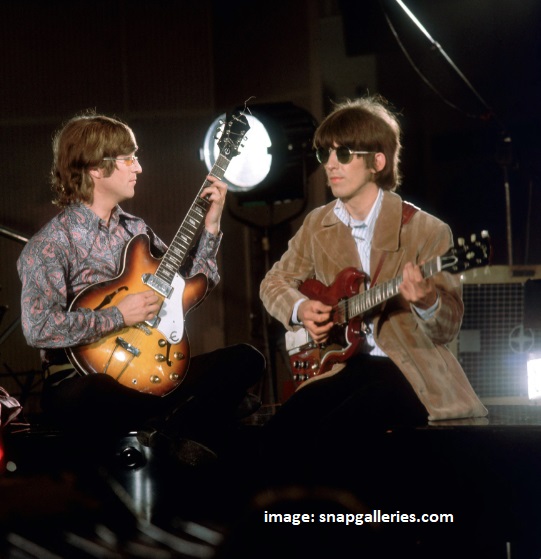 Harrison's guitar sound on the opening riff is distinctive, even disorienting, and then the bass, also by Harrison[ref]McCartney doesn't appear on the track. He left the studio due to an argument.[/ref], plays a single note while Ringo throws in an incredible fill to open things up. Lennon's lyrics are famously from an LSD-influenced conversation he had with actor Peter Fonda, and George provides some Paul-esque high harmonies. Check out Ringo's drums – just in the first 30 seconds! Throughout the song he's a monster. And what I really love are all the guitars! It sounds like there are a million. There's some cool finger-picking (or maybe just pick-picking) during the verses, and of course Harrison's metallic lead, and it's all supported by a faint organ underneath. As for song structure, they deftly (Thanks, Ringo!!) shift from 4/4 to 3/4 during the "When I was a boy" bridge. This song ended an amazing Side 1 (back in the day), and one would be right to think it unlikely that Side 2 could be quite as good.
But Side 2 may even be better!! John may have lamented Paul's "Granny" songs, but "Good Day Sunshine" is a classic number no matter how you describe it.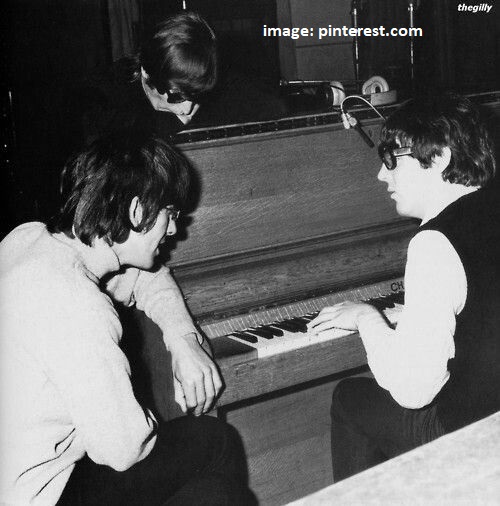 Lyrically, the song perfectly describes that feeling of being happily in love. The John and George harmonies are terrific, including John's spoken "she feels good," as is Paul's piano. George Martin actually plays the piano solo. It's just a happy little song, and the band does throw in the Beatley vocal outtro. Revolver just keeps getting better and better, more and more interesting.
And we've reached what is likely my favorite Beatles' song of all time, "And Your Bird Can Sing."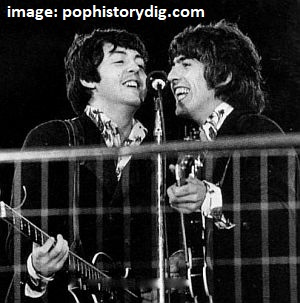 The dual guitar, played by George and Paul, is just amazing. Through the entire song, they create a riff that's practically a song unto itself. It opens the song, then from 0:37 to 1:20 a descending version is played through the bridge, then the intro returns, and the bridge is played once again. And behind the entire thing, Paul's bass is ranging far and wide, culminating in the final verse, where he plays a high triplet (1:25). This figure accents the close, three-part harmony in the third verse, the one where "your bird can swing." The lyrics are apparently about Frank Sinatra, John's take after reading a glowing article in Esquire on the by-then-out-of-fashion crooner. But we can never be sure because Lennon, the main songwriter, actually hated the song and barely spoke of it, except to say he disliked it. Well, John, I love it. I think you guys created a masterpiece. (If you want some laughs, listen to the Beatles Anthology 2 version, which sounds like a Byrds song, and features old pals John and Paul cracking up so bad they can't even sing!)
This album would already be my favorite if it ended right there, but five great songs remain! And since we've already heard a Paul love ballad, how about we hear a Paul break-up ballad.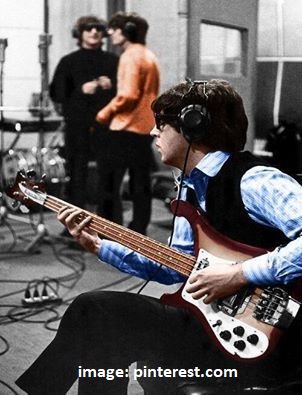 It's a sad song[ref]I've had friends listen to it on repeat after bad breakups.[/ref] about a relationship that's ended, and it includes what is probably the best use of a French Horn in all of rock. Also of note is McCartney's bass, which enters after two verses, at about 0:24. It's lovely, ranging very low (I wonder if it was tuned low?) and includes slides and staccato, really showcasing his all-around ability on the instrument. Only he and Ringo appear on the piece, apart from Alan Civil, the horn player. The entire song is Classic Paul.
So, Revolver must fall off at some point, right? Well, certainly not now, not when we're about to pay a visit to "Doctor Robert"!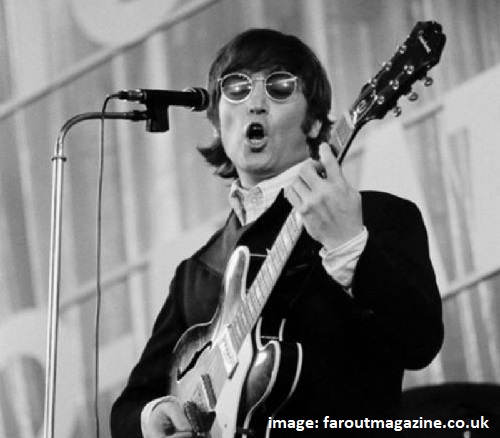 Doctor Robert is clearly an over-prescriber, but that's precisely why John is singing his praises. He sings the song with a bit of a lag[ref]This sound is apparently achieved by Automatic Double Tracking, technology developed at Abbey Road Studios specifically for Beatles records.[/ref], but a different energy forms when Paul joins in verse two (0:30). And the harmonies in the "he's a man you must believe" chorus (0:49) are outstanding! There's a subtle dueling guitar sound to George and John's riffing and rhythm throughout the song. I particularly love George's guitar at about 0:56, heading into the "well, well, well" bridge, a bridge with wonderful three-part vocals. George's guitar is great, as is his maraca playing! I couldn't mention "Doctor Robert" without also mentioning Dr. Dave, as this song is a favorite to play in our band, JB & the So-Called Cells. It was in learning to play and sing harmony[ref]If you ever want to learn the harmony parts to Beatles songs, check out this Italian guy on YouTube![/ref] on this song that I first noticed the times (1:39 & 2:04) when John and Paul sing "Doc Robert!"
George Harrison was known as "the quiet Beatle," and compared to the always-on Paul, the sarcastic John, and the quippy Ringo, he could seem shy and retiring. That persona (which from all accounts is not true) is captured int the fantastic ode to lovable-losers, "I Want to Tell You."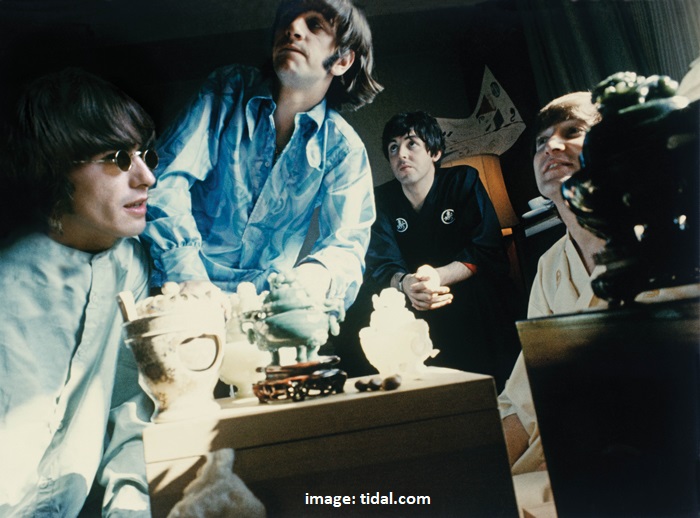 Look, I'm just saying, not necessarily from personal experience, that if you were a young college-age guy with not-great self-esteem and terminal timidness around women you found attractive, then this song may have connected with you. The song's great from the beginning, featuring a fade-in and rolling guitar riff, combined with Ringo's authoritative snare drum. John and Paul's backing vocals, as usual, are spot on, as is Paul's bass. George's voice is affecting, as he draws out the "Tee-ee-lll you …" And the dissonant piano in the second half of the verses is perfect. And how about that fill Ringo plays at 1:11! At the end (2:18), the boys sing a "melisma," a word I just learned two minutes ago.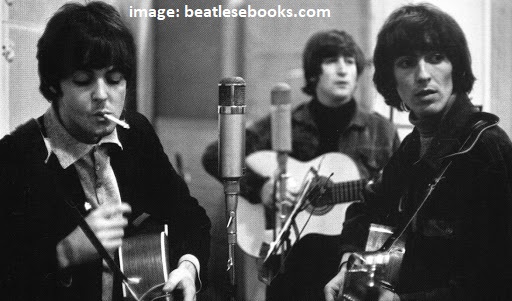 I hate to keep typing it, but it just seems like this record can't get any better, any more diverse, and then an R&B number appears! Paul's "Got to Get You Into My Life," which, oddly enough for a song recorded in 1966, was the last U.S. top ten song the band recorded together, hitting #7 in 1976[ref]"Free as a Bird" hit the top 10 in 1995, but that was a Lennon original to which Paul, George and Ringo added instrumentation and arrangement.[/ref].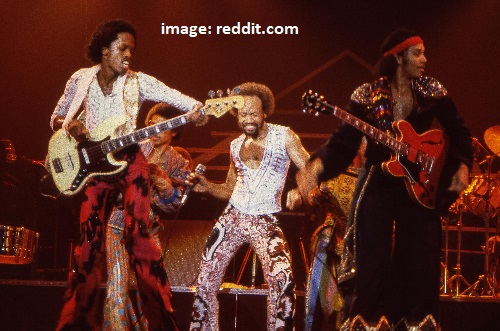 The first note I wrote about this song is "Ringo's hi-hat!" I love that sound against the cool horn fanfare. This is a fun song, and Paul's bass is terrific. It sounds like a magical, love-at-first sight number, but Paul has actually said the lyrics are an ode to pot! (Oh well – it can mean what you want it to mean!) There's not much guitar, until George enters at 1:49 with typical George-genius! Paul sings the heck out of the song, really using his best shout-y voice, especially on that outro! By the way, I don't love a lot of covers of Beatles' songs, but Earth, Wind and Fire's version of this song is pretty great (it has more guitar than the original!) and hit #9 in 1978 (and #1 on the Billboard's Soul Chart).
Okay, okay, for a final song on Revolver, what could The Beatles do to possibly cap off all of that? If you were a music fan in '66 and just heard all those songs, what would you expect to close the record? Could you even fathom something like "Tomorrow Never Knows"?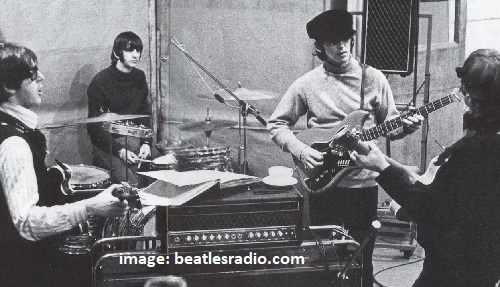 Ringo's snare and tom pattern drives the song forward continuously, as does Paul's monotone bass. Those seagull sounds are actually a tape loop of Paul laughing, distorted for the record. In fact, there are tape loops all over this song, providing an otherworldly sound that John was looking for. The lyrics are all about meditation and psychedelic drugs and way too much for me to go into here, but the title is never mentioned in the song[ref]It's apparently a phrase Ringo used, like "a hard day's night."[/ref]. It's a simple song, structurally, but so much occurs – the violin-like tapes at 0:40, the truck horn at 0:50, the squiggly solo at 0:59, George's backwards solo at 1:09 … I mean, I can't keep up. It's a sonic treat, and shows the band was – (is?) – just light-years ahead of the curve. This song had to be the final song on the album – there's nothing else they could have done!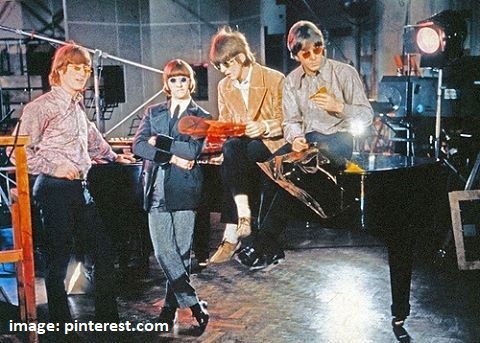 I've heard people say that this is the last song The Beatles should've released, that Revolver was the apex and should've ended it all. Many critics and music fans have called it the best album of all time[ref]Okay, sometimes they say "best Beatles' album," but come on – the best album by the best band means best ever, right?![/ref]. (Or thereabouts.) I agree that the band never was better, but I sure don't think that the remaining albums – Sgt. Pepper's, White Album, Abbey Road, Let It Be – were extraneous! And aside from all the music I loved on them, it gave them more time to perfect their album covers!
Keep watching this space – I'll be doing some more music writing soon! Just because The Beatles records are complete doesn't mean I don't have more to say!
TRACK LISTING:
"Taxman"
"Eleanor Rigby"
"I'm Only Sleeping"
"Love You To"
"Here, There and Everywhere"
"Yellow Submarine"
"She Said, She Said"
"Good Day Sunshine"
"And Your Bird Can Sing"
"For No One"
"Doctor Robert"
"I Want to Tell You"
"Got to Get You Into My Life"
"Tomorrow Never Knows"