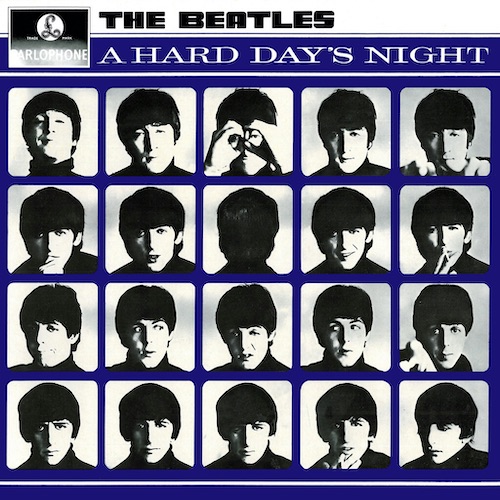 A Hard Day's Night
1964, Parlophone. Producer: George Martin.
Purchased CD, Approx. 1994.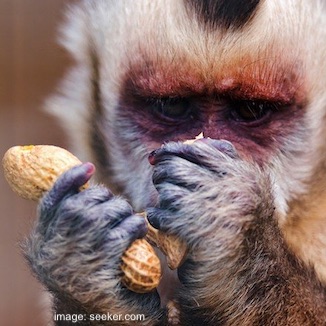 IN A NUTSHELL: A Hard Day's Night demonstrates everything about The Beatles that made them so brilliant in their early recording years. Before they ever added orchestras, psychedelia, and odd instruments, they were cranking out gem after gem. Their voices, songwriting and musicianship were beyond what was expected, especially for a teeny-bopper movie! This album leans heavily on John Lennon's talents, but each of the four shines throughout, and the songs are excellent even if you haven't seen the film.
NOTE: The setup – below the line ↓ – might be the best part … Or skip right to the album discussion.
~ ~ ~ ~ ~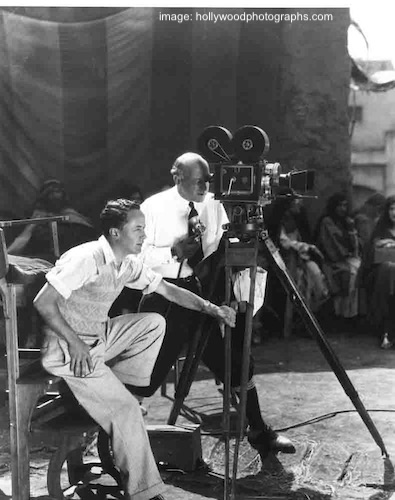 Since well before actors' voices were heard, movies have included music to enhance the action shown by the flickering lights on the big screen. Before sound was added to films, movies would often be shown with a full orchestra accompaniment. Other times, a single piano would play music. In small towns where nobody knew how to play the piano, often a single guitarist might play along. The point is, music can make a movie. That's always been the case.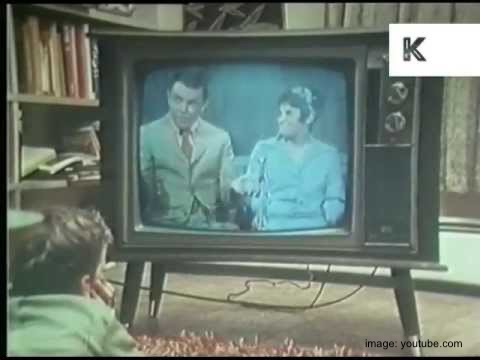 I've loved movies since I was a little kid in the early '70s, when, due to some fluke of community planning, my rural Pennsylvania township had cable TV well before the rest of America did. This meant I got to watch movies on TV channels from Philadelphia, which was 100 miles (or 50 years) away from us. This is before pay-channels, like HBO, so the movies were interrupted by commercials and had all the bad words bleeped out. But they had music! And I loved watching movies and hearing songs in them.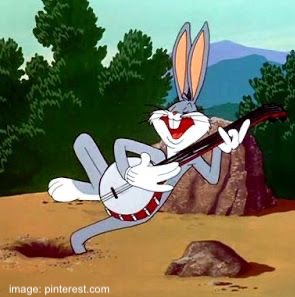 Actually, my love of film music was first sparked by perhaps – no, not perhaps, it's definitely true – by THE FINEST performer that has ever graced a movie or television screen: Bugs Bunny. Bugs could sing, everything from opera to folk, he could play banjo, guitar, harp, fiddle, piano, even conduct an orchestra. Though he wasn't familiar with them at first, he eventually even mastered the bagpipes. Watching hours of Bugs each week primed my brain for a lifetime of enjoying music in movies.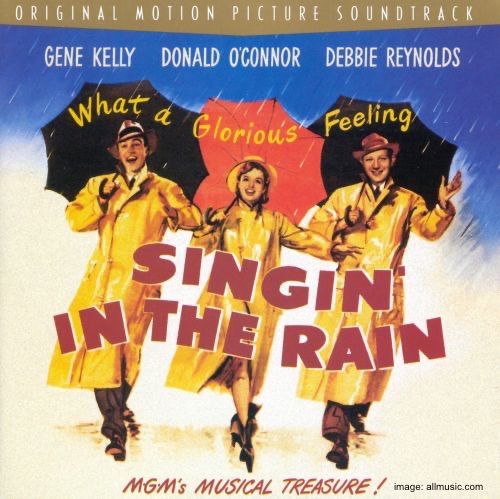 My mom also helped develop my love by playing her Broadway show 8-tracks all the time. From listening to them I expected music to help tell a story. But even though I'm a fan of musicals, from Singin' in the Rain to Grease to Purple Rain to LA LA Land, a movie doesn't have to be a musical to have a great soundtrack.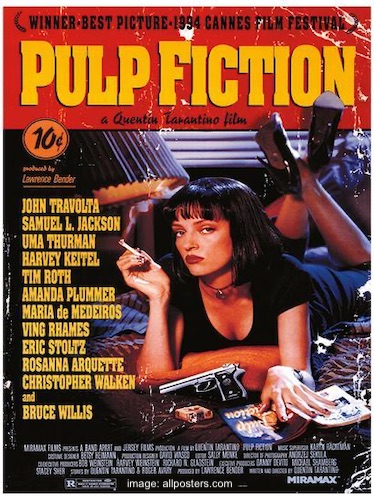 Pulp Fiction has one of my favorite soundtracks ever, and I'm not alone. The record usually appears somewhere on all of the "Best Soundtracks" lists you see out there. There are songs from Kool and the Gang and The Statler Brothers and everyone in between. From the opening credits through all of the iconic scenes, and even in the background (which is where I discovered Maria McKee, and one of my favorite albums), this soundtrack has great, diverse songs that didn't used to seem to fit together, but now sure will forever.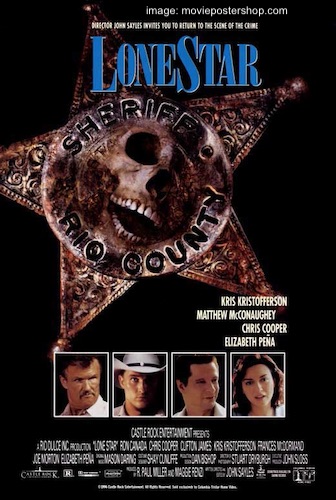 A lesser-known film from the 90s, yet equally terrific and also with a tremendous soundtrack, is the 1996 John Sayles film Lone Star. It's set on the Texas/Mexico border, and the music sets the tone perfectly. From Texas blues to Tejano to sultry jazz, the songs always set the scene for the action. All of the songs were unfamiliar to me, yet I still left the theater wanting the soundtrack – an impressive feat for a film. In the early web days of the mid 90s, I learned the perils of online shopping due to this soundtrack. I tried to buy it online and instead ended up with some lame country band[ref]Hey, the band may be great but I really don't like any country music unless it was made before about 1973.[/ref] also called "Lonestar." If you ever get a chance, check out the movie and music sometime!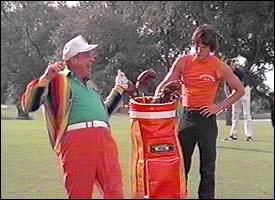 Sometimes movie music isn't even about the entire soundtrack. Sometimes it's just a terrific song behind a great scene, like John Candy doin' the mess-around in Planes, Trains and Automobiles. Or the Caddyshack scenes in the pool, on the golf course, or inside the country club. There's Paul Newman riding a bike in Butch Cassidy and the Sundance Kid. And Napoleon Dynamite dancing. Or Scarlett Johansson and Bill Murray doing karaoke in Lost in Translation. Music can make a scene unforgettable.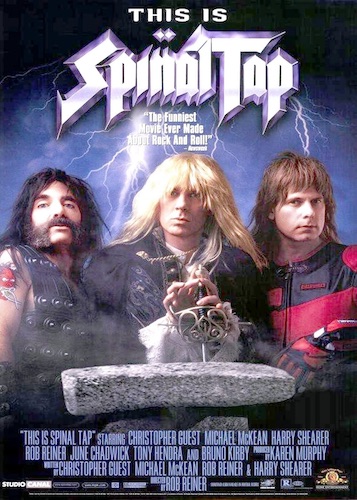 And then there are all the terrific movies about bands and musicians that have amazing music. For comedies there's This is Spinal Tap. Fear of a Black Hat. And The Blues Brothers, although unlike the first two, the Blues Brothers band is a group of real musicians. (This is Spinal Tap is by far the funniest film of the three. Perhaps of all time.) And there are more band movies (real and fictional), like Yellow Submarine and Gimme Shelter and The Last Waltz and Human Highway and Rock 'n Roll High School and Ladies and Gentlemen, The Fabulous Stains and Stop Making Sense and 1991: The Year Punk Broke and That Thing You Do! and School of Rock and 8 Mile and Shut Up and Play the Hits and Straight Outta Compton and on and on and on. I haven't seen all of them, but I will.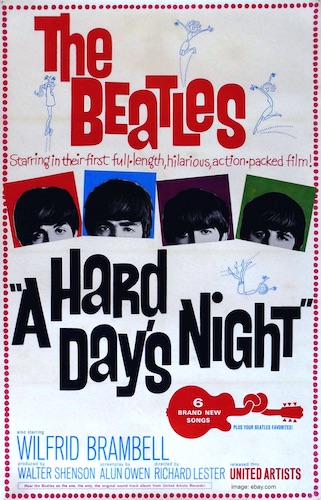 One of my favorite soundtracks is from a movie that I've only seen once, years ago. People find it hard to believe, but I actually bought the soundtrack several years before I ever watched the movie because – to be honest – I'm more interested in the music than the film. This isn't typically the case with movie soundtracks. But with a band like The Beatles, the typical is atypical. And with an album as great as A Hard Day's Night, I sometimes forget it's a soundtrack.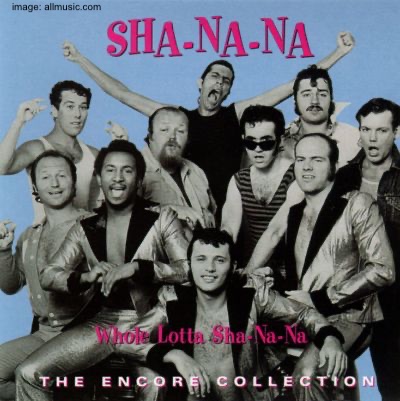 Early in my Beatles-loving career, in high school and college, I dismissed any Beatles songs before about Revolver, in 1966, as moldy oldies, bubble-gummy "yeah yeah yeah" pop that to my (immature) ears sounded about as interesting as the doo-wop songs Sha-Na-Na covered. In the early 90s, I carpooled to work with a woman named Ximena, who's now one of my oldest friends. She was the one who told me I should listen to A Hard Day's Night. (We may have played it during our commute, but usually we listened to 80s stuff.) I trusted her musical opinion, so went out and bought it, and I immediately realized these songs were neither moldy nor oldie-sounding. The songs sounded as fresh as any guitar music on the radio, and the album still sounds great today.
From the opening chord on the opening title track, perhaps the most-studied and most-discussed two seconds of music ever recorded, A Hard Day's Night delivers great sounds and songs throughout.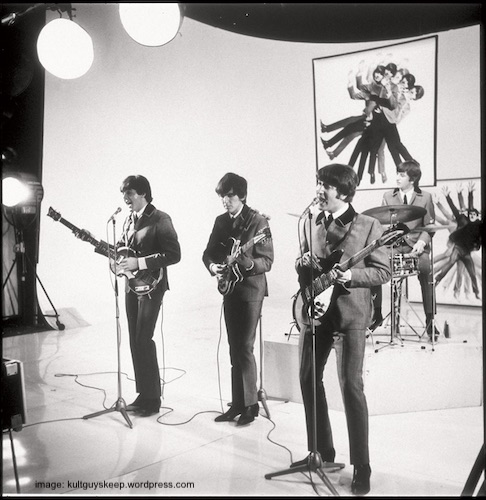 What a showcase for the singing of Lennon and McCartney! Both voices are double-tracked, John on the verses (which is where the title is sung, which is odd), McCartney on the choruses (which are the same each time, but don't include the title, which is odd), and they sound terrific! I love Paul's cool little bass noodle thing he plays to accompany Ringo's toms after each verse. It's hard to hear unless you listen with headphones, but it's great. George has a nice, fast, 12-string guitar solo that producer George Martin doubles on piano[ref]Martin couldn't play it fast enough, so he actually played the piano half-speed, and in a lower register, then speeded up the tape so that it fit with the song! How cool is this band and its producer?[/ref]. And Ringo's insistent cowbell through the chorus is the first of many percussion implements he'll use throughout the album.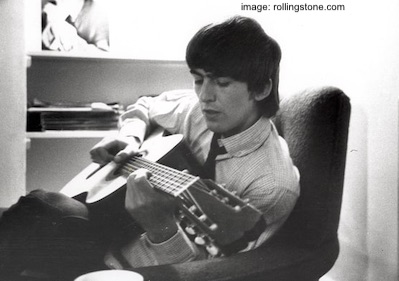 A Hard Day's Night is really very much a Lennon album. He wrote most of the songs (of course, all are credited to Lennon/McCartney) and sings most, too. "I Should Have Known Better" is one of the last Beatle songs to feature John playing harmonica[ref]I believe "I'm a Loser" was the final one, but don't quote me on that.[/ref], and also features a nifty chord change going into the chorus. (It's another song that has the repeated title in the verse instead of the chorus.) George deftly changes chords and strumming patterns throughout the song. It's not my favorite song, and neither is the Lennon/McCartney song that George gets to sing, "I'm Happy Just to Dance with You." Although, Ringo is credited with playing an "African Drum[ref]I don't know what that is, really. It's a pretty broad category.[/ref]," whatever that may be, and it sounds really cool. George didn't get any of his own songs on the record, but he sings this love song just fine.
While John's often associated with the more rockin' Lennon/McCartney pieces, he gets sentimental on the lovely "If I Fell."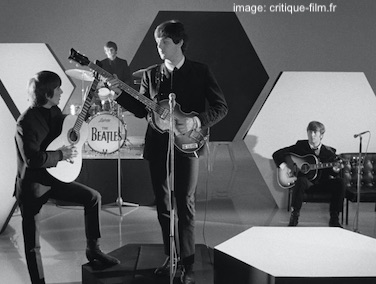 I've always loved this song about the desire for new love to last. John and Paul's harmonies are perfect, although on the stereo version of the song, at the end of the second bridge, Paul's voice cracks (1:45), a charming faux pas, in my opinion. George plays a simple solo, and Ringo does a great, subtle job holding it all down. Paul gets to show off his own love-songwriting chops on the ballad "And I Love Her." Ringo picks up bongos and a pair of claves this time, and George adds a terrific classical guitar line throughout, and a nice solo.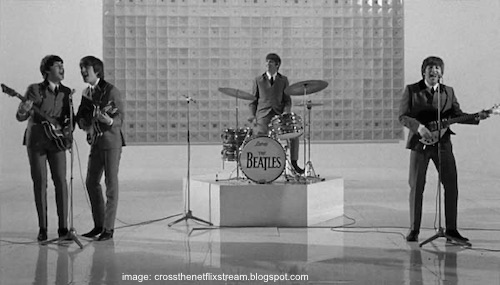 After all that lovey-doviness, the boys need to pick things up, don't you think? And they do it in fine fashion with a couple rockers. First comes the awesome three-part harmony of "Tell Me Why." While John, Paul and George pull off those amazing vocals (about another girl who done John wrong), Ringo is playing cool fills and pushing the band toward the climactic falsetto of "is there anything I can do?" (1:32). Next the absolute classic "Can't Buy Me Love" rocks even a little harder[ref]If you're questioning whether it really rocks, check out this live clip from 1964.)[/ref]. Paul's bass is bouncy, George plays one of his best early-Beatle guitar solos (at 1:18 you can hear a faint, second solo in the left speaker), and the lyrics are not about a prostitute.
For my money, A Hard Day's Night really picks up on what used to be known as (in the days when records had two sides) "Side 2."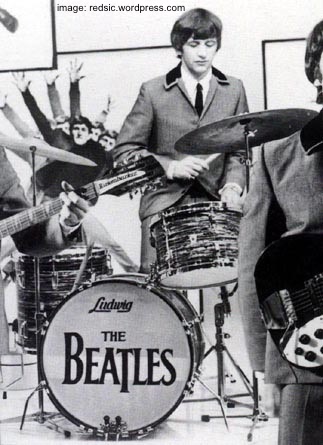 Side 2 opens what a slam on Ringo's snare drum, as "Any Time at All" begins, one of my favorite Beatle guitar songs. I love Harrison's riffs throughout. And in addition to Ringo concluding each verse with a 'thwack,' he also breaks out his trusty cowbell once again. John sings lead again, but Paul adds the second, higher-pitched "Any Time at All." It's a fun song, and the next one, "I'll Cry Instead," is fun, too, despite its sad-sack lyrics. It's one of those Country-Western style Beatle songs that Ringo usually sings. (Since Ringo didn't get a song to sing on A Hard Day's Night, I wonder why they didn't give him this one?) George nails the rockabilly guitar, and Paul has a sort-of-not-really bass solo (1:05 & 1:35).
Next comes one of my all-time favorite songs, "Things We Said Today."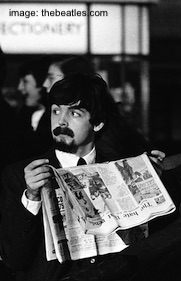 I've written many times that lyrics are not usually what draws me to a song, but one of the reasons I love this one is the lyrics. The idea that what we're saying today, especially as young lovers, will become tomorrow's happy memories is such a sweet, romantic idea. Paul sings lead, and the harmonies George adds (i.e. "someday when I'm lonely") are perfect. I really dig Lennon's acoustic guitar strumming throughout, and how Ringo emphasizes things in the bridge (1:00). It's a tremendous "Paul song," one of my favorites.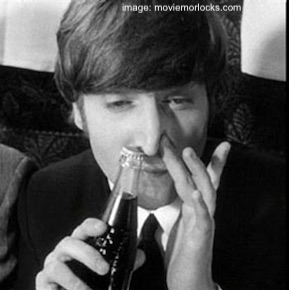 But A Hard Day's Night is really mostly John's. "When I Get Home" is about a man waiting to get home to his girlfriend, and is the only song I know that uses all five syllables of the word "trivialities" in metered, rhyming verse. The intro is pure Ringo. It's a decent song, but I'm a much bigger fan of John's "You Can't Do That."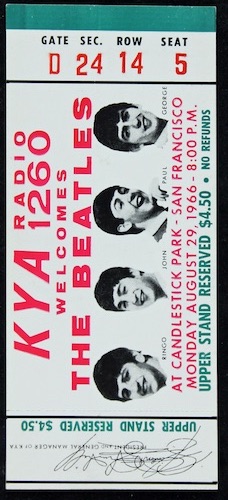 In the 90s, when I was carpooling with Ximena, who'd extolled the virtues of A Hard Day's Night, we worked with an older guy named Paul who'd seen The Beatles live – TWICE! He saw them in San Francisco at The Cow Palace in 1965, and at their LAST CONCERT EVER[ref]Not counting the rooftop Let It Be performance.[/ref], at Candlestick Park. Of course I spent hours talking Beatles with him when I should have been running lab experiments, and he even showed me his Candlestick Park Beatles ticket stub. Anyway, he told me "You Can't Do That" was always he and his friends' favorite Beatles song – because of the super-cool guitar riff that Harrison and Lennon play. I love the riff, too. And listen to Paul's awesome, twirling bass line! (The guitars and bass really come alive on headphones.) I also really dig Ringo's drums – and his trusty cowbell. The harmonies are sweet ("gree-eeen") on John's tough-guy lyrics. But what I really love is the ending, as the band slows things down and then gently slides up to that final note. It's subtle things like this that set The Beatles apart: a throwaway album track that was cut from the film, yet they can't help but add some artistry to it.
The album closes with a promise from the band: "I'll Be Back."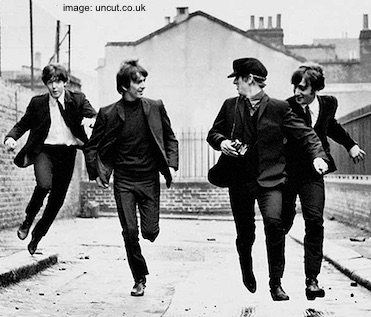 The harmonies, on rather-stalkerish-but-of-the-era lyrics, are fabulous, Harrison's acoustic guitar riff is lovely, the syncopated strumming behind the verses is cool, and it's got a shifting time signature, throwing in a 2/4 measure after the "oh, oh"s (0:40). Then it has a really weird, rather sudden fade out. Not to get too interpretive, but considering the song's title, it's almost like they're saying, "don't worry, we'll be back … we wouldn't leave you hanging like that!"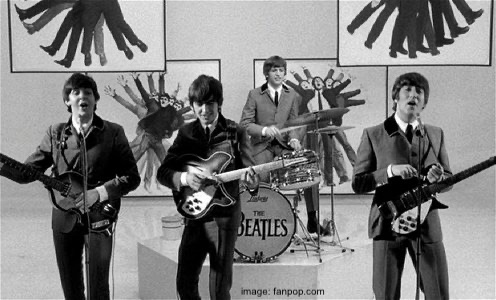 And return they did, the following year, with another movie, and another soundtrack. There was nothing this band couldn't do. I don't know why I didn't get into this album earlier, since it sort of harkens back to the TV days of my youth. A Hard Day's Night shows The Beatles were almost as talented as Bugs Bunny! (Almost.)
TRACK LISTING:
"A Hard Day's Night"
"I Should Have Known Better"
"If I Fell"
"I'm Happy Just to Dance with You"
"And I Love Her"
"Tell Me Why"
"Can't Buy Me Love"
"Any Time at All"
"I'll Cry Instead"
"Things We Said Today"
"When I Get Home"
"You Can't Do That"
"I'll Be Back"