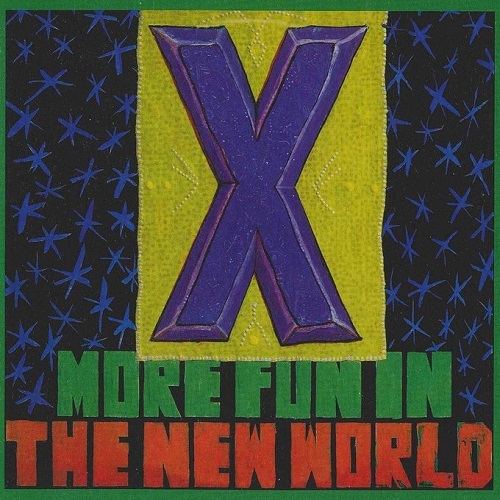 More Fun in the New World. X.
1983, Elektra Records. Producer: Ray Manzarek.
Purchased CD, 1995.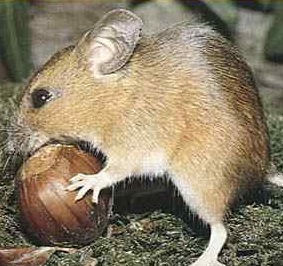 IN A NUTSHELL: More Fun in the New World, by X, is a punk record with more to offer than just slamming and raucous energy – although it has that in spades. Singers Exene Cervenka and John Doe find unusual harmonies on wordy songs about regular folks with regular problems. Guitarist Billy Zoom is a rockabilly wizard, and drummer DJ Bonebrake plays every genre with style and energy. It's a fun, flaming masterpiece.
NOTE: The setup – below the line ↓ – might be the best part … Or skip right to the album discussion.
~~~~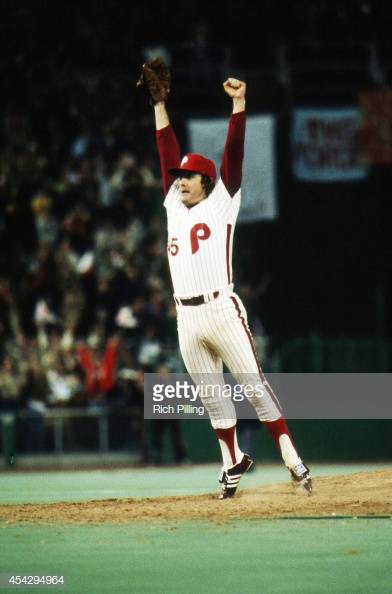 I don't think it's an overstatement to say that one of the top seven happiest days of my life[ref]Since this whole blog is about ranking things, I might as well put this in terms of rank.[/ref] was Tuesday, October 21, 1980. On that night, at approximately 11:20 pm, EST, a couple hours past my 8th grade bed time, I watched on TV as the Philadelphia Phillies won their first ever World Series championship.
I can still feel the goosebumps as, under an old afghan blanket my grandma had knitted, I lay on the couch – as still as possible, so as not to jinx any of the game action – and watched Kansas City Royals centerfielder Willie Wilson swing through a high fastball from Phils reliever Tug McGraw to end the game, and the series. After four years of playoff-caliber teams, My Phillies had finally won The World Series.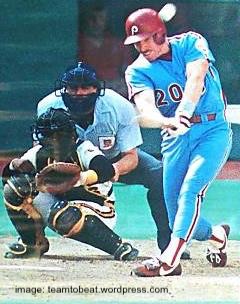 My interest in the team waned over the next 12 years as the Phillies fielded mostly dreadful teams with forgettable players. That's a stretch that can cause anybody to stop caring.
By the time the Phillies made it back to The World Series, in the fall of 1993, I hadn't been paying close attention to them in years. I was living in San Francisco and had spent the summer reading about their games in The Chronicle. I couldn't believe that the year I moved away from the team was the year they were finally good again! I couldn't wait to sit down and enjoy my team face off against the Toronto Blue Jays.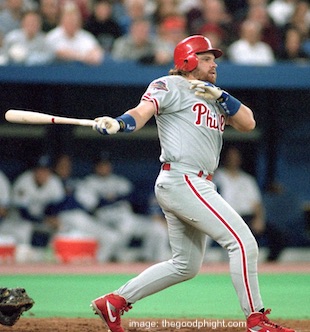 Another thing that happened in 1993, for which I was as equally unprepared as I was for a championship-caliber Phillies team, was meeting a beautiful young woman named Julia. We were introduced by Mimi, a woman I met in acting school and who worked as a waitress with Julia.
I was new to the city, or, rather, The City, so Mimi introduced me to all her friends, and by late summer of '93 I was a regular at parties thrown, or attended, by Julia and Mimi and all of their friends. We were all in our mid-20s, having a blast in an incredible city, and that summer just seemed magical.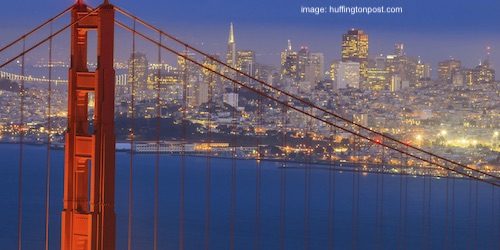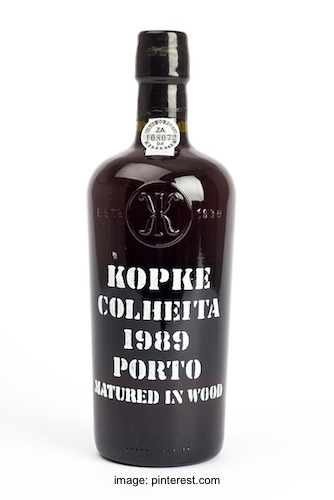 Julia and I hit it off, as friends, from the very start. We danced into the wee hours at The El Rio, in The Mission District, the very first night we met, then went to El Zocalo for pupusas after that. She was funny and smart and strong and interesting, and perhaps most importantly: she laughed at my jokes. We were friends first, then after a couple months our romance got off to a weird start thanks to a bottle of Port wine that, apparently, I thought was grape juice, given the volume I consumed. Soon after that, she asked me if I wanted to go get sushi with her.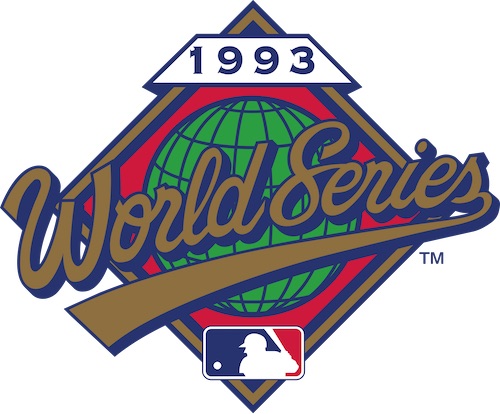 I immediately said yes, agreed to the upcoming Saturday night, and immediately realized that Saturday was Game 1 of The World Series. Yes, The World Series, October, 1993, featuring The Philadelphia Phillies for the first time since 1980, when they'd brought me one of the greatest days of my life. First pitch was scheduled to start at just about the time I would be ordering unagi sushi and maguro sashimi with a woman I liked and who I wanted to impress. If I told her I had to cancel for my favorite baseball team, would she ever want to go out with me again?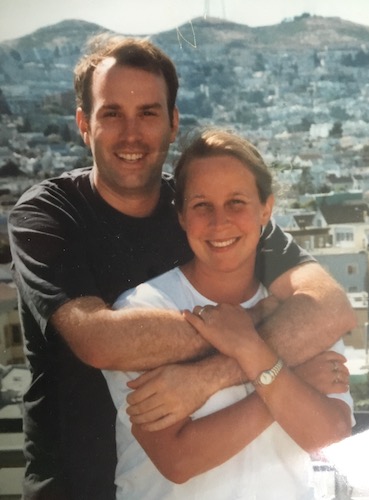 I went out for sushi. Julia wore a belt with a baseball belt-buckle. She's always maintained that my missing a World Series game was evidence of how much I liked her from the start. I've always maintained I was simply being polite to a new friend. I'm here today to set the record straight: I really wanted to go out with her instead of watching The World Series. You were right, Julia! (She's never doubted it. And she's also pointed out that I could have postponed and she'd have understood!) We've been together ever since.
I've written before about Julia's interest in music: she loves music, but isn't obsessed with artists[ref]Except for Billie Joe, from Green Day, who fascinates her.[/ref] or albums. She doesn't always remember song titles or band names, but she knows what she likes. When we got together, I immediately went through all of her cassettes and found all kinds of great music I'd never listened to much before: Fishbone, Jimmy Cliff, Prince, Stetsasonic … But the band she introduced me to that I've loved the most is the band X.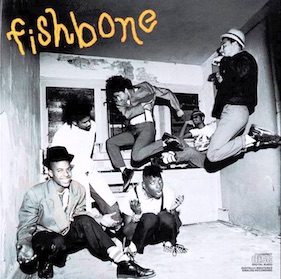 One of the great things about Julia is that she always has a we-can-solve-it attitude toward problems, and this allows her to look at challenges in a different light and come up with clever solutions. An example of this is her cassette copy of the album More Fun in the New World, by X. It was a cassette she duplicated from an album someone had in college. Whenever I listened to her copy, one of my favorite songs was the opening track: "True Love Pt. #2." On her copy, it was also the closing track. On the official album, "True Love Pt. #2" only appears once, at the end.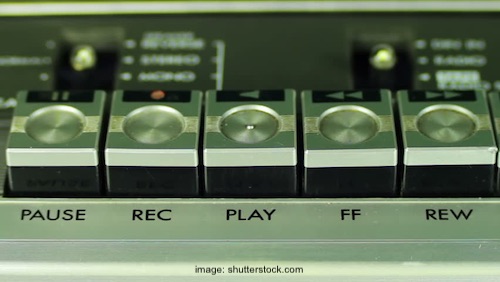 I asked Julia why she recorded More Fun in the New World out of order, and included a song twice. Bear in mind that in those non-digital times, one couldn't simply press a button to hear a track. Hearing a track on a cassette involved the tricky, time-consuming business of fast-forwarding and rewinding until you homed in on the silence before a song. So why was her cassette out of order? "The last one is my favorite song on the record," she said, "so I put it first so that I could hear it just by rewinding to the beginning." And why twice? "It's my favorite, so I'll hear it twice!"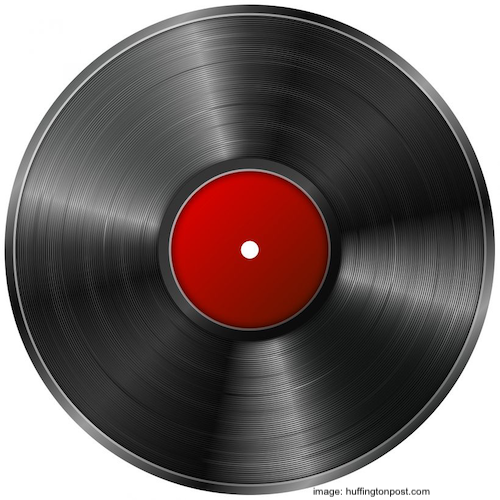 This explanation describes so much about her, about our differences, and about why I love her so much. To my mind, and many album fans, the album is a collection of songs, placed in sequence carefully by the artist, to be enjoyed as a whole piece of art. When making a copy of that art, it is imperative to keep it intact, as the artist intended. But Julia assesses situations differently. To her, it's just a bunch of songs, and it's your cassette. You can do anything you want! This is the spirit I love: You Can Do Anything You Want[ref]I should say she's a very moral person, too, so "Doing Anything You Want" does not include unethical, immoral, unkind actions. I don't want to give the impression she's some weird Rand-ian, Objectivist Asshole. She is not.[/ref].
I realize that in this age of Spotify and playlists, decades past cassette-duping as a common act, and well into the decline of THE ALBUM as an artistic statement, this story might not deliver as much impact as it once did. But for someone like me, who grew up worshiping the mighty album as the pinnacle of rock/pop music artistry, Julia's actions were astounding! She put the LAST song FIRST!! Then left it on TWICE! It blew my mind. She's always challenged my thoughts and beliefs, and this has made me a better person.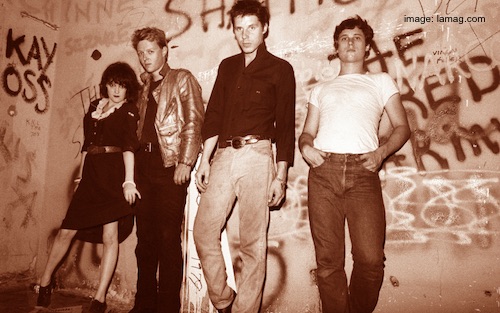 And I think I'm also a better person for having been introduced to X! They're a strange band, a bit rockabilly, a bit punk, with odd vocal harmonies on songs with lots of words. But they kick ass, they're thoughtful, and their songs are melodic and cool. For example, the true opening track of More Fun in the New World, "The New World."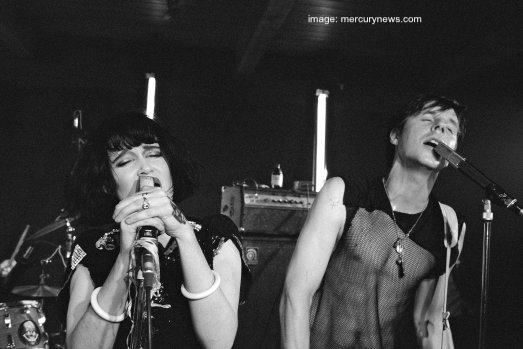 The song opens with a guitar fanfare from ace rockabilly guitarist Billy Zoom, then gets right into a description of the decline in American manufacturing after Reaganomics, although they cleverly call the leader "What's-His-Name," allowing it to be a timeless song aimed at any political persuasion. One of the key facets of X is the co-lead vocals of then-husband-and-wife team, bassist John Doe and Exene Cervenka. They sometimes sing the same notes, an octave apart, and they sometimes find odd harmony notes, and it always sounds great. As with many other acts I've discussed, I don't mind the unusual vocal sounds of X. On this song, the pair blend nicely. Doe's syncopated bass during Zoom's guitar line is really sweet. It's a cool opener, subtly majestic.
The next song is sort of the co-title track, along with song one, of More Fun in the New World, and together they provide a good definition of the band. Whereas "The New World" is melodic and cool, "We're Having Much More Fun" is the other side of X.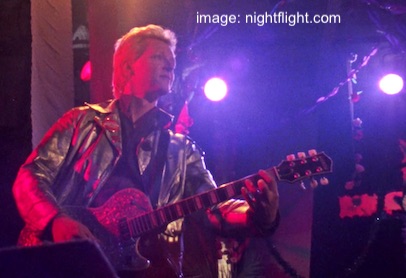 Billy Zoom is one of those guitarists who rewards close listening. Throughout this song, he adds little grace notes and riffs that sound terrific, for instance, around 0:32, where he places a curlicue before the band enters the chorus. Drummer DJ Bonebrake (who, remarkably, is the only band member whose stage name is their actual, given name!) pushes the tempo as the band hits the chorus. Exene and John sing about Los Angeles, one of their favorite topics, and even though I don't wanna crawl through backyards and whack yappin' dogs, they sure make it sound like fun!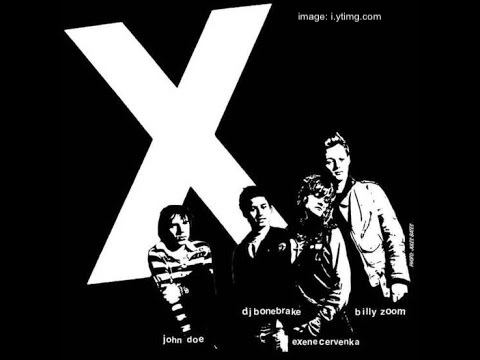 The next song, "True Love," keeps the energy high. The song is another incredible display of guitarist Zoom. His leads after each chorus are high energy, rockabilly blasts. Exene takes the lead this time on lyrics in which the Devil uses his pitchfork to force you into True Love.
The band settles down a bit next on the excellent "Poor Girl."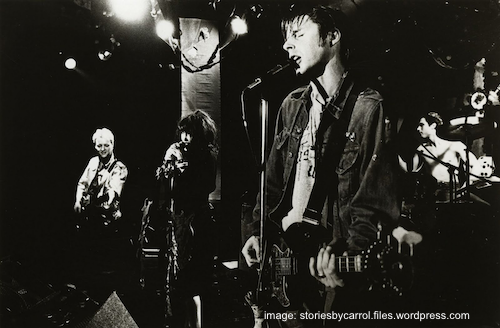 This one features John Doe tearing up the lead vocals. The lyrics seem to be about a couple in the throes of heroin addiction, full of violence and apathy and regret. It's clear that part of the reason the "Poor Girl" is poor is because the singer is a lousy partner. Drummer Bonebrake lays down a Bo Diddly beat in the verse, then pushes the tempo on the chorus, and Zoom's riffs always sound perfect. It's almost the quintessential X sound, whereas the next song, "Make the Music Go Bang," IS quintessential X.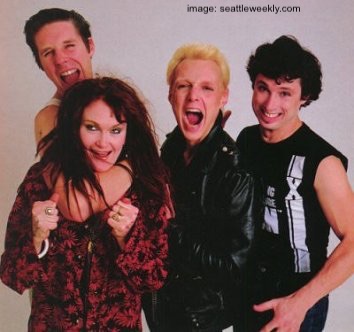 I've always thought the perfect title for a biography of the band would be X: Make the Music Go Bang. (Brilliant, Charming and Nasty). This song is one of my favorites on More Fun in the New World, although this album makes it difficult to pick a favorite. This is really a showcase song for guitarist Zoom, who plays a variety of solos, a great example of one being at 1:00. Doe and Cervenka share lead vocals in their typical style, Bonebrake provides a train-beat (referenced in the lyrics), Doe's swooping bass is cool as shit, and the energy of the whole thing makes me want to dance and jump around.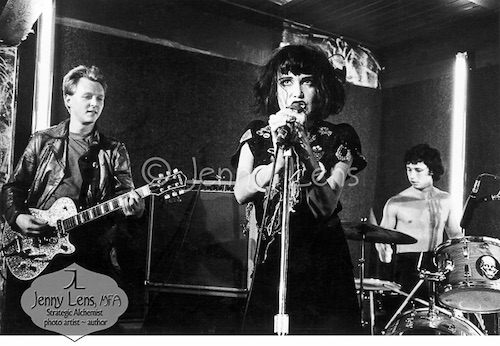 The band makes quick work of the old Jerry Lee Lewis number, "Breathless," which was featured in the Richard Gere movie of the same name (and which I saw the band play on David Letterman in my teen years). It really shows off Cervenka's voice, and is fast and furious, as is the out-of-control rave-up "I See Red," a sort of hate-song, as opposed to a love-song. "Drunk in My Past" is a pretty accurate first-person account of alcohol abuse set to a rock/swing beat with cool Zoom guitars.
What sets X apart, for me, from the usual punk-y rock band is the variety of songs styles and topics, and More Fun in the New World has lots of variety. A great example of their ability to do more than songs for moshpit soundtracks is the terrific "I Must Not Think Bad Thoughts."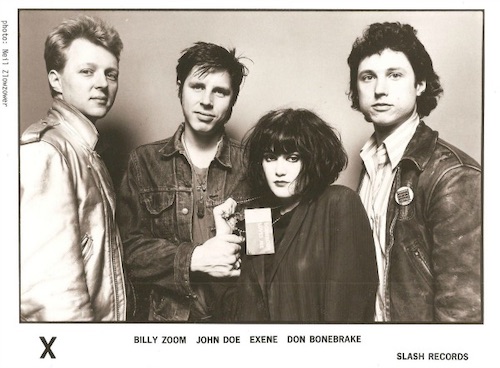 The song is a jaunty number, and Cervenka and Doe immediately state what it's about: "The facts we hate …" The song is a list of what troubles the band – the futility of two-party politics, the responsibility citizens bear for their government's actions, even the lack of radio airplay for American punk bands. It's all set on top of Zoom's subtly brilliant guitar and Bonebrake's powerful drumming, and it builds nicely to the end. It's not the usual punk number.
After "I Must Not Think Bad Thoughts," More Fun in the New World contains a run of three songs that together make up one of my favorite trifectas on any album. The first is the infectious "Devil Doll."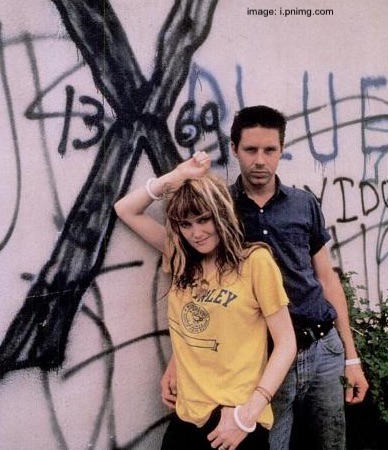 This song is furious and fast, and guitarist Zoom hits new heights in his playing. His solo at 1:30 is one of the best, perhaps topped only by his closing solo beginning at 2:33. The song is powered along by Bonebrake's freight train pace, as Doe and Cervenka sing about, well, a woman with a crazy look. It's raucous and wild and is followed by the equally raging "Painting the Town Blue." This one tells the story of a woman with problems who's leaving her asshole man. John Doe's bass line is fun and bouncy, and the song has an unstoppable pace that makes me want to dance or yell or fight – so, maybe join a mosh pit? The band always has great energy, and their musicianship is top notch.
Next in the great trio of songs is a bit mellower, but great nonetheless, the rocker "Hot House."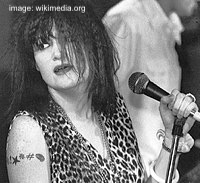 It's got that introductory guitar, a bluesy, slinky feeling, and Doe voice is strong on lyrics that suggest a poor couple in love, perhaps using too many chemicals? The line "The whole world loves a sad sad song/ That they don't have to sing" is brilliant, as are many of the band's lyrics. I haven't spent much time on them, but they're worth paying attention to. Exene Cervenka is a poet, and the first songs the band wrote were her poetry set to music by John Doe. Sometimes they're touching portraits of folks on the edges of society, sometimes they address issues, and sometimes they're simply a celebration.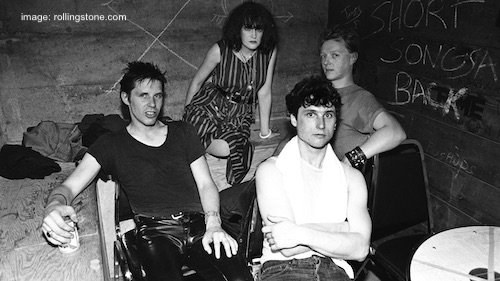 Such as my wife's favorite song on the record, the one she had to hear twice, "True Love Pt. #2," which is a near-funk workout with lyrics that are a celebration of musical influences.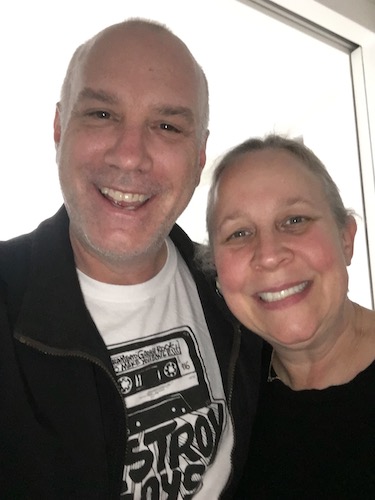 It's one of my favorites, too. I like the groove, I like the guitars, I love the lyrics calling out songs from Tammy Wynette's "D-I-V-O-R-C-E" to "I've Been Working on the Railroad." It's a fun song which bears repeated listening.
More Fun in the New World has two songs titled "True Love," three, if you play one of them twice. Maybe that's what this #3 album is all about – for me, anyway. I can't listen to it without being astounded by all the great songs and superb performances. And I can't listen without thinking about Julia! Thanks for introducing it to me, J!
TRACK LISTING:
"The New World"
"We're Having Much More Fun"
"True Love"
"Poor Girl"
"Make the Music Go Bang"
"Breathless"
"I Must Not Think Bad Thoughts"
"Devil Doll"
"Painting the Town Blue"
"Hot House"
"Drunk in My Past"
"I See Red"
"True Love Pt. #2"