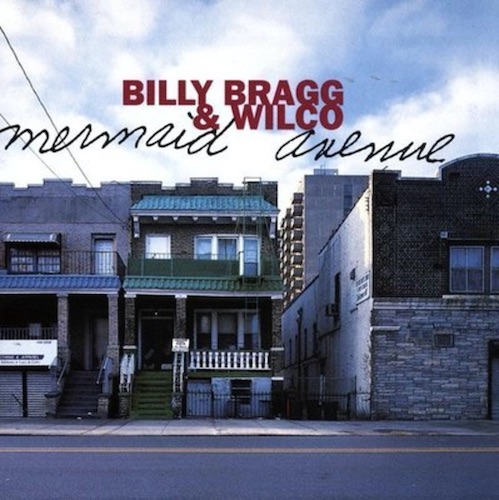 Mermaid Avenue
1998, Elektra Records. Producers: Billy Bragg, Grant Showbiz & Wilco.
In My Collection: CD, 1998.
(Five minute read)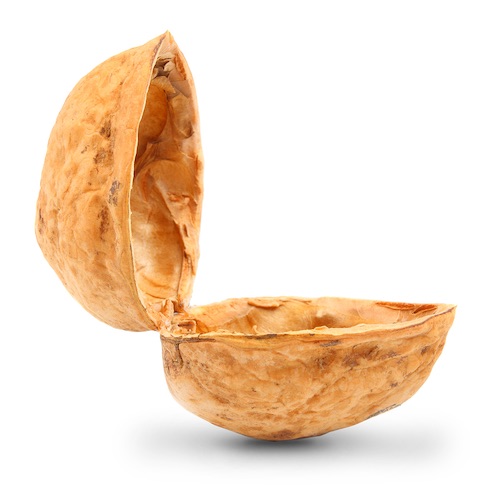 IN A NUTSHELL: Mermaid Avenue is a record whose sum may be greater than its parts, which is really saying something considering its parts are Woody Guthrie, Billy Bragg and Wilco. Bragg and head Wilco man Jeff Tweedy penned classic Americana tunes for Guthrie's lost lyrics, and the result is a treasure. From sad, lonesome cowboy songs to kids tunes and silly love songs, the amalgam works on all levels. Bragg and Wilco wisely allow the lyrics to shine through melodies.
THEORETICAL PLACE IN A FUTURE TOP 100 LIST I'LL NEVER WRITE: Top 40.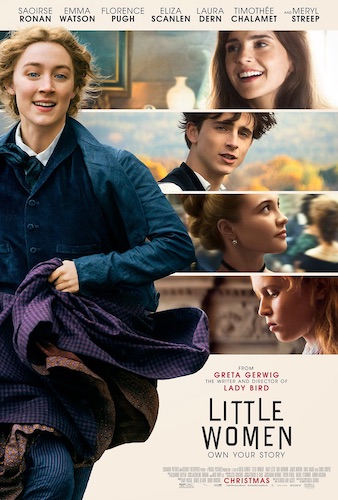 There are, in the history of the creative arts, some really lousy-on-paper ideas that, in practice, produced excellent works. Recent examples include a hip-hop musical about the life and works of the US's first Secretary of the Treasury; a cartoon about anthropomorphized animal actors in Hollywood; and the 900th retelling of a classic American novel, this time on the Silver Screen. All of these – Hamilton, BoJack Horseman, and Little Women, respectively – were much, much better than I ever expected. However, the fact remains that most lousy-on-paper ideas turn out lousy.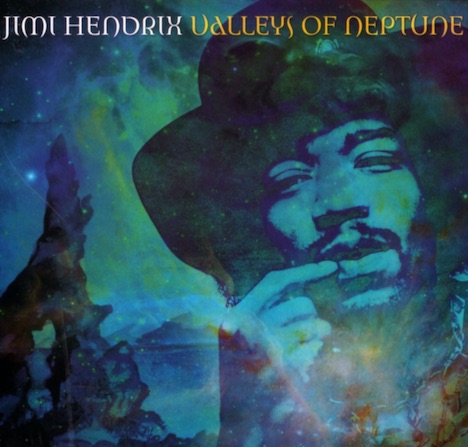 Nearly guaranteed to be the lousiest of the lousy-on-paper ideas in popular music are those of the "posthumous release" variety. As a huge fan of both Jimi Hendrix (an artist with more than 80 albums released by various ghouls since his death in 1970) and The Beatles (who released this song in 1995), I'm aware of the spotty nature of such endeavors.
The idea of a posthumous release seems even lousier when it's attenuated to a degree that no longer involves actual recordings, or even complete songs of an artist. To compound the perceived lousiness one could take the fragments from an artist dead thirty years, who wrote songs in a genre that's waned in popularity in the interim, and give those fragments to other unpopular artists to complete and record.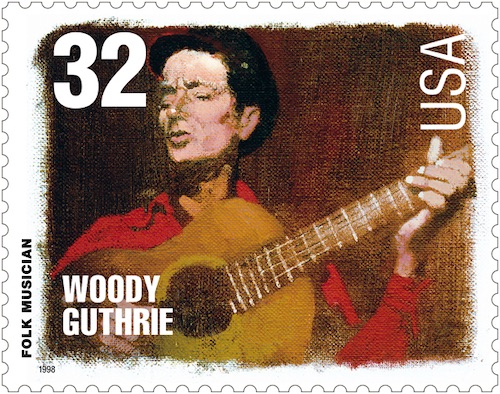 This is the (admittedly un-generous) story of Mermaid Avenue, a brilliant record of Woody Guthrie lyrics set to music and performed by Billy Bragg and Wilco. Guthrie is a folk icon who penned my choice for US National Anthem, "This Land is Your Land." Bragg is a UK punk troubadour/ provocateur whose excellent songs were largely overlooked in the US. Wilco is … well, Wilco; basically an alternative country-rock band led by Jeff Tweedy that blurs musical lines and has a (dare I say?) Deadheadish cult following.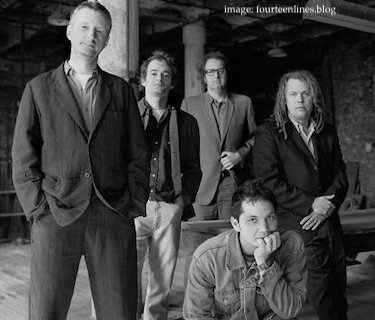 It's a 15-song album, so I'll quickly dispatch with the particulars. Upon his death in 1967[ref]From Huntington Disease, which is a horrible way to die.[/ref], Guthrie had left behind thousands of lyrics with no music. His daughter, Nora, thought some should be set to updated musical styles so they could be heard by a new generation of music fans, so she contacted Billy Bragg. He got Wilco onboard, and they wrote some music – some songs together, and some separately. Thus Mermaid Avenue, named after a street near Coney Island where Guthrie once lived, was born.
"Walt Whitman's Niece," kicks off the record, a bouncy tune from Bragg. It's perfect for Guthrie's vaguely naughty, shaggy-dog story about two men following a pair of women up some stairs, and the book of poetry they found. Apparently.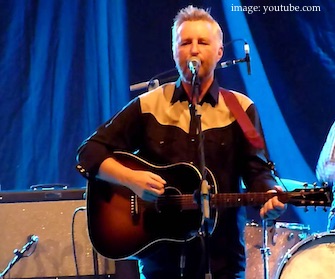 The song sets a simple blueprint for Mermaid Avenue. If you have lyrics from one of America's best-loved songwriters you're not going to obscure them with a bunch of complex musical ideas or blazing feats of instrumental virtuosity. Bragg and Tweedy give the lyrics lovely melodies to follow and set them within arresting and emotional musical arrangements. They're the kind of songs you hear once, then find yourself humming the rest of the day.
For example, "California Stars," penned by Jeff Tweedy and his late bandmate Jay Bennett.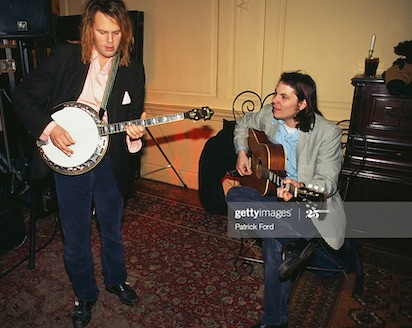 It's a beautiful, country-western ode to both love and home. Tweedy's voice isn't strong or perfect, but it's certainly full of feeling and charm. In fact, one thing that makes the record so good is that neither Tweedy nor Bragg have a particularly exceptional vocal instrument. But they imbue the lyrics with warmth and character that resonates. In "Way Over Yonder in the Minor Key," Bragg exemplifies this notion, singing "ain't nobody that can sing like me" in a voice that isn't great, but carries great weight.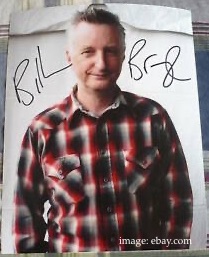 Natalie Merchant, of 10,000 Maniacs, sings harmony on that song, and takes lead on "Birds and Ships," a song about longing that I'm not wild about. (I'm not too keen on her voice.) But "Hoodoo Voodoo" is a fun one! It's a nonsense kids' song, but Tweedy and Wilco give it their all, with clanks and boings and an energy that conjures images of my kids dancing around the room when they were little. Bragg and Wilco collaborated on that one, and also on "She Came Along to Me."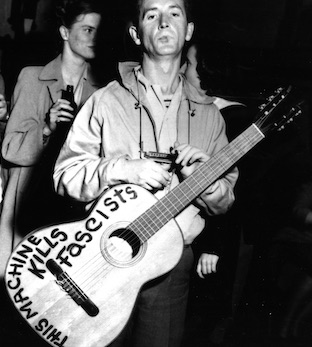 It's another jaunty number, sung by Bragg, with a nice slide guitar solo and some cool-sounding harmonica throughout. It's one of my favorite songs on Mermaid Avenue due to Guthrie's brilliant lyrics. It starts off as a tribute to his woman, to all women, and to the differences that make couples work. Then it takes that thought to the logical conclusion of a blending of humanity that makes physical differences disappear. Then it offers hope that "maybe we'll have all the fascists out of the way by then." It's a clever, yet powerful, song, especially given the recent years in America. I'm sure we're farther away than he thought we'd be by 2020, but then again ten thousand years is a long, long time.
"At My Window Sad and Lonely" is the type of sad, country song, with organ, dulcimer and acoustic guitar, that Wilco does brilliantly. "Ingrid Bergman" is a cute solo Bragg number about the movie star, reminiscent of his own works – just guitar and voice. "Christ for President" has good lyrics, but it really gets pretty repetitive.
"I Guess I Planted" breaks things up with a jazzy, bouncy beat and a dynamic melody. It's practically a show tune.
As with "She Came Along to Me," the lyrics start in one place and take you somewhere else. This time it's about how a song starts as a seed of an idea, then becomes stronger when it's put together with other songs. This leads into a terrific sing-along chorus about the Labor Movement, and what it's done for everyone. There's cool organ and a bit of lead guitar riffing throughout from Tweedy. It's a great song, probably my favorite on the record.
Another beautiful sad number from Tweedy and Wilco, "One by One" flows like a wistful river, recounting a lost love. It's the type of song never to listen to when you're heartbroken. Or maybe it's the best type. "Eisler on the Go" is a protest song from Bragg about HUAC victim Hahns Eisler, but I find it a bit too sleepy to connect with it.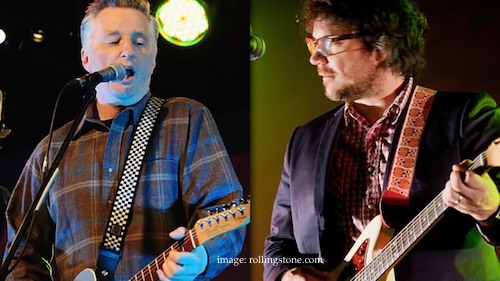 Guthrie's cute, mid-20th century takes on love and courtship are quite charming, and "Hesitating Beauty" falls into this genre. Tweedy wrote the classic, twanging music, and it's fun one. The brief, yet deep, "Another Man's Done Gone," was written by Bragg, but its sorrowful content shines in Tweedy's soulful croon.
The album closer "The Unwelcome Guest" is an instant classic.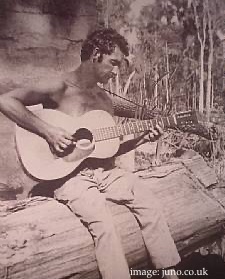 It's a first-person account of a mid-century American Robin Hood, a cowboy with a trusty horse, Black Bess. It may be the perfect blending of Guthrie, Bragg and Tweedy. The lyrics are deceptively simple. They have a moral center of The Common Good, but the narrator is doubtful of his actions. Yet he's also sure they'll continue after he's gone – which is both hopeful ("My guns and my saddle/ Will always be filled/ By unwelcome travelers/ And other brave men/ And they'll take the money/ And spread it out equal/ Just like the Bible/ And the prophets suggest") and depressing ("But the men that go riding/ To help these poor workers/ The rich will cut down/ Like an unwelcome guest.") Bragg's unadorned voice is perfect for the character, and Tweedy's thin harmony vocals provide a beautiful, mournful counterpoint.
Mermaid Avenue was a terrific idea, well-executed. Afterwards came Mermaid Avenue Vol. II and a box set with outtakes, Mermaid Avenue: The Complete Sessions. Doubters, like me, were wrong. So go out and try to make your crazy creative ideas work. They might turn out better than you'd think!
TRACK LISTING:
"Walt Whitman's Niece"
"California Stars"
"Way Over Yonder in the Minor Key"
"Birds and Ships"
"Hoodoo Voodoo"
"She Came Along to Me"
"At My Window Sad and Lonely"
"Ingrid Bergman"
"Christ for President"
"I Guess I Planted"
"One by One"
"Eisler on the Go"
"Hesitating Beauty"
"Another Man's Done Gone"
"The Unwelcome Guest"