Appetite for Destruction. Guns N' Roses.
1987, Geffen Records. Producer: Mike Clink
Purchased ca. 1990.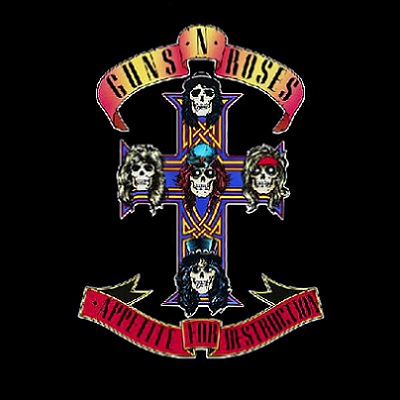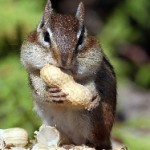 IN A NUTSHELL – Punky, bluesy rock and roll with fantastic guitar work. Varied, multipart songs and interesting production and arrangements make it a candidate for repeated listening. Axl's voice can get old, and you'll have to bear with some lyrical clunkers, but for loud guitar rock, it's hard to beat this one. WOULD BE HIGHER IF – all the songs were nearly as good as the five best on the album.
~~~~~~~~~~~~~~~~~~~~~~~~~~~~~~~~~~~~~~~~~~~~~~~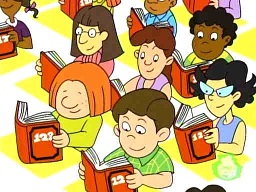 Among the earliest Rules for Life we learn as schoolchildren is this: "You Can't Judge a Book by its Cover." This rule is so clichéd that simply writing it feels wrong – like using a question mark where it? doesn't belong, or mispeling a word. Equally clichéd is the assertion that it's one of the first Rules for Life children recognize as being utter bullshit. It's been shown again and again that covers of books (and their analogous counterparts in non-published realms) are actually very useful in judging contents.
This fact is precisely the reason I, as a boy, read so many Matt Christopher books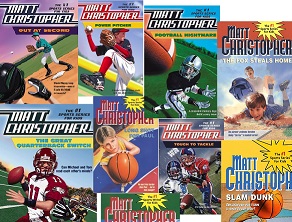 and so few by Laura Ingalls Wilder.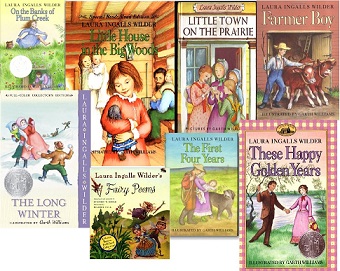 When it came to music, I found cover-judging to be equally useful. My sisters had many albums, and my 9 – 12 year old self could readily identify by their covers which records would be worthwhile hearing, and which were clearly awful. Pictures of the band on the cover were always the first clue. For example, pictures of dour faced long-haired dudes in women's winter coats, who look like they may have been drawn by the same guy who drew the covers for the Narnia books, were definitely BAD.
++++++++++++++++++++++++++++++++++++++++++++++
Hairy guys who reminded me of the scary grown-ups I'd once encountered at a campground shower – guys who owned vans and swore and who weren't at all embarrassed to talk about their dicks in the presence of a seven year old boy and his dad – were absolutely BAD.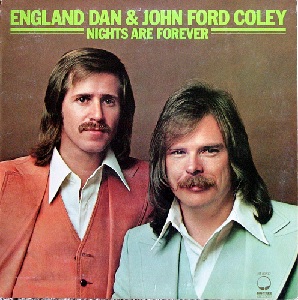 Spacesuit-wearing black dudes, no matter how smiley they were, were nearly as scary as the hairy cock-talkers, and so were BAD as well. (This was rural PA in the 1970s – I lived in a rather bigoted area, and I was part of the culture, warts and all)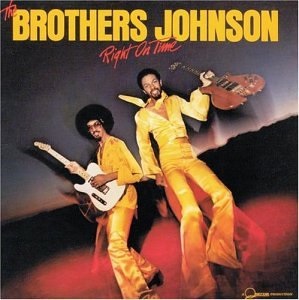 Bands with ridiculous costumes were BAD …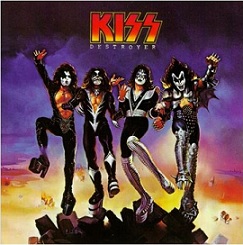 But bands with AWESOME costumes were AWESOME.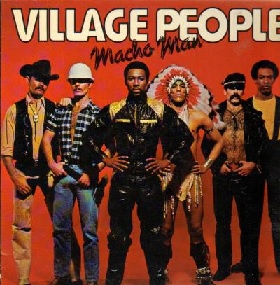 Albums without pictures of the band were a bit harder to decipher. For example, an album may have a really nifty picture on the front, that made an eleven year old want to know more about the music inside …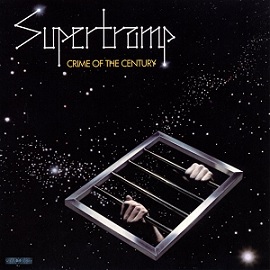 But then turn it over and … scary hairballs are present – even (un)dressed in a way that REALLY reminded you of a campground shower.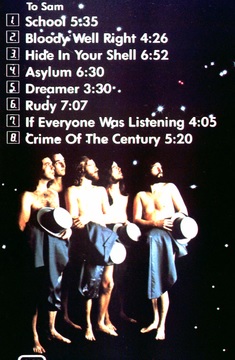 Some albums had covers that were so boring you just KNEW that the music had to be horrible.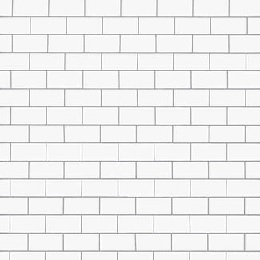 While other covers were so FUN, that you could just tell the album would be chock full of hits!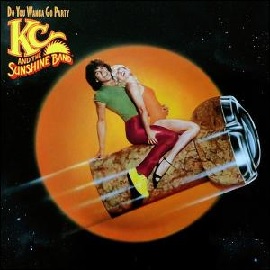 Okay, I guess you can tell that my cover-judging didn't always work so well for albums. (Unless you are a big Village People or KC and the Sunshine Band fan.)
But the point of this is that I've had a tendency to base my decisions on immediate first impressions, and – just as Malcolm Gladwell writes – I've been forced to reconsider many opinions because of it. Including the Guns n' Roses album Appetite for Destruction. My first impression was NOT based on the album cover. It was based on the rock music culture present in the late 80s.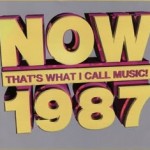 … Keep in mind the state of popular music by the late 80s. Today, in 2014, we've become accustomed to the fact that the popular music industry has splintered into multiple genres, and we can listen to only the ones we want. The music delivery systems available today – Pandora, Spotify, all the Radio Apps, satellite radio, music channels on Cable systems, etc, etc – allow every person in America with the proper means to listen to individual slices of different musical categories whenever they wish.
I have Sirius Satellite Radio in my car, and I switch frequently between 80s alternative music, classic rock, (both well-known and obscure), garage rock, 90s alternative, and popular oldies that don't always seem so old. Plus I'll sometimes turn to the jazz, folk or bluegrass stations.
And these stations only represent a tiny, late-twentieth century white boy slice of all that is truly available.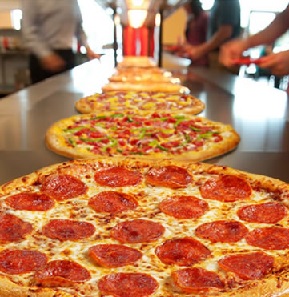 Music listening today is a buffet. Not unlike CiCi's Pizza, but with far less diarrhea.
Music listening in the 80s was a prison mess hall – you had no say in what was served. The only choice a listener had was in the type of radio station he or she chose, and (except for Classical, Country or Oldies) your choice was either Top 40 or Album Rock.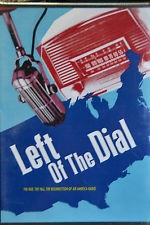 SIDE NOTE – There was also College Radio, a term that in the 80s meant exactly what it says, but eventually came to define an entire genre of music (well, genres [plural], really) and then exploded into the "90s alternative" behemoth. The only problem with College Radio in the 80s was that if you didn't live within 2 miles of a college (and I didn't) you weren't hearing it.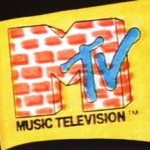 SUB-SIDE NOTE – Then, 30 years ago, MTV came on the air, which I've written about before. This delivered all kinds of fad sounds and weirdos to my teenaged attention, but you had to watch for hours and hours to hear the really good stuff. And unlike radio, you couldn't listen in your car, where most radio listening occurs, plus the visual component made it a poor choice for background music, so you didn't hear as many songs as you would on the radio.
So, anyway, you had Top 40 or Album Oriented Rock (AOR) and by the early 80s I was – for the most part – an AOR kind of guy. This meant lots of 60s and 70s rock, like The Stones, The Beatles, Grand Funk Railroad, Elton John, Jimi Hendrix, Lynrd Skynrd, The Who, Led Zeppelin, CCR, Clapton …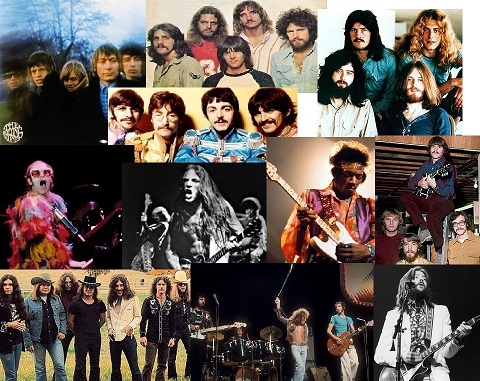 What stands out most about that list (apart from their impressive woolliness (except Elton)) is that by the early 80s all of these acts were either dead (Hendrix), defunct (multiple), dead and defunct (Skynyrd), wheezing into middle age and coasting on their reputation (Stones, Who), or had completely transformed to Top 40 pop (Elton). AOR was quickly becoming an Oldies radio format.
The search for new blood took radio programmers and music industry types to a sub-genre of music that shared a few characteristics with those AOR stalwarts: a blues-based, guitar-driven style of music, although rooted more in Black Sabbath darkness than Beatles sunnyness. It was called Heavy Metal. At the beginning of the 80s, bands like Iron Maiden, Judas Priest and The Scorpions began finding their way onto AOR stations.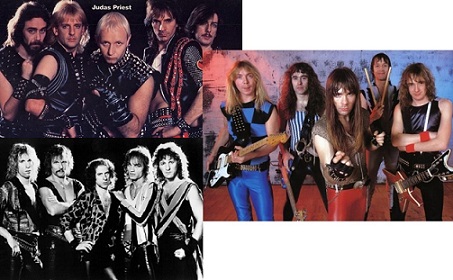 Programmers selected the catchy songs from their albums, leaving out the pounding ones, as AOR tried to stave off the dreaded "Oldies" label.
What you may notice about these metal bands is that while they have the hair of the 70s bands (except for Judas Priest's Rob Halford) their dress is more stylized than their AOR counterparts. Spandex pants, lots of leather, tank tops and patterned, loose jacket/shirt items … While the guys in the 70s acts dressed like your high school aged neighbor working on his car in the driveway (Elton and Beatles' "Peppers" outfits notwithstanding), the metal guys dressed like no one you'd meet on the street. Unless your street was Castro Street.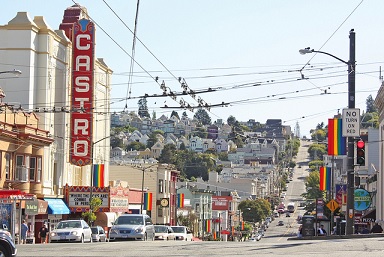 (Okay, hang with me here, folks. Don't worry, I'll edit all this stuff later, I swear.)
So, it's the early 80s. AOR is trying to stay modern by playing pop-sounding Heavy Metal by guys dressed in fancy outfits. MTV is now emphasizing the visual aspect of performers, making the appearance of the acts as important (or more so) than the music they're putting out.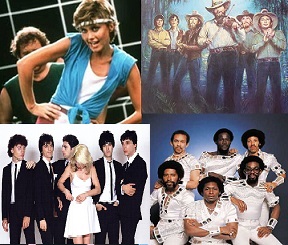 Plus, Top 40 programming remains a stew of musical forms of the day, a place where acts as different as Olivia Newton-John and Blondie can both hang out in the Top Ten alongside The Commodores and The Charlie Daniels Band, and record-buyers are accustomed to catchy pop, regardless of genre.
This confluence of music, tastes, radio, and television – swirling like thunderclouds around the heads of the ever-present, cocaine-binging record executives desperately trying to squeeze more dough from the listening public's pockets – smashes together, creating a Perfect Storm that unleashes on the world one of the great musical disasters of the late twentieth century: HAIR METAL.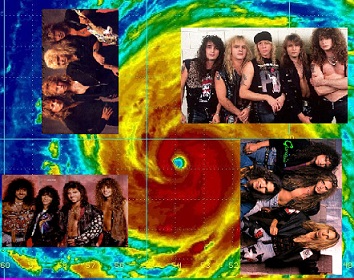 The spectacle of hair metal was awful. It consisted mostly of goofy songs about sexy chicks and partying played by guys with bleached and teased poofy hairdos, who wore tight leather and spandex pants and danced around making faces of agony and pretending they were playing heavy metal music, while in reality they played the same schlocky pop songs that radio counterparts like Madonna and Huey Lewis were putting out.
Don't get me wrong – I'm as big a fan of schlocky pop songs as anyone, and some of the Hair Metal songs were really catchy and fun to listen to. What bothered me was that these acts were playing Phil Collins pop, but pretending they were AC/DC. And now these same poofy pop songs were being played on AOR stations, alongside Hendrix and Cream, where DJs were keeping a straight face while saying shit like, "Here's the next single from the band Nelson, and it's a real hard-rocking one …"
Everyone was casually pretending that hair metal bands were rocking hard, even as all the evidence said otherwise. It was as if MTV, radio, people at parties, and even some of your friends, were all conspiring in some intricately plotted and precisely executed prank against you.
You: "Dude, this song by Firehouse sounds pretty much just like a Whitney Houston song, right?"
Other Person: "What? No! No, no, no. This is rock and roll! Whitney sings that pop crap!" [Other Person snickers and winks at some unseen person behind you.]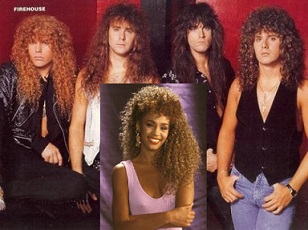 Hair Metal was having a weird effect on existing bands, too. Take Def Leppard, for example. In 1980, they were kind of a mini Judas Priest, a British heavy metal band with a penchant for melodies, but whose songs stomped and crunched. Here is the song "Wasted," from their debut album On Through the Night.
https://www.youtube.com/watch?v=E-PwSwIRtGQ
By 1983, they were on the pop path, but still keeping one foot in the hard guitar rock world … barely …
By 1987 they were firmly in "Who's Judas Priest?" mode.
In their defense, Def Leppard was a new(ish) band trying to make a career of it, so you could argue they were trying to stay afloat.
But what to make of 70s AOR stars like Ted Nugent, and members of Styx, and Journey, among others, who formed new bands like Damn Yankees and Bad English for the sole purpose, it seemed, to go on TV and pretend to rock hard while belting out turgid power ballads written for them by Diane Warren – even though 10 years earlier they ACTUALLY WERE rocking hard? (Depending on your definition … but still …)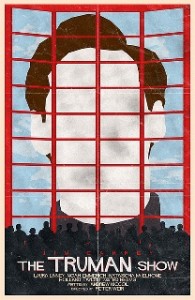 Were they in on the prank, too? Was I in a musical Truman Show?
(The Diane Warren reference begins to touch on the concept of the "Power Ballad" that spewed forth from the Hair Metal scene like pus from a lanced boil. I don't have space to write more. I'll just leave it at "pus from a lanced boil.")
So this is the musical environment into which a long-haired, motorcycle riding, chain-smoking, shaky alcoholic 26 year old – who spent his time hanging around the Millersville University student housing complex looking for freshman girls instead of a job – walked into with a copy of Appetite for Destruction under his leather-jacketed, wobbly, under-the-influence arm. Dickhead Doug, as I called him, was a self-professed metal-head, but admirer of Hair Bands, a man of indiscriminate rock music taste, who could break down, track by track, the Metallica album Kill 'Em All, while in the next breath speak of the majesty of the new Lita Ford album. The man's rock knowledge ran deep, but his ability in 1988 to distinguish musical shit from Shinola was quite suspect. (As was mine, admittedly – but if you're reading this blog, you know that already.)
During the Winter Break of 1987-1988, I was awoken in the wee hours of the morning by this song blasting at ultra-volume in my living room:
Aroused from a deep sleep by that clarion call of an opening riff, which I had never before heard, I was disoriented and rather scared. And it was being played LOUDLY – as in the neighbors won't have to call the cops 'cause they'll hear it themselves 4 miles away LOUD.
The thing about Dickhead Doug was that he wasn't my roommate at the time – he was the brother of a roommate's girlfriend, and – it being college, and us being college-aged guys – it was just sort of okay (sort of) that he'd at times wander into our apartment. He often slept off his drunks on our couch. I guess we'd given him a key? Who knows. Anyway, he was (rather) welcome to use our apartment. However, no matter what arrangement we'd all made, it was NOT OKAY for him to come in and BLAST his HAIR BAND BULLSHIT FANTASY HARD ROCK DEBARGE-SOUNDING CRAP at 2 in the morning!!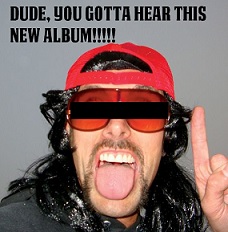 I went to the living room, angry, and he greeted me with a huge grin on a shining face, as if to say "I knew you'd love this band!!" It turned to a look of shocked disbelief when I made him turn it off. He made the case, earnestly yet drunkenly, that this album was going to be enormous, one of the biggest ever, that it was a defining statement of hard rock, carrying the torch of heavy, guitar-based rock and roll, pouring gasoline on that torch, and thrusting it boldly forward to scorch the musical landscape of the cusp of the 1990s.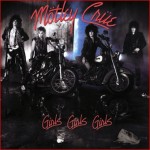 I seemed to recall he had said the same thing about Motley Crue's Girls Girls Girls just three months earlier.
He turned the music off, but assured me I'd be hearing more from this band. I went back to bed holding a huge grudge against Guns N' Roses, and I held it for many years. I continued to believe – even as the evidence said otherwise – that the band was a poofy hair band playing sappy pop, and that their debut album, Appetite for Destruction, was severely over-rated, an example nothing more than marketing success.
Sometime around 1990, before the band's Use Your Illusion records came out, after repeatedly hearing from friends that the record was actually good, I finally bought the cassette and realized I'd been entirely wrong.
Appetite for Destruction is a terrific blend of heavy metal riffs and punk rock attitude, full of songs that are allowed to develop and grow, and whose interesting structures hold up well on repeated listening. The musicianship of the players is excellent (except for the drumming …) and if you can bear Axl Rose's at-times screeching voice, and his violent lyrics, you'll find the melodies are catchy. As usual, it's Guitars and Melody with me …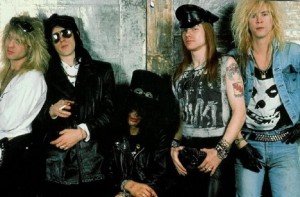 The album opens with the aforementioned "Welcome to the Jungle," Dickhead Doug's wee-hour alarm bell. This song has become ubiquitous in North American macho culture, with that opening riff and swelling, menacing introduction pumping up the crowd at everything, it seems, from high school football games to women's professional lacrosse, from tractor pulls to church services. (The sound on those links may no longer work: it seems Axl Rose has an army of people scrubbing the audio from any unauthorized use of the song – even in homemade videos!!)
It's become so ubiquitous that you may forget how great a song it really is. It's got several parts that sound cool on their own, and when put together make an excellent rock epic. That build up at the beginning, that starts with Slash's reverb-y riff and grows to an explosion of the main riff,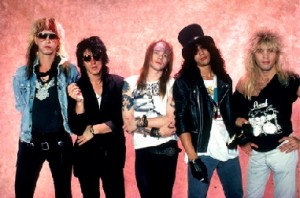 and the guitar pattern, with Axl's lyrics of the harsh Big City … it's a tremendous rock song. I love Axl's stuttering "n-n-n-n-n-n-n-n-knees." I love how Slash has a mini guitar solo between verses, and how things sort of cool off in the mellow "When you're high" section. There are very nice, quiet guitar parts there, which finally ends with a fabulous Slash solo. Then it goes into the middle "Jungle Section," with drummer Stephen Adler pounding out a tribal beat on his toms, while bassist Duff McKagen rolls back and forth on a scale and guitarists Slash and Izzy Stradlin squawk and scratch, until Axl asks the musical question, "You know where you are?" Answers it for the listener, "You're in the jungle, baby," and finally declares, "You're gonna die!" leading to the final "Welcomes" and the cool signature riff, and Axl spouting one of the best hock-a-loogie "Hooah"s in popular music history, certainly ranking alongside that of Frankie Goes To Hollywood's "Relax."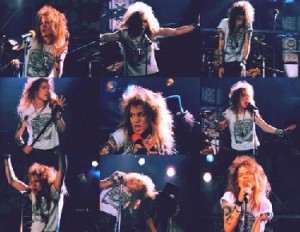 I should have known the song was brilliant immediately, even at 2 in the morning, but I was stuck on the belief that it was just another hair band song (despite what my ears told me), a belief egged on by the appearance of Axl in the video – Someone had teased his hair up like all those other pretty-boy singers pretending to rock, and even though the hair looked out of place on him, I figured a Whitney Houston-esque power ballad would follow shortly.
However, the next song I heard from them was something different.
"Sweet Child o' Mine" is a song that many folks have tried to shoehorn into the "Power Ballad" genre. The song is a love song, and it came out in the 80s, but it bears little resemblance to a typical hair band power ballad. There is no acoustic guitar intro, no violins, no head-sway-inducing sing-along chorus that testifies to the depths of one pretty man's love for one pretty woman (despite what he's sung in the album's other 9 songs about bangin' lots of chicks) … The song is actually a rather up-tempo, rockin' number – okay, mid-tempo – that sounds more like the Stones than Air Supply. Much like "Jungle," the song has an introduction that instantly became a recognizable, classic riff. And the guitar is very cool throughout the whole song. During the verses, there's a clean, arpeggiated guitar part beneath the vocals that is one of those little things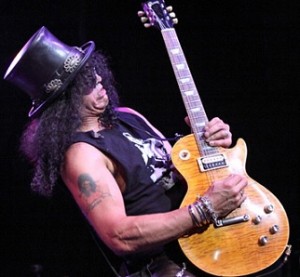 that makes the song for me – the type of thing you don't notice at first, but pick up on with repeated listening. The Beatles threw in millions of these little things, and as a huge Beatles fan, I'm always listening for such things in any song. Slash also plays a terrific, long, multipart solo in the song. And McKagen's bass lines support the entire piece, and also hold up well in repeated listening. On this album the band always has something interesting going on in the songs, and that's one of the reasons I like it so much. The guitar noises underneath the "Where do we go" section, the acoustic strumming that's heard throughout. Sure, the lyrics are a bit corny, but what do you want from Axl? Fucking poetry?? Come on – you know better.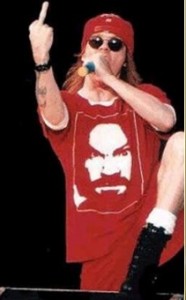 The next song I heard off the album was Paradise City.
This song is a straight-ahead arena-rock song, with a heavy, grinding riff. The song again demonstrates GnR's penchant for blending disparate parts into a single song. It has an intro, verse/chorus, "so far away" bridge, and galloping outro/solo section to finish it all. Axl even throws in a referee whistle near the beginning (at 1:20), I guess to signal the rest of the band that it's time to change. This is a song whose lyrics I don't understand – something about a guy on death row, maybe?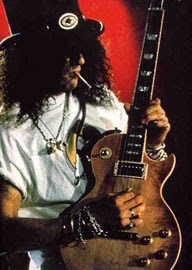 They don't make a lot of sense ("The surgeon general says it's hazardous to breathe/I'd have another cigarette/ But I can't see/Tell me who you're gonna believe." Wait – what?) But whether I understand them or not, they are fun to sing along to. In this song, Slash's guitar is the star. The main riff is cool, the riff in the bridge is cool, and the solo that finishes off the song is truly mind-blowing. It's fast and wild – at times it seems out of control, almost like some kid monkeying around on a guitar pretending to play – but it always hangs together. I enjoy listening to it because I always hear something different each time.
By this point, I was thinking maybe GNR was a little more than a typical hair band. But I remained wary – a poofy Whitney Houston song could be around the corner. But the next song I heard, "Mr. Brownstone," was NOT a Whitney song.
This is my favorite song on the album. It's short and sweet, a basic 3 minute pop song. I love the drums and the riff, and the tune is great. Duff's bass has a cool, crunching sound to it, and once again – as with most of the songs on the album – there are little guitar things going on in the background that make the song enjoyable with repeated listen. I especially like the rapid fire vocals of the "I used to do a little" section. It's a song about the band's struggles with heroin and it's an example of some of Axl's better lyrics.
Axl was frequently castigated (and rightfully so, I think) over his misogynistic, homophobic and racist lyrics. But some of his lyrics are rather insightful. For example, the song "It's So Easy" was frequently cited as an example of Axl's misogyny and attitude of violence. And the song's lyrics can certainly be read that way. The song could be seen as some asshole bragging about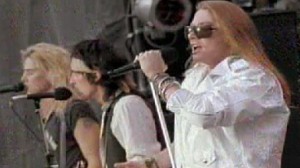 how easy his life is, treating people badly and not giving a shit about it. However, my take on the song is this: the lyrics say "it's so easy/when everyone's trying to please me." This lyric, to me, puts the onus on the people around the singer of the lyrics. He's saying "everyone's trying to please me, and because of that, it makes it so easy to be a misogynist, hateful dude." There are stories all over the news about privileged kids, or athletes, who have had people fawning over them their entire lives, and who become complete pricks. In my opinion, "It's So Easy" is taking a swipe at the enablers and hangers-on who help create such a situation, not glorifying the violence it leads to. Plus, the song really rocks.
Some other parts of the album that I really love include the song "Nightrain," with it's blues-rock riff and classic, blues tough-guy lyrics. Although, he states he's been drinking gasoline, and I sure hope that's just a hyperbolic boast. I once siphoned old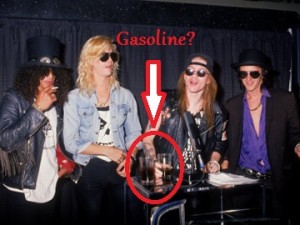 gasoline out of a snow blower and accidentally ingested about a teaspoon and felt sick for days. If he's really been drinking gasoline, I can say for certain that's where his bad attitude is coming from.
I also love the album's closing number, "Rocket Queen," which is a pretty straight ahead rock song for four minutes, then switches to a mid-tempo jam for the final four minutes. It's another GnR song with great guitar and bass lines, and multiple parts that blend together nicely, and it would be one of my favorites, except it includes recorded sex-type noises in it, and songs that do that ("Hungry Like the Wolf," etc) always make me a little uncomfortable. And I always wonder about the producer's decisions in these songs: "You hit that D7th suspended chord, just before going into the bridge. Do you think a pre- or post- orgasm moan sounds better for that part?"
Songs like "You're Crazy," which plays like a straight-ahead punk rock song, and the pounding riff-rock of "Anything Goes" (which has an awesome talk-box dueling guitar solo, beginning about 1:45) are songs that set this album apart from other hard rock albums of the era.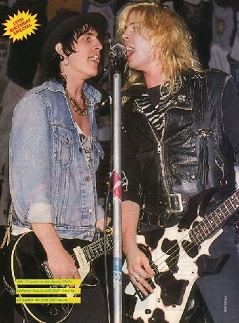 The guitars and bass on the album – courtesy of Slash, Izzy and Duff – are excellent throughout. But I do think this may be the best record with the worst drumming ever. Let me clarify – the drumming isn't awful, it just doesn't add much to the songs. Considering the other excellent musical performances on the record, the drumming on these songs is rudimentary, to my ears. As I've mentioned, the songs have lots of sections, and therefore changes, which should provide lots of opportunities for interesting fills. But drummer Stephen Adler uses basic fills – for example, the two snare hits in "Paradise City" at the end of each verse. I feel like he could have added much more to the songs. They're big songs, they need big drums.
I admit my response to this album was colored by my initial impression of the band, which was formed by everything I heard EXCEPT the music! The album had the misfortune of being released among (and promoted as part of) the shittiest pop genre of the last 60 years (including EDM). And I fell for the marketing. So I have to be more careful – no matter what book covers say about their books.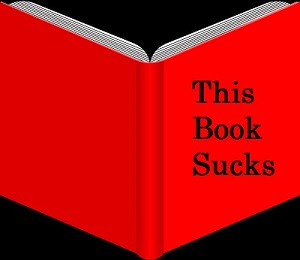 TRACK LISTING
Welcome to the Jungle
It's So Easy
Nightrain
Out ta Get Me
Mr. Brownstone
Paradise City
My Michelle
Think About You
Sweet Child o' Mine
You're Crazy
Anything Goes
Rocket Queen
[easy-fb-like-box url="https://www.facebook.com/100favealbums" width="" height="" theme="light" faces="true" header="true" posts="false" border="true"]