"Seasons," 1992 track from the Singles Original Motion Picture Soundtrack.
Acoustic, vocals, stirring.
(3 minute read)
*Note – I'm not even going to try to rank songs. I just plan to periodically write a little bit about some songs that I like.
~ ~ ~
Some songs require one listen – perhaps not even a full listen – for them to become a Favorite Song. It doesn't happen very often nowadays. Frankly, I'm 53 now, and the older I get the less absorbent my brain seems to be to new songs. I recently heard "Nigel Hitter," by the UK band shame, and immediately loved it. (The new album Drunk Tank Pink is great.) But I do know that rarely since 1992 has a song struck me as immediately as "Seasons."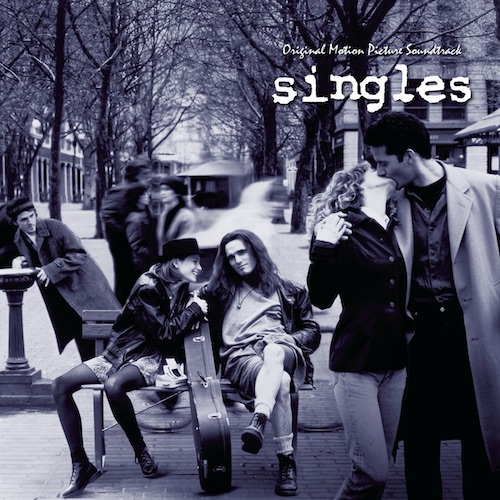 I bought the Singles soundtrack as soon as I could after seeing the movie at a local college. The film was a fun, music-oriented, standard rom-com, but the soundtrack was killer. For starters, it had 2 solo songs from head Replacement Paul Westerberg. Then most of Seattle showed up: Pearl Jam, Alice in Chains, Soundgarden, Mudhoney, Screaming Trees … even Heart (basically) and Jimi Hendrix! I thought the album was great, but I really connected with "Seasons."
I didn't know much about Chris Cornell or Soundgarden then. An old roommate had invited me to see them live once, in 1990, but I wasn't very adventurous at that time. I wish I'd gone, because it turns out that Chris Cornell is one of my favorite singers ever! I like Soundgarden, and I love Cornell's voice.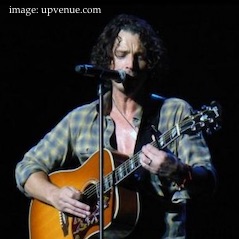 But what hooked me on "Seasons" wasn't Cornell's voice as much as his acoustic guitar. There's not much going on in the song, just that guitar and voice (I think there may be an overdubbed guitar or two at some points), but it's plenty. An acoustic song can be tricky to pull off. For every great, moving, acoustic pop song that's been released over the years, there are several really lame ones. It's difficult to be heartfelt, but not sappy; subtle, not boring; meaningful, not obvious. In "Seasons," Cornell pulls it all off beautifully.
Cornell's guitar work is deft and interesting, and holds one's ear even as it repeats – which it does, but in a good, mesmerizing way. The song opens with some strange chords and a twisty acoustic hook.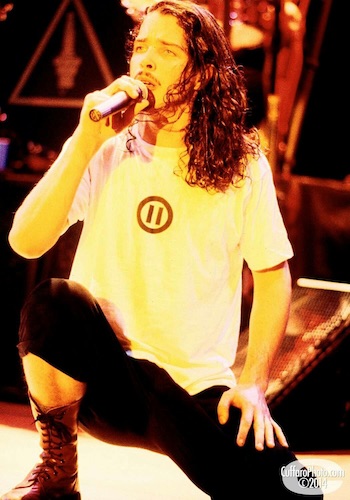 At 0:29 he plays the backing riff, and his voice takes over. Cornell sings with power and authority, yet there's a depth of feeling he conveys that's beyond what most other rock singers possess. His voice has the same quality that a great soul singer has, like Aretha Franklin or Marvin Gaye. It's not just technical ability, but a capacity for personal connection and vulnerability. The lyrics are a bit obscure, but they convey a feeling of life moving so quickly that you find yourself falling behind.
On first listen, the song seems repetitive. But actually, it has many subtle changes throughout. At 1:15 he sings the first chorus, "And I'm lost behind …" over the continued guitar riff. But at the second chorus, 2:10, he adds a new guitar riff, running up the neck, giving the song an urgency. At 2:47, over a third riff, he shows off his belting voice, but he easily goes back to the gentle croon. The bridge section, from 3:44 to 4:30, is lovely and ends in yet another lovely display of acoustic chords and strumming. It all finally gives way to a reprise of the opening. It's a beautiful song.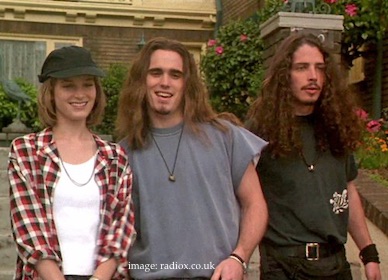 There are many live clips of him playing the song out there. He was super-talented. Cornell also had a cameo in Singles (as did members of Pearl Jam) and he was pretty funny, in a deadpan way. In addition to Soundgarden, he sang for Temple of the Dog and Audioslave. In interviews he always seemed like a thoughtful guy. Sadly, he took his own life in 2017. "And I'm left behind/ As the seasons roll on by."