I haven't updated my blog in several weeks. I know both of you out there are disappointed about this, but I have been extremely busy the past few weeks. This GIF presents a fairly accurate view of the activities in my life whenever I'm not sleeping or working.
Endless baseball. Not that I'm complaining – the games are good, and my kid is happy (well, one kid is happy … the other one can be happy, unless forced to attend said endless games …) so it hasn't been a chore. But it has kept me away from some of the other things I like doing. And some of the housework has lagged a bit …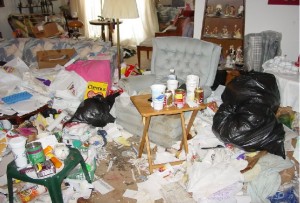 But one aspect of my life that has remained steady is that I have continued listening to my CD collection in my ongoing effort to identify my 100 favorite albums. I have listened to 245 as of this writing, and I think I have about 75 remaining, but it is hard to tell because I find that I am continually ADDING CDs to those under consideration! This is extending the process tremendously. I am experiencing the equivalent of "cost overruns," a dreaded consequence of people trying to do just a little bit more to make things perfect.
You see, I started out with a list of about 150 CDs from my collection of 400 (ish) that I figured would all be vying for a place in the top 100. But as I flipped through my CD collection, I came across some that I hadn't originally listed, but that I thought might have a place, so I added them into the mix. Then I realized I had some albums as MP3-only, and thought some of these had Hot Hundred potential, so I burned them and added them to the mix. Also, I realized there were albums NO LONGER IN my collection that I had loved when I owned them on cassette or vinyl, and these were added in as well. Plus, as I listened to CDs by particular artists, I realized that I had other albums by them – albums NOT on the original list – and thought it would be wise to give some of these a listen-to as well.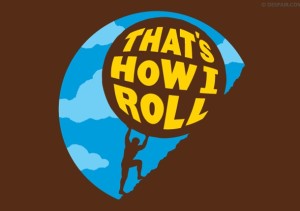 So my list grew. As a result, I have now been listening to my CD collection since mid-September, 2012, and I'm still only about 2/3 of the way through. (Please don't check my math. To quote Barbie, "Math … is tough.")
I'm glad I've been adding CDs to my list, for completeness' sake, but I don't know if it's been worthwhile. I think my top CDs will mostly be part of the original 150. This is because they are familiar to me. I'm not trying to make an objective list of Great Albums, I'm trying to list my favorites, so familiarity is a factor in the process. It might seem unfair that the tremendous, new CD by AwesomeNewArtist won't be ranked as highly as its musical merits would imply, but that's just how life is: it's all who you know.
I lived in San Francisco for about 8 years in the 90s, and in January, 1994, I made good on a Resolution by finally trying to perform stand-up comedy. For as long as I remember, doing stand-up had been a dream of mine. I had honed my act in various classrooms since kindergarten. Here's one of my first publicity photos:

In third grade I entered a school talent show and performed a stand up routine about dog food, featuring a battery-powered yapping dog, "The Frisky Dachshund."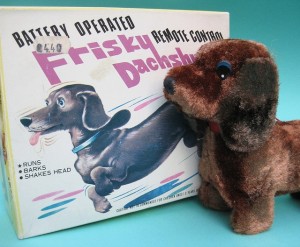 (I named him "Pup," and he was a state-of-the-art remote control toy in 1975).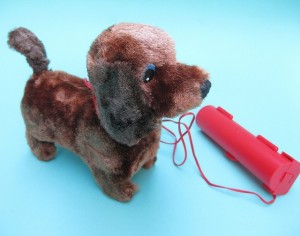 I came in second place to a girl who tap danced.
[Not that I'm bitter, and I must say that the girl, Christy W., danced very well, but I KNOW I had the crowd on my side, particularly when my dog unexpectedly fell over, and I ad-libbed a bit about the dog food killing it. But who cares, I guess. That was almost 40 years ago, and I was just a kid …]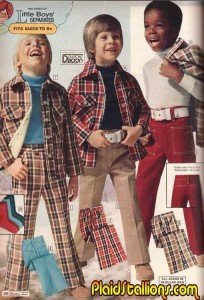 [But still, judges … Ms. Schworer, Mrs. Horst, Mrs. Ellsworth … what were you SEEING up there???!! Let's get serious!]
Over the years I used any classroom speaking assignment to perform a comedy routine, and I had several successes. I read a poem from Mad Magazine in 8th grade English. I juggled tennis balls, soccer balls and ping-pong balls (even spitting them out of my mouth!!) in a demonstration speech in 11th grade. My masterpiece was when I impersonated my Geometry teacher, "Pinhead" Firestone, in a 10th grade extemporaneous speaking assignment. That performance KILLED!
The thought of doing it in front of strangers terrified me, but by 1994 in San Francisco, I decided to put the fears aside and just DO IT. My first time was at an advertised "Open Mic Night" at a comedy club called The Punchline. I had no idea how the "comedy scene" worked, or – more importantly – how an Open Mic Night worked.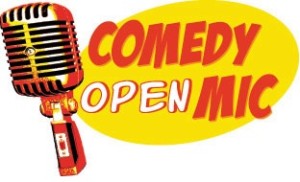 How an Open Mic Night worked at a big comedy club (like The Punchline) was this: just like any other show at a Comedy Club, you respectfully watched professional comedians – even if the night was billed as an "Open Mic Night." See, the big clubs advertised "Open Mic Night," but it wasn't as if the emcee asked for volunteers and selected folks out of the audience to come onstage and tell jokes. It was way more organized than that, and 99% of the performers were professional/near-professional comedians. Very few of the comics at comedy clubs' Open Mic Nights would be first-timers. It happened occasionally, but it wasn't typical.
You, the novice comedian, got your start at whatever failing cafes, bars, bookstores and other sad, lonely, empty venues hosted Open Mics. Someone hooked a cheap microphone to an old guitar amplifier, and placed it to the side of the room to create an unusual "stage." I say unusual because most stages are placed in a room so as to engage as many people as possible. However, most Open Mics placed the stage so as to disturb as few patrons as possible. Here is a typical "view from the stage" at one of these comedy shows: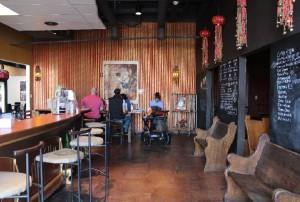 Usually these shows were initiated in a last-ditch, desperate attempt by the venue-owner to stay afloat before the business finally went under, the expectation being that business would increase because a bunch of alcoholic comedians would bring people in to watch the show. This theory had two flaws (at least): 1) while many (most?) comics are alcoholics, many (most?) are too poor/cheap to buy more than one drink at a bar; and 2) back then, even in those early, early days of email, very few Subject lines generated a quicker "Delete" from a recipient than those of the "Come to my Open Mic!!!" variety. Most of these sad Open Mics were organized by truly heroic (and I DO NOT say that in jest) men and women who realized that live comedy needs places for new performers to start, and who also recognized a need in their own career to learn how to host and emcee a show, which is required to get offers for actual paying gigs.
(Believe me, I don't mean to shit on Open Mic shows at all – these shows are where the meiosis, embryogenesis and morphogenesis of live comedy occur. In comedy, these processes are just like they are in life: magical, inscrutable and disturbing all at the same time, giving rise to both perfect living machines,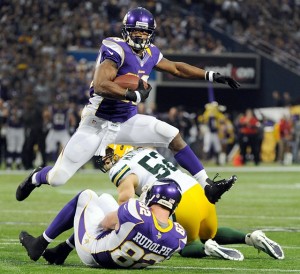 miscarriages, and everything in between.)
So, anyway, you, the newbie, go to the sad Open Mics, and after your soul had been thoroughly and persistently trampled flat by the regular indifference of strangers and other comics in the "audience;" and after the notion of getting booked on Letterman in another month or two (or even Year Or Two!) had been excised like the metastasizing, malignant tumor of self-defeating mythology that it truly is; and after your self-esteem had calloused-over to such a thickness that you believe that Carrie was a total wimp for getting so freaked out by a little pig's blood …
https://www.youtube.com/watch?v=PUfeEZhYs2g
… and after you've been hanging around the Big Club for a few weeks/months (not just the Open Mic Night, but most every night), and after the club comics there begin to recognize you as more than just a dreaded "hobbyist," … maybe – JUST MAYBE – then you'll get asked to perform 5 minutes at one of the Big Clubs' Open Mic Nights.
(According to this great article, not much has changed on The Path To Comedy in 19 years.)
But in January, 1994, I had no idea how this all worked. So I strolled into The Punchline on a Monday Night (a typical night for "Open Mic"), was directed to the guy in charge (a nice fellow with a mustache, named Hutch [the fellow's name, not the mustache's name, smart-ass]) and told him I wanted to go onstage and tell jokes.
He didn't have much to say to me. I bought a drink or two and kept asking him when I could go up and tell my jokes. He kept telling me he didn't think he'd have time for me. I kept telling him I was ready. Finally, near the end of the night, he said, "Look, if you really want to get up there, we have one more bit you could be part of. It's the Siskel & Ebert part of the show." He explained to me that this was a somewhat regular feature of The Punchline's Open Mic in which two professional comics would sit on stage with microphones and provide commentary on and criticism of another comedian's set.
I think he expected I'd be intimidated by the thought of being heckled by professional comics, but I wasn't. Not because I was so confident or ballsy, but because a) I was rather drunk by this point and b) I had NO IDEA WHAT I WAS DOING! I was too ignorant to understand!
I took him up on the opportunity, and soon enough the host (and "Siskel"), Chris Hobbs, was introducing me to the crowd, while "Ebert," (a woman whose name I don't remember) applauded enthusiastically.
Now, it would be a great story if I told you I either bombed horribly and learned my lesson about how difficult stand-up is, or that I triumphed grandly and recognized that I had "what it takes" to succeed in comedy. But neither of those happened.
I went on stage and basically made fun of Siskel and Ebert before they could make fun of me. I started to tell the jokes I had prepared (some really awful religious puns and a long story I made up about my childhood imaginary friend pretending he didn't recognize me at my tenth high school reunion) but then I segued into tearing apart the hosts' looks, jokes, clothes, whatever. I don't remember the details, but I remember the audience laughed, and the hosts laughed, and they made fun of everything about me, as well, and everyone had a good time.
I left the stage thinking that I had "killed," but what really had happened was that the audience was somewhat charmed by a likeably drunken "civilian" on stage with professional comics, and grateful for the break in the rather monotonous 2 hour run of comics at 5 – 10 minutes a pop.
A couple new comics congratulated me for busting on Siskel and Ebert, but no comics approached me or spoke with me. After the show I spoke with Chris Hobbs, and he was really nice and gave me tips on where Open Mic shows were, and who to speak to, and he told me about The Road, but he didn't say "You were hilarious!" or "Man, you are FUNNY!" or anything that made me think I was as special as I thought I had demonstrated. I was a little perplexed. I expected adulation from all the comedians.
"Oh well," I thought, "they must be jealous. But I'll show up next week and kill once again, and THEN they'll see how spectacular I am!"
So, I showed up next week. Hutch didn't put me up. I showed up the following week. Hutch didn't put me up. Again, the next week. And the next. Week after week, he just ignored me. I didn't go out and perform at any of the sad cafes or bars; I thought I had shown everyone that I was above those types of places. I didn't really talk to a lot of the comedians; I figured they might hold me back, or negatively influence my comedy. I just kept returning to The Punchline, badgering Hutch, and waiting for him to realize he was impeding genius. And he never put me up again. After a couple months I stopped going, figuring "Harumph! Comedy is all just who you know!"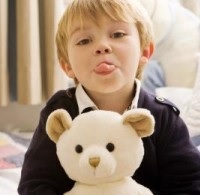 And you know what?
I was right! Comedy IS who you know! Just like EVERYTHING ELSE IN LIFE!!! There seems to be an idea held among people (my 1994 self included) that "fairness" will only occur when everything is evaluated objectively. But objective evaluation simply doesn't happen very much at all. It can't! Maybe it does in science (it's happened in a few of the labs I've worked in … a few …) but outside of that, everything is subjective.
Plus, Hutch wasn't in a position to evaluate my comedy "objectively," he was in a position to put comedians on stage who had a chance of making people laugh. I hadn't shown any indication that I could be one of those comedians. He had seen me drunkenly banter with a couple people on stage. That's it. None of the other comedians who went to The Punchline had seen me tell jokes anywhere else. Nobody had talked to me about my comedy background or goals. Nobody was familiar with me. I was UNKNOWN!
(But not The Unknown Comic.)
After a few years of doing some theater and improv, I decided to give stand-up another try. By this time my experience in performing had led me to realize that yes, it IS who you know, so I decided to get out there and GET KNOWN BY some people! I found myself loving stand-up a whole lot better the second time around.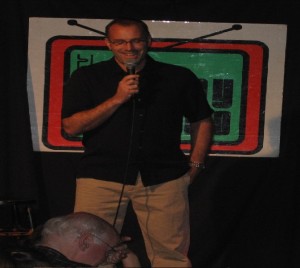 And this is how I feel about making a list of "best" records. The ones I know are the ones I'm going to rate highest. There are a lot of newer bands who I really like, such as The Hold Steady, Deer Tick, and Surfer Blood, but I don't know if many/any of their CDs will make my list. It might seem ridiculous that Give the People What They Want gets placed higher than Astro Coast – critics may say the latter is the far superior album – but I've heard the former a million times, and the songs are burned (lovingly) into my brain! Give me twenty years of listening to Separation Sunday, and it might end up higher than Let Me Come Over on my list.
But my list is like life … it's all who you know!
(By the way, when I went back to stand-up, Hutch eventually put me up on stage a few times!)