[twitter-follow username="100favealbums" scheme="dark"]
If You Didn't Laugh You'd Cry. Marah.
2005, Yep Roc Records. Producer: Marah.
Purchased, 2006.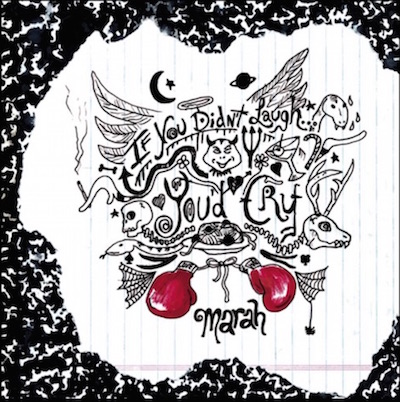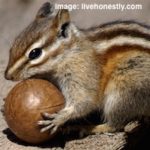 IN A NUTSHELL: An under-appreciated, little-known band with a history of nearly going big-time, but sadly missing, presents an album of songs that mirror the band's story: what might have been? It's a bluesy, Americana, country-rock tour-de-force, and the star is the songwriting of the Bielenko brothers, Dave and Serge. The sound is great, and Dave's voice is noteworthy and unique, centering the songs right in the heart.
~~~~~~~~~~~~~~~~~~~~~~~~~~~~~~~~~~~~~~~~~~~~~~~~~
Ahh, the drunken sadness of unfulfilled dreams…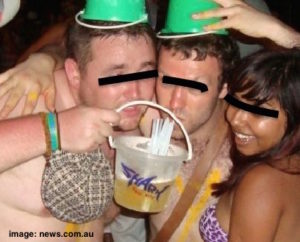 I've had a bit of a problem with alcohol in my past. I haven't gotten dangerously drunk in a long, long time, but way back in my past it was a rather regular occurrence. Luckily, I never hurt myself or anyone else (physically) while it was all happening. I made a lot of bad decisions under the influence of booze, and pulled lots of stupid stunts and I came through pretty much unscathed – so it must have involved some luck. As a parent of teenagers, my antics particularly frighten me – because I can't say they weren't fun[ref]Except the parts I can't remember – which are multitudinous, and which remain extra-super frightening.[/ref].
My folks drank alcohol so rarely that it's honest to say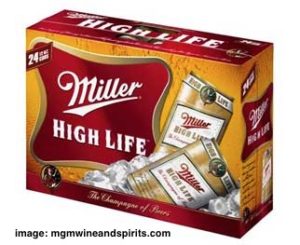 – though technically untrue – that they didn't drink at all. My dad drank about two beers in a year – the two remaining beers from the case of Miller High Life bought for our annual family Christmas party and drank by my uncles and cousins. He'd finish both cans off by the end of February, then go dry for another 10 months. My mom frequently alluded to her dad, who died the year I was born, having difficulties with alcohol, and this fact clearly influenced her own tee-totaling ways. I recall her and my grandma making banana daiquiris one New Year's Eve, each drinking one, and have no other recollection of her imbibing during my youth. My parents weren't drinkers – one of many ways in which they hewed to the straight-and-narrow.
I followed in my parents' footsteps all through high school, traveling along the trail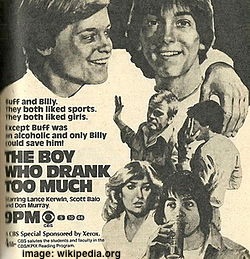 they blazed of clearly-defined Right through a wilderness of Wrong. That wilderness was described for youth like me in Parables of Poor Choices: teens trespassing after midnight in public pools, paralyzed in shallow-end dives; boys blowing off hands while playing with shotgun shells; girls getting so drunk they were now unsure of who the daddy is. Among these Wrongs, the path I traveled kept me safe from teen drinking[ref]Additionally, late-70s/early80s TV was chock-full of programs about problems, many involving alcohol and teens, and I was a TV junkie.[/ref]. But it wasn't so much that wilderness of immorality that frightened me as it was my parents' potential reaction if I got off the path.

That concern was removed on a late-August afternoon in 1985, as I waved goodbye to them from the curb in West Philadelphia as they drove off in their '78 Ford LTD wagon, beginning their two-hour drive back home from my new college. That night I went to a bar with my new friends.
And I had lots of fun.
That initial feeling of being buzzed has always been a pleasant one for me, from the first couple beers I ever drank. I've always felt like an extrovert – someone who enjoys other people and is energized by interactions with them. However I'd learned that the righteous path of my youth was best traveled with minimal social interactions,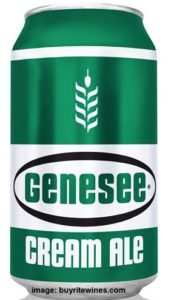 the better to avoid both temptations of the wilderness and beatings by its denizens, who could become agitated by the inferences they drew about my own self-regard as I viewed them from my elevated path through their surroundings. As a result, I assumed the role of "shy guy." But the initial lightheaded feeling of a hastily-drank beer opened a doorway on the path that I could step through to engage anyone I wished. I felt like the self I always knew I was.
Alcohol was the formula that unleashed a superpower within me, my own radioactive spider bite or gamma radiation, and it took many years for me to realize that a) the superpower existed without the booze as trigger; and b) more booze did not equal stronger superpowers. There were some regrettable moments in the meantime … but there was a lot of fun, too!
I find being a little bit drunk quite enjoyable.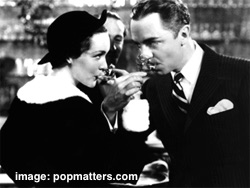 I get a gentle swirly feeling, a sense of subtly floating and a belief that those around me are subtly floating, too. Conversation flows, jokes are funny, a bit of physical contact is affably shared. Of course, all of these characteristics are unhappily stretched, unpleasantly engorged and distorted with further drinking: swirling floatiness becomes shambling stumbles; conversation becomes assholes who won't shut up; jokes become provocations and physical contact becomes worthy of filing charges. That boundary separating the goodnatured warmth from the ugly derangement of alcohol use is as delicate as a soap bubble. But when one is capable of properly monitoring what is being ingested, and how it is affecting one's actions, it is possible for some folks (particularly those without a genetic predisposition to alcoholism) to maintain a happy, healthy use of alcohol.
Just as hostility in the ugly drunk is an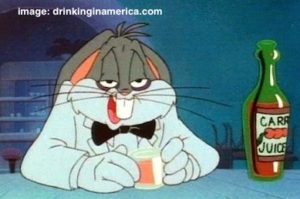 attenuation of the charming authenticity of the floating drunk, I find the blubbering sorrow of a melancholy drunk to be simply a distortion of something positive about drinking: that wistful sadness of the gentle blues. Maybe it's because, as an American man raised in the 70s & 80s, I have difficulty expressing emotion without alcohol's little nudge; maybe it's because I'm mildly clinically depressed all the time; but whatever the reason, there's something I like about feeling a little blue with a little booze.
This gentle blue feeling – like most positive aspects of mild alcoholism – is best shared with a friend. To sit together and reminisce while sipping a bourbon or beer;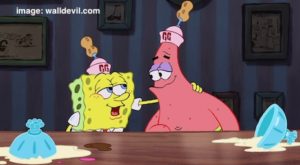 to consider past glories as roundabouts on life's highway that could have sent you in three different directions; to allow speculative wonder to navigate an alternate trajectory; to burnish memories with little fibs, like splicing explosive bits of blockbuster films into the humdrum documentary of your life, and therefore arrive at the destination of your dreams; and to finally assert that, for all the possible unchosen avenues, you've got to admit you're happy with how life's turned out so far … these are the steps to a happy sadness, the gentle blues[ref]That last step, recognizing both the joy of reality and the fantasy of what could've been, is key. If you don't resolve to this step, you've either drank too much or you have some serious decisions to make.[/ref].
This feeling pervades the Marah album If You Didn't Laugh, You'd Cry. The first phrase I wrote down when I started this post was "The drunken sadness of unfulfilled dreams," and for so many reasons this is the feeling I get from this band. I first heard of Marah around 2005, when I was still performing stand-up comedy. I would frequent an online Comedians Message Board, and someone whose taste I trust recommended the band and its latest album. I bought it blindly, and I became a fan of the band. Not only is their music tinged with sadness, but their story is, as well. A Philadelphia band, touted by giants like Stephen King and Nick Hornby,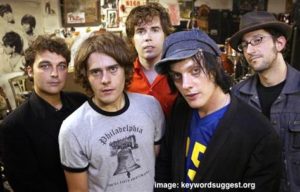 they were the darling of the critics, but never able to push through, despite some national TV exposure; and then a final splintering provided lots of questions of what might-have-been. A band named Marah still exists, but its Bruce Springsteen dreams are now a DIY reality of Americana pickin' – and they seem okay with it. They seem gently blue.
If You Didn't Laugh You'd Cry opens with a brief, jaunty slide guitar melody that is revisited throughout the album, then flies right into "The Closer," a flying, bar-band stomper with a nifty riff, a sing-along chorus and a recorded phone message …
Singer Dave Bielenko writes the songs with his brother, Serge, who also takes lead vocal on a few songs. Dave has a distinctive, nearly-out-of-tune voice that carries a whiff of drunken abandon with it on nearly every song he sings. Or – in the case of this song that's all about wild intoxication – far more than just a whiff.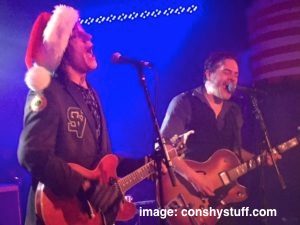 The band also shows a fondness for cramming lots of words into their lyrics, in a Bruce Springsteen/Bob Dylan manner, which sounds really good when done right. It's a feature of the next song, "The Hustle[ref]Not the classic Van McCoy disco song.[/ref]," and the coming-apart-at-the-seams feel is enhanced by the sloppy/cool guitar throughout and the lyrics' working-artist content.
https://www.youtube.com/watch?v=dTbCK7c2sNE
It's another straight-ahead rocker, although the bridge at about 2:05 changes things up and deposits the song back again at about 2:30 with a different guitar riff and a disco bass line, demonstrating the band's dexterity and playfulness. The song ends, then a clip of sad music follows – some interstitial sound linking the pieces together.
Next up is one of those gently blue, bittersweet songs, "City of Dreams."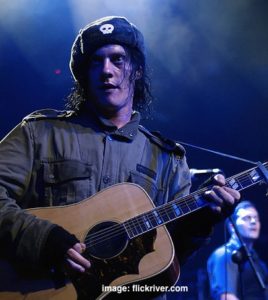 It's a lovely acoustic song, with a mournful lap steel and mellotron accompanying. Dave holds back a bit on his voice's drunken affectation as he sings about being a dreamer in the big city. His voice can be very expressive, despite its scruffy nature, particularly on these slower songs. One of my favorites is the us-against-the-world love song, "Out of Tune." It builds from a voice and guitar, adding brother Serge on banjo and harmonies, finally adding handclaps around 1:54 as the initial sadness turns to the pride and unity of shared love. And I love the message, and chorus, of the song: "So what if we're out of tune with the rest of the world?"
The songwriting is what carries this album. The Brothers Bielenko are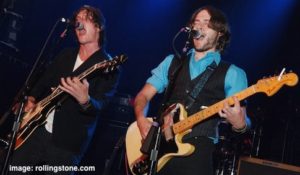 excellent composers, and their arrangements – full of slide guitar and banjo – fit the tunes perfectly. The band sounds like an excellent bar band, all rough edges and passion, and I regret that I've never seen them live. There are many videos on YouTube of their live shows, and they seem like they put on a terrific show. A song that I think captures their fun energy, and that I'm sure is great live, is "Poor People."
https://www.youtube.com/watch?v=RjzaL7Kcvfc
It's got a different beat, again uses a simple guitar riff to drive it and includes a banjo in the background to pull things together. It builds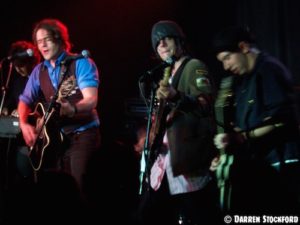 to a point at 2:30 where the entire band fills in with background vocals – which is where I'd be screaming lyrics back to the band, if I heard it live. It's about the indignities of living poor, where "The mice are crazy from paint chip crumbs/As the iron lung of the icebox hums/There's cool ranch dust on our lunchtime thumbs." And the lyrics again have a certain drunken pride – though they suggest a lousy life, the singer celebrates it, almost daring the listener to criticize. Marah is a Philly band, and this deep-seated pride is a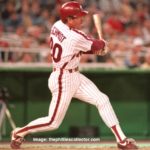 characteristic I associate with Philadelphia and its citizens. In the 1970s the Philadelphia Phillies had a player named Mike Schmidt, one of the best players ever in the game. But Phillies fans booed Schmidt frequently, and griped about his play constantly. HOWEVER – if a fan of a different team put Schmidt down, he could expect an earful in support of Schmidt, and perhaps a punch in the face. There's an Older Brother quality to Philadelphia that Marah's music captures: I can talk shit about my little brother, but nobody else better do it!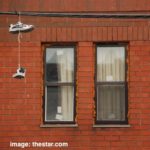 Philadelphia, pride, sadness – they all play a big role in "Walt Whitman Bridge," a song set on the Philadelphia landmark, where the singer contemplates a lost love and life itself, with great imagery of celebrating life's miseries with memorials such as shoes on phone lines and words strewn like bread crumbs.
https://www.youtube.com/watch?v=v7UECZo_xoQ
It's a folksy, blue number with a nice acoustic guitar and some Dylan-y harmonica. Some lap steel and tinkling piano provide nice color, and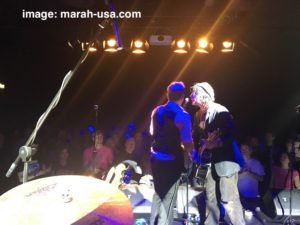 the harmonies in the chorus, first heard about 1:17, give me chills every time.
The Bob Dylan influence is particularly noticeable on the gem "The Dishwasher's Dreams," a song with a constant stream of words set to an Americana stomp. Similar to "Poor People," it's a tale of the desperate poor making bad decisions, and fearing the future so badly that they dream of killing themselves. The only saving grace to their grim life is the love they share for one another. It's a well-told tale, and lines such as "I fell in love with Monique/ on a Yanks winning streak/ and we danced to the popping of corks" are brilliantly evocative. This is another favorite of mine.
https://www.youtube.com/watch?v=lEd2stXMU9s
There isn't a bad song on the album. The jaunty,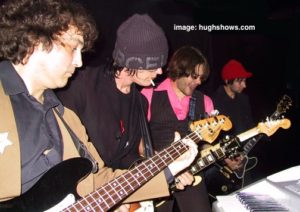 interstitial melody heard at the album opening is finally given its due in the country sing-along "Sooner or Later," with the lovely dobro riff carrying it along. That riff ends the album, as well, then turns into the hidden track, "The Sooner or Later Interlude," a straight-ahead rocker featuring more great Serge/Dave harmonies. "Fat Boy" is a honky-tonk stomper, and "Demon of White Sadness" is a sadly bouncing number with a nice guitar riff, and lyrics about depression described not as the typical blackness, but as something turned white with medication.
Brother Serge takes lead vocals on another tear-jerker, the miss-you-while-I'm-on-the-road, country-tinged "The Apartment."
https://www.youtube.com/watch?v=WmW5ZewTcYU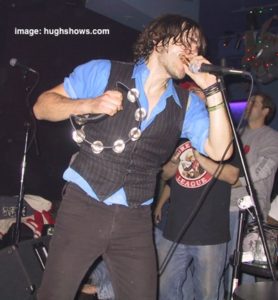 I love the lyrics of this song, the form and structure. I love how few of the lines rhyme (except for some great internal rhymes) – it's really an essay about missing one's love. Mundane facts of life on the road – truck stop bananas, pumping gas – are interspersed with little expressions of yearning love: souvenir keychains, drunken phone calls. Vaguely mariachi trumpets provide a wistful backdrop to the song.
"Wistful" is defined by Google as "having or showing a feeling of vague or regretful longing." Merriam-Webster calls it "yearning or desire tinged with melancholy; musingly sad." It's the feeling I associate with mild drunkenness, a sense of being "gently blue." If you wanted to describe wistfulness in a simple sentence, you might say this: "If you didn't laugh, you'd cry." If you wanted to feel it for yourself, you might listen to "If You Didn't Laugh, You'd Cry." You'll be happy you did.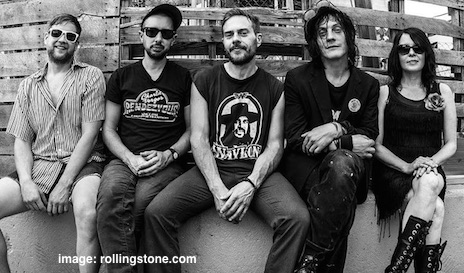 Track Listing:
"The Closer"
"The Hustle"
"City of Dreams"
"Fat Boy"
"Sooner or Later"
"Out of Tune"
"Demon of White Sadness"
"The Dishwasher's Dreams"
"Poor People"
"Walt Whitman Bridge"
"The Apartment"
"Sooner or Later Interlude (Hidden Track)"