At Folsom Prison. Johnny Cash.
1968, Columbia Records. Producer: Bob Johnston
(1999 Reissue)
Original purchased ca. 1994. Reissue purchased ca. 2004.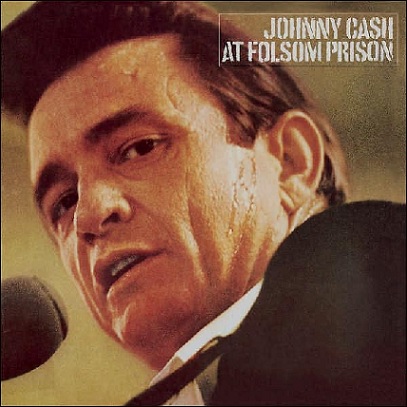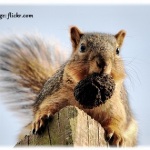 IN A NUTSHELL – A magical recording of a red-hot Johnny Cash and his band (and friends) in concert for 2,000 inmates at Folsom Prison. The song selection and honest, direct performance create a palpable sense of love and understanding between performer and audience that is captured distinctly. Truly an album that is greater than the collection of songs. WOULD BE HIGHER IF – it was more rock 'n roll and less country.
~~~~~~~~~~~~~~~~~~~~~~~~~~~~~~~~~~~~~~~~~~~~~~~
It might shock those who know me today, but I went to church a lot when I was a kid. My family were members of the Covenant United Methodist Church, and we went there religiously!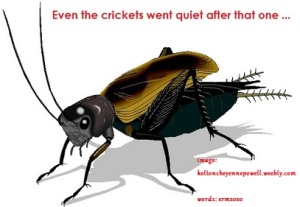 But seriously, we did attend church nearly every Sunday. I was a bit of a skeptic even as a child, asking my mom one Sunday morning – in an attempt to get out of going to my ages 3/4 Sunday School class – "Why do I have to go to Sunday School? Jesus never shows up."
Another person who never showed up was my dad. He'd drop off my mom, sisters and me at the church in the 1962 Ford Fairlane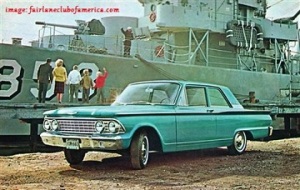 and hightail it out of there faster than you could say "my dad moves in mysterious ways." He'd return in two hours to bring us back home, and my sisters and I would ask, "Daddy, where did you go?"
"Daddy goes to his own church," my mom would answer for him. This seemed perfectly reasonable to my preschool mind – after all, my parents had had their own individual lives before they met, I assumed, so I figured that when they got married, they'd tested out each others' church and come to the realization that each was happier attending their own church. So, there you go – forget the fact that they spend all of their time together, every minute of every hour outside work in each other's company … on Sunday mornings, Daddy goes to his own church. I'd routinely ask them if I could go with dad to his church some Sunday, instead of mom's, but they never answered directly.

Finally – after weeks of inquiring – my sisters and I were told that, just for this one week, while the girls went to church with mom, I'd be attending Dad's Church, a church which apparently did NOT require me to don my blue striped suit to attend. We dropped them off that sunny Spring morning, and two hours later, we men-folk pulled up to Mom's Church in the peacock blue Fairlane, and as the women-folk crawled into the car, I happily announced, "Daddy's church is fishing!!!"
After that day we kids were stuck attending Mom's Church, and only Mom's Church, every Sunday morning.
(This episode is one of the more damaging pieces of evidence on the daunting pile that I'd love to say doesn't exist, of proof that being the sole boy (and youngest child) in our family had clear and significant advantages. The only real evidence I can offer to the contrary is the fact that, as adults, I'm just as fucked up as my sisters are.)
Eventually my dad gave up his church – or, rather, he rescheduled the services to Saturday mornings and Sunday evenings – and he joined the rest of us in attending Mom's Church. I didn't mind church too much. The hour-long worship services in the sanctuary were BORING, but you got to stand up and sing sometimes, and some of the bouncier, rockin'-ish hymns were fun to hear (especially as sung by my mom, who my sisters and I thought had the most beautiful voice!)
Sunday School came after worship, in the vaguely Pine-Sol and cookie-scented classrooms. It offered an hour of Bible lessons and Arts 'n Crafts with a Jesus-y theme –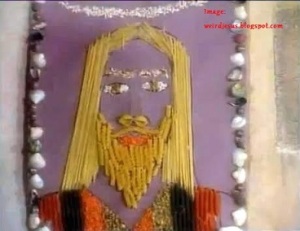 time spent with kids who were my "church friends" – kids that I only interacted with at church, who I thought it would be weird to see outside of church, and who all heeded a tacit agreement among ourselves – even though we spent an hour each Sunday laughing together and learning about Christ-ly living – that we would barely acknowledge each other if encountering one another in the hallways at school, or the Lebanon Valley Mall.
Sunday School students were a little bit like Gay Bar patrons in the 70s, with less beer and fewer cowboy hats.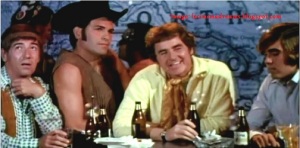 Our church was not the stereotypical "Fire and Brimstone" church, with lessons about Hell and sin and trembling before God. Our church was very much focused on Jesus, and what he was about and how he acted. The lesson each week – regardless if the topic was friends or anger or Christmas or sin – was basically the same: "You know, Jesus really handled himself pretty damn cool in a sticky situation. You should try to do the same."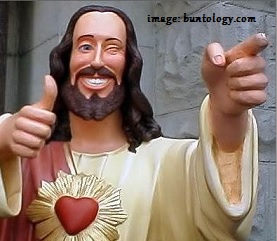 I thought he sounded awesome. Jesus was the cool grown-up who, when all the other grown-ups were shushing the kids and telling them to keep quiet because the adults were talking, said, "Hold on, man! Don't yell at the kids – bring them to me, I'll hang with them for a little while. Hey, you kids wanna play Chase!?"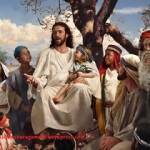 (I've tried to be That Grown-Up when I'm around a bunch of kids. It's friggin exhausting.)
And when Little Person/tax collector Zaccheus climbed up a Sycamore tree to get a better look at Jesus – shocking the morals of the first-century crowd, who gave him and his tax-collecting ass all kinds of shit – Jesus was all,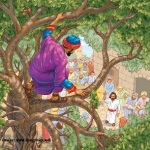 "Everybody, chill out! Yo, Zack! Come on down, and you and I will go get a bite to eat!" This further pissed off the crowd, who were all, like, "Seriously?" and "I know, right??!" This made Jesus seem really friendly, but a little bit punk, too.
When a gang of bullies was going to throw rocks at a girl they thought was being mean and trying to kiss boys and stuff, Jesus stepped in and said,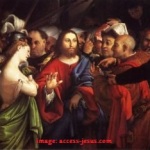 "Dudes! As if you guys don't run after the girls sometimes and try to do stuff to them, right? How about this: anybody who's never done that stuff can throw a rock. Okay? Okay?? Well??" And the bullies were all mumbling, and dropped their rocks and shuffled off.
He just seemed so nice – like the nicest, fairest teacher you ever had, who never treated the popular kids better, never yelled at the class when they were noisy, and even spoke kindly and gave hugs to that big weird kid with the thick glasses who made noises and always had that snot around his nose. He said you should love your enemies, you should turn the other cheek if you get hit, you should forgive the people who hurt you, and then when everybody told him how cool he was, he was always humble and gave the credit to his dad.
And on top of all that, he did magic!! He healed lepers, walked on water, fed a whole mob of people with, like, just a trout and a bun. He even brought a dead guy back to life!! He was like a hairy, friendly, hippy magician – just like Doug Henning!
http://www.youtube.com/watch?v=mwDKoxjtXw0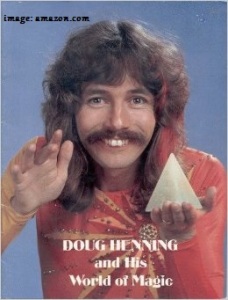 But I was less impressed with all of Jesus's magic tricks than I was with how nice he seemed. I mean, I was 7, 8 years old … I'd been around the block. I knew magic was magic, and I'd seen guys on TV slice Cher into pieces and put her back together, or catch bullets in their teeth, and I knew a friend's uncle who could pull a quarter out of his ear. I myself even got a magic set for Christmas that made little foam rabbits disappear beneath plastic cups. Magic was just magic, I figured, even 2,000 years ago, and even though you never knew how the trick was done, there always was – clearly – a trick. So, that water-into-wine business didn't matter to me. But the kindness stuck with me.
My family continued to go to church. For a few years in Middle School, after a family crisis, we got VERY earnest in our devotion.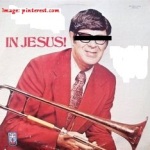 (That's a whole other story that has EVEN LESS to do with Johnny Cash than this story does!) But that fervor eventually waned, and by the time high school ended I wasn't showing up at church very often – only when I had a trombone solo as part of a service.
By the time I graduated college, I didn't think about religion much anymore. I was still very impressed by kindness and peacefulness, and I began reading books about Gandhi and Martin Luther King, and lesser known peace advocates like Chief Joseph and Abdul Gaffar Khan.
I still thought of myself as a Christian, however, just because … well, that's how I was raised. And then one day,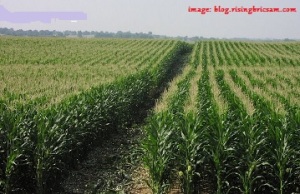 while working in the corn fields with my friend Eric V., who introduced me to so many great bands, we were having the kind of talk that walking 8 hours in the summer sun in humid Central PA through an itchy field of razor-sharp corn plant leaves can sometimes engender: a discussion of religion. At some point (and he and I worked in tandem all year round, and lived together, and commuted together … and I like to talk, so you can imagine there were far more conversations between us than can be crammed into one blog post, even one as endless as mine tend to be) I stated that I still thought of myself as a Christian.
"Really?" he asked. "Why do you say that?"
"Because," I answered, "I think that Jesus really demonstrated a great way for people to live together, with kindness and love."
"Do you think he died for everybody's sins, and came back to life?"
"Well," I said, "no, I don't think that really happened. I think they just made up that story to sort of propagate his myth."
"Because that's Christianity," he said. "If you don't think that story is true, you don't sound like you're a Christian."
I had to agree that disbelieving – and even snickering at the thought of – such a core tenet of a a belief system did call into question how firmly I believed.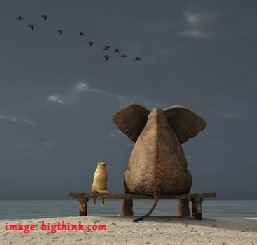 I wrestled for a while with what I should call myself, and still clung – tenuously – to the Christian label, even though I never went to church or worshiped or thought much about faith. I felt like, since I believed in "The Golden Rule" I might as well check the "Christian" box. Then, in deep conversation with another important friend, Bill D., I stated my belief in the golden rule, and he laughed at me.
"What are you laughing at?" I asked.
"Oh, I thought you were joking," he said. "You really believe that – do unto others as you would have them do unto you?"
"Yes," I answered. "I do. Don't you?"
"I think you should do unto others what they want you to do unto them," he said. "Maybe people don't want to be treated like you do. Isn't it better to meet their wishes, instead of putting yours onto them?"
God DAMN this fucking religion bullshit is complex. I officially went Atheist.
I was young then, without a family, so I had lots of time to think about the kind of shit that seems important when you don't have other people in your life who depend on you. I thought a lot about what was important to me, and what I kept returning to was this: kindness. Things like being nice to kids, inviting little weird guys in trees to dinner, standing up for people in trouble. Unlike magic, you don't have to go "Ta-Da!!!" after doing these kinds of things. Put whatever label on it you want, meet with whatever group of people you want, in whatever structures you see fit; sing whatever songs, chant whatever chants, listen to whatever reliable speaker you think does the trick; tell whatever stories, old or new, that you want to hear, and wear whatever goofy clothes or hats or accessories you want … do whatever it is you and your group feel you have to do, and if your main message is kindness and love, then it sounds okay to me.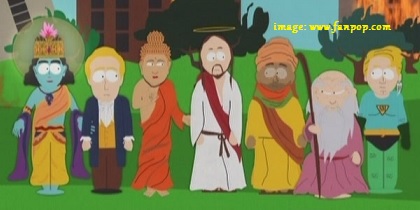 Just don't try to make me wear your goofy hats.
For someone like myself who worships kindness, Johnny Cash's At Folsom Prison is a record greater than the sum of its songs. It is a live recording of two concerts Cash played at the prison in 1968. I first heard it in the early 90s when I began dating my wife.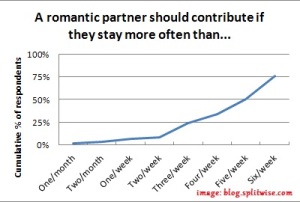 Her roommate, Randy, had 5 zillion vinyl albums in the living room, and – quite remarkably – seemed to play them all – a different record played every time I visited. (In retrospect, I wonder if he was trying to find the album that would drive me away? Not that he was interested in my girlfriend, or that he and I didn't get along, or anything like that, but we all know how annoying the Roommate's Significant Other can be …)
I knew who Johnny Cash was. He had a TV variety show when I was really little that I sort of remember my folks watching.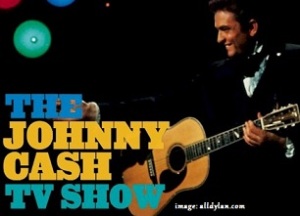 He was also perhaps the greatest villain on my favorite TV show ever, Columbo. I knew he sang "Ring of Fire" and "I Walk the Line" and "A Boy Named Sue." He was the man in black, and sang in a very deep voice. But he was a country singer, and so I had always dismissed him as someone whose music I probably wouldn't like.
When I heard the album playing, I immediately knew it was Johnny Cash – his voice is truly unmistakable. The songs were okay – mostly short, twangy country songs in a spoken/sung style – but what stood out to me was the energy coming from the audience on the record. I'm not a huge fan of live recordings – the songs tend to not sound as good as the original versions, and if they do sound good it just makes me frustrated that I didn't get to SEE the live performance. (I'm looking at you, Live at Hollywood High.) But this live recording was different – from the announcements by the prison staff, to Johnny's between-song banter, to that fabulous crowd reaction – it captured something about the performer that made me want to listen again.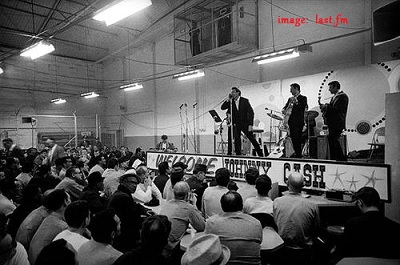 I bought the CD soon after my wife and I moved in together and I no longer had access to Randy's 5 zillion records. I usually only listen to it if I have enough time to listen to the entire disk. For me, it's similar to a concept album, like The Who's Tommy or Pink Floyd's The Wall, in that it has good songs, but there's more to it than just a collection of songs.
The Russian novelist Fyodor Dostoevsky is credited with saying "The degree of civilization of a society can be judged by entering its prisons." I have never entered a prison, so I am not in a position to judge.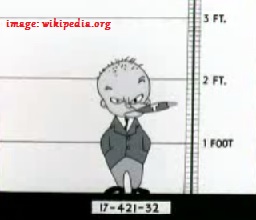 However, it is apparent from media reports, books, TV shows, and simply conversations with friends and acquaintances that the treatment and well-being of prisoners is NOT a major concern of most Americans. Prisoners remain a group in America that nearly everyone – rich or poor, Republican or Democrat, Blue Collar or White Collar – seems to feel good about hating. Good folks who donate to charity, thoughtful folks who strive for inclusiveness and tolerance in their lives, decent folks who place others' needs before their own … each of these groups is largely made up of people who would be happy to forget about the 2.4 million people behind bars in America.
And on the one hand, it's easy to see why people want to forget. There are people behind bars who have done such incredibly horrible things to other people – babies, children, elderly, etc – that I didn't even want to find appropriate links. It's incredibly easy to hear about such crimes and find oneself thinking, "After hearing that, I don't care WHAT happens to that guy," and feeling happy that someone else can think about the particulars. And easier still to convince oneself that "those people deserve anything and everything that happens to them behind bars."
What is difficult to do is to remind oneself that the people in prison are just that – people – and treating people kindly is a good thing to do.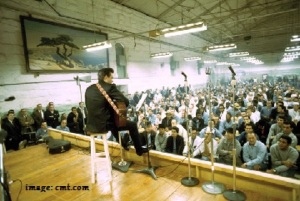 Johnny Cash entered Folsom Prison in 1968, with his band, The Tennessee Three, along with guitarist Carl Perkins (of "Blue Suede Shoes" fame) and The Statler Brothers and Johnny's wife, June Carter, and treated the people there kindly. Despite their evil deeds, he understood they were people. His son, John Carter Cash, has said, "He knew that he was singing for murderers, rapists, and killers but he also knew that he was singing for people that were suffering greater hardships than they were due."
Cash's love of people is what shines through on the record. He selected songs that would resonate with the men in the prison – songs of longing and regret, songs of prison life, songs of violence – and performed them directly and honestly, like one of the guys.
The show opens, naturally, with a simple "Hello. I'm Johnny Cash," and the band starts in on the Cash original "Folsom Prison Blues."
The lyrics offer the perspective of a prisoner watching a train roll by the prison day after day, and how sad it makes him to see all the free people moving past his window. He imagines riding the train far away from Folsom, and his miserable life inside. What makes the song resonate, however, isn't that he's bummed out to be in prison, it's his admission that a) he killed a man in Reno ("just to watch him die") and b) he knows he has to stay at Folsom. He's not bragging about the killing (even though the lyric does elicit some whoops and hollers from the prison audience), and he's not blaming anybody else for his predicament. He's just describing the common human feelings of regret and loss, from the prisoner's perspective. It's a human song, but what makes it fun to listen to is that the band is HOT! Drummer W.S. Holland plays some of the fastest, tightest rolls I've heard, and he really makes these train songs (there are a few on the album) swing. And the lead guitar (I don't know if it's Carl Perkins, or Luther Perkins (not related), the guitarist for The Tennessee Three) is crisp and twangy.
This is the first of several songs about prison from a prisoner's perspective. All are lyrically grim, but – as with Folsom Prison Blues – some of them are bouncy songs, fun to sing and hear. Take, for example, "Cocaine Blues."
This song has lyrics that would make any Gangsta Rapper proud (although you'll be hard-pressed to find the same proportion of critics of Johnny's country (white) lyrics as you'll find of rap (black) lyrics …) And Johnny sings them with gusto and charm, and makes the entire ordeal of murder, running from the law and being condemned to life in Folsom sound like downright fun. This might sound like a dangerous or ill-considered choice of songs to sing in a prison setting, but the whoops and cheers that are heard from the audience throughout the song make it clear that Cash is connecting with them, freeing a little bit of them through song. Clearly the prisoners know they are (mostly) in Folsom for a reason, and most of them are likely regretful and full of shame; and the lyrics reflect on the poor choices and bad decisions that were made, and – as with "Folsom Prison Blues" – don't offer excuses or blame others. But the chance to hear a rousing song that touches on humankind's darker nature, a side that everyone has, and most can keep in check, but that doesn't go away when you've gone to prison, is welcomed by them all, and the connection with the singer is palpable.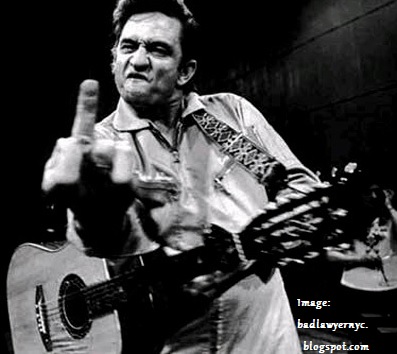 Johnny holds this connection to the audience throughout the recording, whether reminding the crowd between songs that the show is being recorded, so "you can't say 'hell' or 'shit'," or telling them that the last drink of water he had from Folsom tasted like it had "run off Luther's boots." He sings "Joe Bean," a song of a man being hung for a crime he didn't commit (although he did kill 20 other men apart from the one he DIDN'T kill …) and "I Got Stripes," with wife June Carter Cash, a straightforward song about prison life. It's the selection of songs that makes the album great, as much as the performance of the songs. One of the most daring is the (literally) gallows-humored Shel Silverstein song "25 Minutes to Go."
It's a sound of joy – difficult to fathom, given the lyrical content – but joy nonetheless. Johnny Cash is giving the prisoners joy in these songs, and they are grateful – the gift of joy might not sound like a great gift, but it is something these people have craved.
But Cash doesn't just rouse the audience with funny songs of murder and death. He also touches on regret and sadness, a theme everyone can relate too, but maybe none as much as a prisoner. The heartstring-tugger "A Picture of Mother" describes the friendship that arises between prisoners.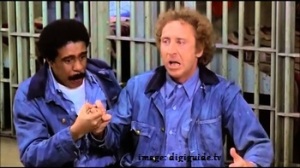 It's a simple, honest song that addresses something that is rarely considered in the media – friendship among inmates. One of the ways society propagates the de-humanization of prisoners is by the indifference to – and downright mocking of, sexual assault of prisoners. "Prison Rape" has become a punch line to such an extent that the simple concept that friendships can develop among prisoners is almost never considered outside the context of "prison marriages" or dangerous gangs. But Johnny leaves the prisoners' humanity intact as the song reflects on the simple fact that when your friend is leaving you and you'll likely never see him again – as in the case of one man being freed while another has years remaining to serve – it is a cause of mixed emotions. While Cash sings, a hush settles over the crowd, and no whoops are heard in this song until the final words are sung.
The prison song "The Wall" is another song that must resonate deeply among inmates.
http://www.youtube.com/watch?v=SNxeguRCeNw
Its grim description of despair and loneliness is broken up in the middle by Johnny's giggling at an unheard comment from the crowd. There are a few places in the record where Cash laughs, or talks to individual inmates, and these were not removed from the final record. It all adds to the feeling of connection between performer and crowd that is experienced throughout.
Other tear-jerkers include "The Long Black Veil," a song about honor among friends, and the consequences of bad choices; "I Still Miss Someone" – not necessarily about a prisoner, but particularly poignant here; and "Give My Love to Rose."
Perhaps the saddest song is "The Green Green Grass of Home," in which an inmate is released and visits his hometown, his family and friends, only to wake up and find he has been dreaming. When I listen to these songs I wonder what it must have been like to be a Folsom inmate and watch this concert unfold. It must have been a resounding, emotional, life-affirming experience – the type of thing that I imagine few – if any – prisoners ever experience during their detention. These considerations – and the fact that you can feel them throughout the recording – make this record truly greater than the sum of its parts.
But Cash also gives the boys some levity and laughs, too. The concert I've described so far would've likely led to a mass suicide at Folsom.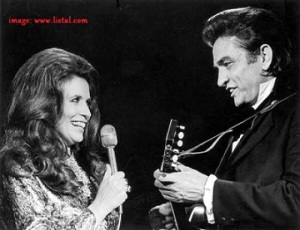 He garners big laughs from the crowd with songs such as "Dirty Old Egg Suckin' Dog," and "Flushed from the Bathroom of Your Heart." And he gets the crowd excited with fun numbers "The Legend of John Henry's Hammer," "Orange Blossom Special," (again featuring Holland's machine gun drumming, and exceptional harmonica work from Cash), and the famous song "Jackson," sung with his wife, June Carter Cash, whose appearance on stage, and charming banter, (Johnny: "Boy, I like to watch you talk!" June: "I'm talkin' with my mouth! It's way up here!") nearly brings down the house.
The album ends nearly perfectly, with the gospel song "Greystone Chapel," written by Folsom inmate Glen Sherley.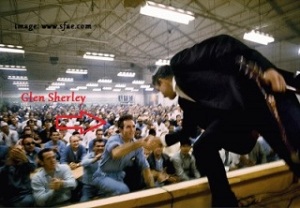 Cash had never heard the song until the day before the concert, then taught it to the band the night before the show and debuted it at the time of the recording. It has some of the best country-twang electric guitar on the album, and the performance by the entire group – Johnny, June, The Statler Brothers, Carl Perkins and The Tennessee Three – is alive and heartfelt. Its story of salvation of the sinner through the acceptance of Jesus Chris – this time set in the Folsom Prison chapel, called Greystone Chapel – is a common gospel theme. It ends the concert with a message of hope, the type of hope that lifers in prison must cling to – that a better place exists for them, even if it is on the other side of death.
The idea that another place exists after death has never made much sense to me, and I've never had much use for the rest of the "magic" associated with religion. But the kindness and humanity on display in this album creates its own kind of magic, a magic that I love to revisit. Perhaps this magic is the same magic that Jesus created when he was showing love to the children and tax collectors and prostitutes. Maybe the stories of fishes and loaves and water into wine grew from the fact that he was touching some human part inside people who had never before been shown their own humanity.
Maybe in 2,000 years people will be talking about a different JC, and folks will offer up At Folsom Prison as evidence that Johnny Cash once melted prison bars and freed a couple thousand men using just a guitar and his voice.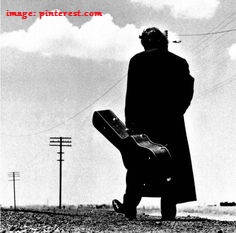 TRACK LISTING
Folsom Prison Blues
Busted
Dark as the Dungeon
I Still Miss Someone
Cocaine Blues
25 Minutes to Go
Orange Blossom Special
The Long Black Veil
Send a Picture of Mother
The Wall
Dirty Old Egg-Suckin' Dog
Flushed From the Bathroom of Your Heart
Joe Bean
Jackson
Give My Love to Rose
I Got Stripes
The Legend of John Henry's Hammer
Green, Green Grass of Home
Greystone Chapel
[easy-fb-like-box url="https://www.facebook.com/100favealbums" width="" height="" theme="light" faces="true" header="true" posts="false" border="true"]