[twitter-follow username="100favealbums" scheme="dark"]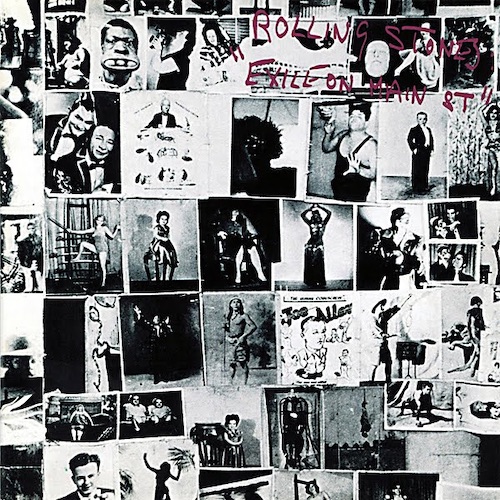 Exile on Main St.. The Rolling Stones.
1972, Rolling Stones Records. Producer: Jimmy Miller.
Purchased, 1995.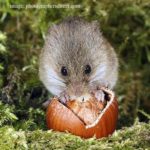 IN A NUTSHELL: Exile on Main St., by The Rolling Stones, is a double-album's worth of straight ahead blues, uplifting gospel, dirty boogie and good ol' rock n roll. Mick Jagger's vocals are top-notch, as are Keith Richards' harmonies, and the dueling guitar work by Richards and Mick Taylor warrants repeated listens. It's a ragged, fun, human collection of songs revealing a great band at their shabby best.
NOTE: The setup – below the line ↓ – might be the best part … Or skip right to the album discussion.
~~~~
On the first few posts ever on this website, 280 years ago in 1979, I rambled on and on about "Greatest Albums" lists. Back in those days I was under the misapprehension that readers the world over would be flocking to a website to read 7,000-word posts about rock albums – the good, the bad and the obscure – fancied by some random, middle-aged, white guy. I'd still like to live in that world – where one can begin to approach a real, human connection through written words and ideas – as long as I don't have to read someone else's boring blathering in return.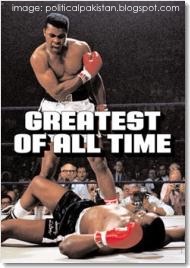 I now understand that a) multitudes aren't coming; and b) I might as well honor those who do come by keeping things as short as possible, never more than 6,800 words. So I'll now briefly recap those first three posts: Greatest Album Lists[ref]Really, Greatest (Anything in The Arts) Lists, to be honest.[/ref] are very annoying.
Art is not a contest. No scores are kept. No statistics are available, except dollars, a measurement by which Spy Kids 3D is a better movie than Doctor Zhivago. "Greatest" will always be a subjective term.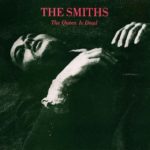 In 2013, NME named The Smiths' The Queen Is Dead the greatest album ever. A year earlier, Rolling Stone magazine gave the honor to a record at #87 on NME's list The Beatles' Sgt. Pepper's Lonely Hearts Club Band. On their list at #216 was The Queen Is Dead. NME's 7th greatest album was the debut album by The Stone Roses,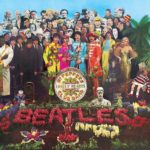 which was #497 on Rolling Stone's list. So, the notion of "Greatest" in the arts has a little, shall we say, flexibility to it.
Calling something "The Greatest" in the arts to me smacks of a kind of arrogant presumptuousness that I've tried to eliminate from my personality. Who am I to say what's "Great?" This is why I'm counting down "favorites." A Favorite Album may, or may not, be great. Very often what makes a record a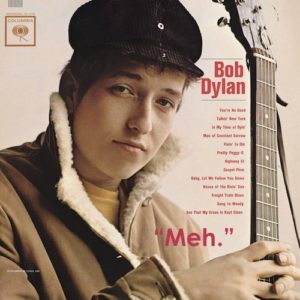 favorite is a connection to it that is separate from the music – who you were with when you heard it, or a time in life that it represents. Conversely, an album that you can tell is "Great" might not really resonate with you. For me, The Beach Boys' Pet Sounds is such an album. I listened, thought, "Wow, that's really good!" but never listened to it a whole lot afterwards. And I recognize that Bob Dylan is exceptional, the Nobel Prize, etc. etc., but he just doesn't do much for me.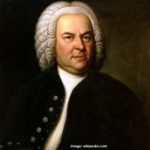 And these examples don't even get into the issue of genre preferences. Metallica may well be the greatest metal band ever. Tupac Shakur may be the greatest rapper, Bach the greatest classical composer, and Barbra Streisand the greatest musical theater singer ever. I'm just not moved. I can recognize talent in all of them, but as to their greatness, I'll have to take your word for it.
Those "Greatest Album" lists are assembled at magazines by "experts" who get together and decide for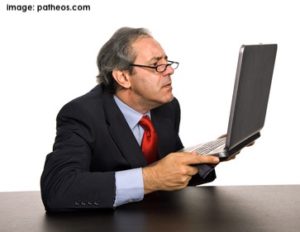 everyone else what is great and what isn't. Then they write about the records, saying stuff like "the most pro­phetic rock album ever made," and "[goes] deep inside himself, without a net or fear," and speak of "the rustic beauty of the … music and the drama of their own reflections," and a "declaration of committed mutiny, a statement of faith in the transfigurative powers of rock & roll." Words like these are pretty, but I often find them more interesting than the music they describe.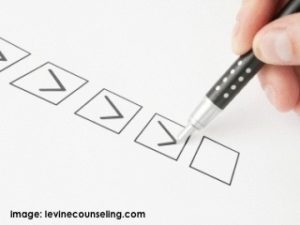 To compile my list, I drove around listening to all my CDs, then I ranked them by "favoriteness." This is a difficult-to-measure, impossible-to-quantify characteristic that involves several sub-categories, such as: good feelings elicited, great memories associated, reflexive urge to call old friend to discuss, cool-sounding music making me want to sing/play along, verklemptiness, excitement-at-hearing-subsequent-song-even-after-the-song-just-played-made-me-way-more-excited-than-the-previous-song, and "greatness." There has to be some consideration of greatness.
The reason "greatness" was important in compiling my list is that while listening to all the records that I had in my collection, every so often I'd come across one that I hadn't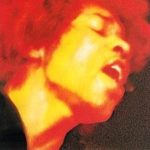 listened to very much but that really blew me away. These were records that didn't have many of those first few aspects of my "favoriteness" determination, but whose undeniable … well, greatness had to be accounted for! A few that come to mind – and that, by revealing them here I am admitting that they will not be on my list – include Paul's Boutique, by The Beastie Boys, The Hour of Bewilderbeast, by Badly Drawn Boy, and Electric Ladyland, by The Jimi Hendrix Experience.
All such records with lots of "greatness" were given high marks during my initial assessment phase.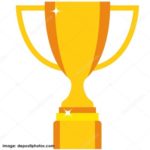 After all my records were assessed, I went back over the highly-rated records and considered how much personal connection I had to the records and adjusted accordingly. Records like Paul's Boutique dropped. Others moved higher. And one record stayed very high because in the time between my initial assessment and my final assessment, I'd been listening to it regularly and it had become one of my favorites: Exile on Main St., by The Rolling Stones.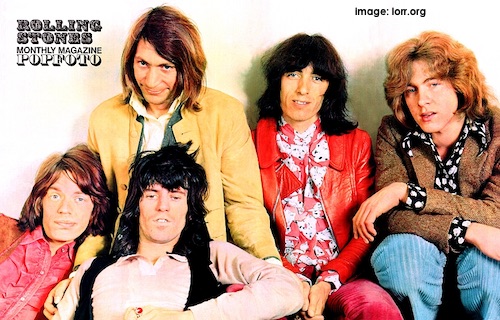 Of course I'd heard of Exile on Main St. for many years. As a teen rock music fan in the 80s, it was one of those touchstone albums that you'd hear old people in their 20s mention all the time.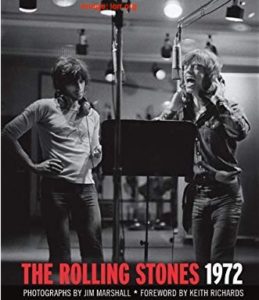 Along with records like Goodbye Yellow Brick Road, Dark Side of the Moon and Hotel California, it was part of The Canon. Still, as I've written about before, I was a latecomer to The Rolling Stones, and I never felt compelled to rush out and buy it. And the reason I finally DID buy it might offend the sensibilities of all those Stones fans out there …
I bought it because of Liz Phair. In 1993 her debut album Exile in Guyville came out, and I bought it and I loved it.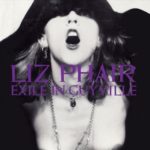 One of the well-publicized stories about the record was that her 18-song effort was a song-by-song response to the Rolling Stones' Exile on Main St. Since I loved her record, I went out and bought theirs. I played them song-by-song and, to tell the truth, I never really got the connection.
Both albums faded a bit from my regular playlist. Then in the early 2010s, I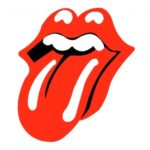 started playing in a band with some friends. We called ourselves Tequila Mockingbird and played at some friends' parties. Our setlist featured a big helping of Stones' songs, and many from Exile on Main St., in particular. Between the band and my 100 Favorite Album project, I began listening to the record more often. And I fell in love with it.
Right from the albums's first sounds – a classic riff and Mick purring "Oooohh, yeeaaahh" – the album is fantastic.
The first twenty seconds of "Rocks Off" encompasses much of what will follow: great riffs, Mick Jagger's strong vocals, and the band's subtle brilliance – in this case, the second guitar harmonizing on that opening riff. Charlie Watts's drumming is very strong. His pace is perfect and his short, snappy fills keep the song moving from line to line.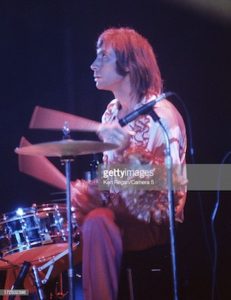 "Rocks Off" also showcases perhaps my favorite unheralded aspect of the Stones: Keith Richards's (Keef!) harmony vocals! They're reedy and raw and always on the money. The song's lyrics describe the fast and loose lifestyle of a young man on the prowl. But there's a tragic aspect to the life, a heroin addiction. "I'm zipping through the days at lightning speed/
Plug in, flush out and fire the fucking feed." The drug influence is also felt in the trippy section, beginning about 2:11. Also featured on the song, and the entire album, is the horn section of Bobby Keys[ref]In Keith Richards's autobiography, Life, Keys seems to have been Keef's closest friend among the Stones' circle.[/ref] on sax and Jim Price on trumpet.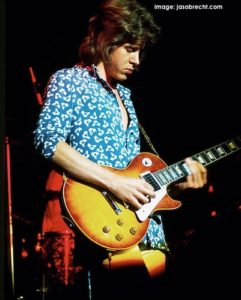 "Rocks Off" is one of my all-time favorite songs, and the band kind of duplicates the feat on the rocker "All Down the Line." It's got a strong, simple riff, this time supporting Mick Taylor's sweet slide guitar. The song's three-note riff becomes the framework for terrific horn parts, about 2:55. Jagger's vocals are very strong on lyrics about having a good time after a hard day. Jagger has become such an icon, famous for decades simply for being Mick Jagger, that it's easy to forget what a supremely talented singer and musician the man is.
The album's slow songs are some of the best vehicles for his talents, for example "Let it Loose."
https://www.youtube.com/watch?v=DyQ7YVXrCk4
He's got terrific phrasing, and easily ranges between the soft charm heard in the first verse to the barely-contained anguish in the second (1:26). The song starts with Keef's watery guitar, and nice piano from longtime Stones keyboardist Nicky Hopkins. A chorus joins in as the song builds, and their "ooo"s at 2:00, as Keef and Hopkins rise from the background, always give me chills. Then Watts and the horns come in to lead the song back to Mick wailing with the choir about his lost love until its bittersweet conclusion.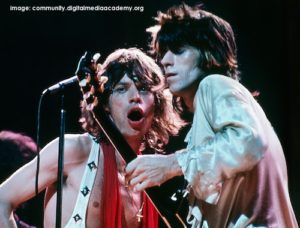 Many of the songs on Exile on Main St. are quite moving. "I Just Want to See His Face," a gospel groove that almost makes me a believer, is particularly affecting through earphones. "Loving Cup" demonstrates how brilliantly Mick and Keef work together, both using a Southern accent, with Keef's harmony vocals particularly strong here. It's a love song, with a great outro, starting at 3:21, featuring the horns.
But my favorite of the softer pieces is the protest song "Sweet Black Angel."
https://www.youtube.com/watch?v=p2TmoHpzk9Q
Its lyrics are about 60s activist and intellectual Angela Davis, and her alleged involvement in a courthouse shooting, for which she was later acquitted. The clattering percussion and acoustic guitar give the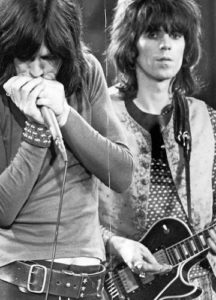 song a front-porch feel, and Mick and Keef's harmonies are fantastic. The song also features Mick's harmonica playing, which Richards has always raved about. Mick's harp is also featured on the honky-tonk "Sweet Virginia," Robert Johnson's blues standard "Stop Breaking Down," and the fun rave-up "Turd on the Run." The album has some of Mick's most brilliant overall work.
I've tried to avoid taking sides in arguments that are pointless, but I will say that if pressed to choose in the Mick/Keith dichotomy, I'd come down fully on the side of Keef. Nothing makes me happier on Exile on Main St. than the Richards standout "Happy."
Keith played guitar and bass and cut the song in a matter of minutes with producer Jimmy Miller on drums and Bobby Keys on maracas. His voice strains and whines perfectly on lead vocals about the type of love he needs, and he plays a nice lead guitar and bass line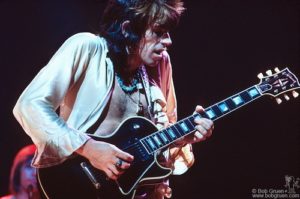 throughout. The rest of the band's parts were added later. Keith's harmonizing, I'll say again, is also phenomenal on the album. On "Casino Boogie," he provides the bass line and the harmonies. "Casino Boogie" is one of the simple, bluesy gems on the record, along with "Shake Your Hips" and "Ventilator Blues." They're songs that, along with the rip-roarin' stomper "Rip This Joint," remind you that The Rolling Stones started out as a full-on blues act.
Keith and Mick are perhaps at their best on the popular radio hit "Tumbling Dice," in which Mick complains about the lowdown ladies in his life.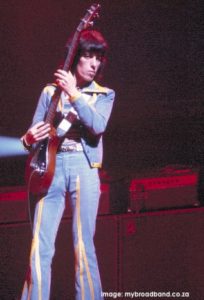 Mick Taylor plays bass on this song, as regular bassist Bill Wyman was frequently absent from recording sessions. (Read up on the recording of this album sometime if you want to marvel that such a masterwork ever made it onto tape.) It's a terrific bass line, meshing perfectly with Watts's breezy drumming and the bluesy guitars. The vocal performance by the backing singers is tremendous, as are (I'll say it again) Keef's harmony vocals.
His harmonies are also a pleasure on the Country-tinged "Torn and Frayed," which describes a band coming apart at the seams. Literally.
https://www.youtube.com/watch?v=hJtfANIjmQM
It begins with an acoustic guitar and is filled in with a honky-tonk piano, and Mick again uses his best Country/Western twang on the vocals.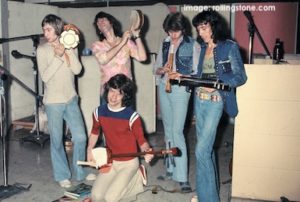 The bass line is terrific, another instance of Mick Taylor filling in for Bill Wyman. The performance sounds as torn and frayed as the band in the lyrics, creating a sense of wobbly-yet-satisfactory production that provides a charm to many of the songs. There's a great pedal steel guitar solo from guest Al Perkins about 1:45, and a subtle organ throughout played by trumpet man Jim Price.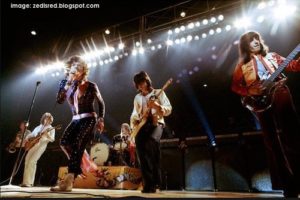 The album ends with two great songs that really bring the entire piece to a brilliant conclusion. My only complaint is that I'd have put the closing song, "Soul Survivor," second-to-last. It's a great song, in which current Stones Jagger, Richards and Watts are the only band members to play. The lyrics profess Jagger's desire to remain with his loved one regardless of the peril. And it's got great backing vocals, just like the song I wish was the album closer: "Shine a Light."
The song opens with piano by Billy Preston and Jagger's inspired vocals. His voice shines on this one, as does Preston's organ. Mick's really good on these gospel-inspired songs.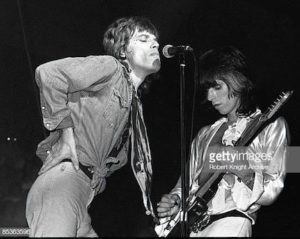 Given the well-known problems Richards had with heroin, and the imagery in the song, I wonder if this is a song that Mick wrote about Keith. The bass line rolls along, and there's dispute as to whether Wyman or Taylor played it. It's a moving song, with a great guitar by Taylor running throughout. As voices and instruments are added, the song turns from a song of concern for a friend to a a song of inspiration. I love the breakdown about 3:00, and how it picks back up. It's truly a great one.
And this album is truly a great one. Look, I don't try to pick unknown or unloved albums to be on my list. I just pick what I like, and sometimes I like the greats. Exile on Main St. is a great.
Track Listing:
"Rocks Off"
"Rip This Joint"
"Shake Your Hips"
"Casino Boogie"
"Tumbling Dice"
"Sweet Virginia"
"Torn and Frayed"
"Sweet Black Angel"
"Loving Cup"
"Happy"
"Turd on the Run"
"Ventilator Blues"
"I Just Want to See His Face"
"Let It Loose"
"All Down the Line"
"Stop Breaking Down"
"Shine a Light"
"Soul Survivor"