[twitter-follow username="100favealbums" scheme="dark"]
Paranoid. Black Sabbath.
1970, Warner Bros. Records. Producer: Rodger Bain.
Purchased, 1995.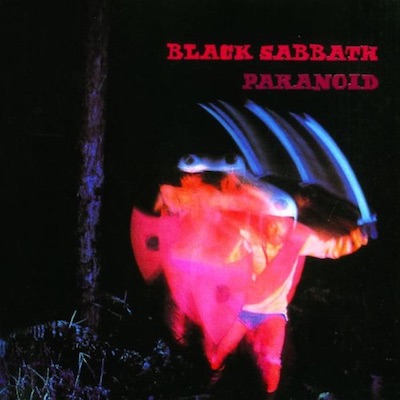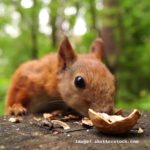 IN A NUTSHELL: The Heavy Metal pioneers are more melodic, more virtuosic and less Satanic than their name and reputation would lead you to believe! Tony Iommi has an unmistakable sound, and rhythm section Geezer Butler and Bill Ward pull the songs in wonderful directions, getting almost funky at times. Singer Ozzy Osbourne's unaffected voice is perfect for the band's songs of warning and lament. Together, they create a relentlessly inventive soundscape.
NOTE: The setup – below the line ↓ – might be the best part … Or skip right to the album discussion.
~~~~~~~~~~~~~~~~~~~~~~~~~~~~~~~~~~~~~~~~~~~~~~~~~
I could have had it worse. Many kids did. I knew kids who were physically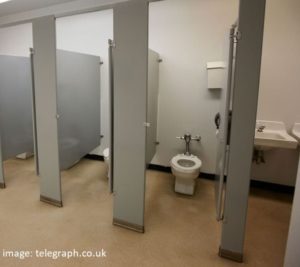 attacked by Them – heads held in toilets; red-bellies; sometimes, but usually not, beatings with fists. Some were shaken down for money by Them, preferring to go without lunch for a day and reorganize tomorrow's school-day routine than to put up an argument and wind up with both toilet-water hair and no lunch. Having clothes ruined by Them in broad-daylight cafeteria food assaults was not unheard of.
I myself was only called names and intimidated by Them. I think because I was kind of big – tall and chubby – and most of Them (the boys, anyway) were small, I was a potentially more complicated target for assault than smaller kids. Also, by middle school I'd developed a quick wit and kept a quiver-full of self-deprecating jokes at the ready, barbs that always flew back to prick only myself, causing laughter – or at least distraction.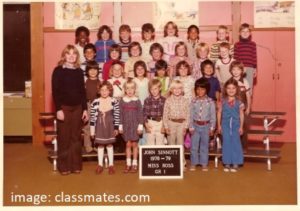 By my senior year in high school, I'd made friends with as many of Them as I could. Not friends in the way that we'd hang out together, but friends in the way that I could nod in the hallways and say, "'sup Stew?" or "Hey, Hitzy" and they'd nod and offer a "Moore …" in return. I cultivated many of these relationships by initiating talks of earlier times, the elementary school years, when many of Them seemed angry or dirty[ref]Looking back later, with the experience of parenthood to cast a brighter light on childhood, I was astounded to realize how many of Them were clearly abused as kids – emotionally, physically, sexually. I could name names and provide the poor circumstantial evidence of vague memories, but there seems to be little point now.[/ref] but not particularly threatening. I'd offer reminiscences of class projects we'd shared, or youth sports and lousy teachers. Some of Their parents were friends with my parents, so I'd ask, "How's your mom?" And I'd (frankly) try to seem as book-dumb as They were, since my membership in the "smart kid" classes, and its typically accompanying smugness, was a clear trigger for Them.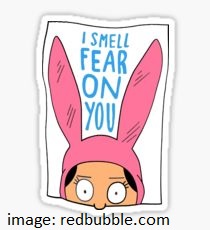 This was a chancy path, however. If They felt you were trying to ingratiate yourself with Them, They'd sense your fear and use it as a weapon against you. "Hey, I need a ride tonight. You have a car, right?" There was a clear threat in these two sentences, and it presented just the very tip of a string that would have only dubious consequences if pulled this one time. I had friends in high school who found themselves in precarious circumstances[ref]Most of these kids were friends who, unlike me, dallied in alcohol and illegal drugs and so had more frequent interactions with Them, since many of Them were the suppliers.[/ref], the type that I avoided by simply being friendly-but-not-too-friendly.
They were the Treads. They were a 70s/80s teenage Public School archetype, one that may still be extant,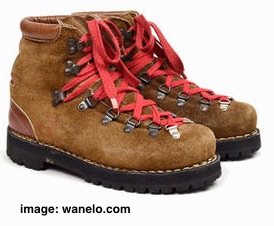 although I'm sure it's evolved. They were most brilliantly portrayed as "The Freaks" of McKinley High School in the wonderful TV show Freaks and Geeks. Some schools called them "Druggies" or "Stoners," some schools called them "Burnouts" or "Roaches." The lore at my school was that "Tread" was adopted due to the big-treaded workboots (typically with red shoelaces, for some reason) They all seemed to wear.
Individually, most could be funny or charming, even kind, but in a group they were terrifying. When I was 12, my friends and I were waiting for our ride after Pop Warner football practice and found ourselves the last people in the twilit school yard, where pickup had been arranged. This was in the late 70s, a time when it was assumed by everyone that the coach had done his job properly when he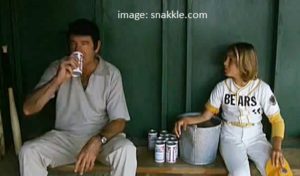 asked us through a cloud of cigar smoke emanating from the rolled-down window of his idling car, "You kids got a ride?" then drove off after we nodded our replies. Cell phones didn't exist, payphones weren't installed at the school (and we didn't have change in our practice unis, anyway), and so we just had to hope that a parent hadn't forgotten us – or if they had, that one of the other parents in the carpool would remind them by calling to ask where the kids were. (And wouldn't get a busy signal or no answer, as it was the pre-answering machine era, too.)
It got dark, so we moved under the dusk-to-dawn light near the school entrance to wait. It was then that a group of about five of Them came out of the darkness. We were much younger than these highschoolers, but They still stopped to call us fags and menacingly try on our football equipment while making crude jokes, then fling it around the parking lot. Then They recognized Richie in our group, whose older brother Steve was a Tread.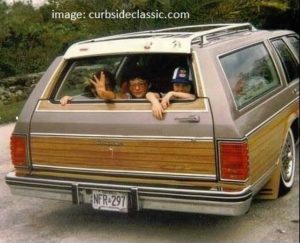 They began to "jokingly" threaten him with sexual assault while the rest of my group just sat there trying to will a car to arrive. They were standing in a circle around the kneeling 11 year old, and he was firing F-bombs at Them while They chuckled and began unzipping Their flies.
A car pulled into the lot, and given the distance and dim light and quick-moving kids, nothing about the scene seemed out of the ordinary to the driver – just some older kids (who were probably known by the parent) hanging with us younger kids. We didn't tell the driver, though we all agreed in low, muffled voices that those kids were jerks, and Richie stated for a fact that Steve was going to find out about this[ref]Steve was, in fact, another channel of protection from the Treads for me. As children we'd played neighborhood sports together almost daily, and were really close friends. By high school I'd known him to intercede on my behalf a few times, though he also reminded me a few times not to fuck with him.[/ref] and those kids would be sorry.
I'm sure it is not an actual fact, I'm sure that if photographs of the incident existed they would demonstrate that it is a total fabrication, but in my mind's eye all of the Treads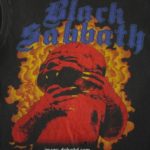 that night were wearing Black Sabbath t-shirts. This is because I associated the band and its merchandise not with any music – I don't know if I'd heard a Black Sabbath song until my freshman year of high school – but only as the uniform choice of hateful, angry teenagers. All the Treads wore rock t-shirts from a variety of bands, but the hateful-est, angriest seemed to always wear Black Sabbath.
I knew the name Black Sabbath as a band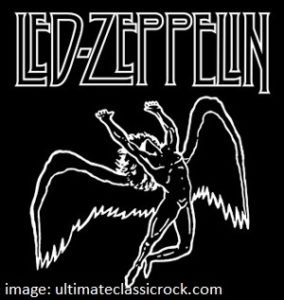 because I'd seen it on shirts that were clearly concert-related. During Middle School, when I was still heavy into The Village People, and just finding out about Cheap Trick and Devo, I learned the names of rock bands mostly from Treads' t-shirts. Led Zeppelin, featuring a picture of some eunuch angel screaming over his lost genitalia (perhaps?). Bad Company, with a picture of cute dogs (it seemed). Deep Purple, which I figured probably wasn't about the Donny & Marie song.
The Black Sabbath shirts were the grossest, most shocking shirts,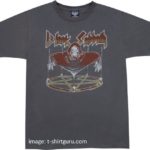 with devil babies, scenes of demonic torture and clearly Satanic imagery. In those days I was a Christian, and those images inspired fear in me almost to the same degree the creepy bullies wearing the shirts did. And even as I grew to be a rock fan and learned to take such imagery with a grain of salt, I still assumed Black Sabbath was a band I'd never enjoy. I figured their music must be as bad as the people who'd worn their shirts.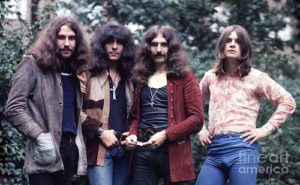 Of course, leave it to Dr. Dave to set me straight, once again. Our band, JB & The So-Called Cells, was rehearsing and he kept playing this simple riff, five notes over and over. Then he'd break into a crunchy, longer melodic part and our drummer – a big Black Sabbath fan – would join in, clearly knowing the song in-depth. When I asked what it was, he was shocked to learn I had never listened to Black Sabbath or heard of "Fairies Wear Boots."
It starts with that slow picking riff Dave played[ref]First time through it's delayed in one speaker to give it a strange, disorienting sound.[/ref] then at 0:14 bass and drums join in. This introduction[ref]Which is titled "Jack the Stripper" on the U.S. release.[/ref] really has everything that I love about the band – Tony Iommi's thick guitar sound, Geezer Butler's jumping, stretching bass lines, and drummer Bill Ward's powerful and tricky fills (from 0:40 to 0:50 and 1:03 to 1:15). And then at about 1:15, the hidden beauty of the band is unleashed: they're really a swinging, funky band! (This song's more swing than funk – but we'll get back to funk.) Singer Ozzy Osbourne joins in, and he could really sing! His sneering,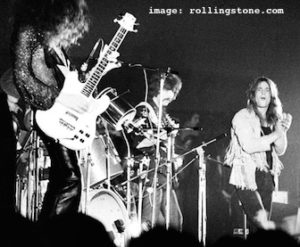 unaffected voice suits the band's lyrics, which are often dark, although in this case they're about seeing fairies (in boots) after using too many drugs. "Fairies Wear Boots" also has the Black Sabbath calling card of several themes in a single song, jumping between rhythms and melodies, and eschewing the typical verse/chorus/verse/bridge song structure. I particularly like when the band hits 2:40, and Iommi plays a riff that sounds out of tune, briefly, then oozes into place. They jam for almost a minute, then at 3:30 effortlessly transition to a different part; then at 4:10, they do it again! It's in sections like these that you can hear what talented musicians these guys are – something I never would have thought of "Black Sabbath" as a high school freshman, meekly carrying some Tread's lunch tray for him, hating those words on his concert jersey. When I happened upon the used CD in the mid-90s, I couldn't resist buying it.
You may still be scratching your head over my reference to "funk" above, but the example I give you is in the drums on the stellar "Hand of Doom."
https://www.youtube.com/watch?v=EJFiGq3Ndxo
The song starts with a Butler bass groove, and drummer Ward immediately plays a funky drummer beat. By 0:45, the funk has disappeared, but it returns. Ozzy sings lyrics that are vehemently anti-drug, telling a tale of a path to death[ref]I'm sure some of the young Treads in my school, hoping to escape the many difficulties their life obviously held, interpreted these lyrics differently at the time.[/ref]. The band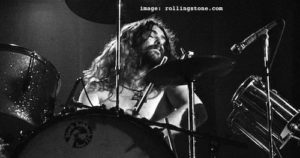 rips into a different section at about 2:05, which again swings, thanks to Ward's foot. Iommi plays a cool solo at 4:25, then the band returns to the funky section. The song really packs so much into 7 minutes, taking the listener on quite a journey.
Regarding their lyrics, given their name and their Satanic imagery, you may find it surprising that many of their songs are warnings against the evil in humans' hearts and deeds. Bassist Butler was the main lyricist, and he's fond of shining light on humanity's darkness – not celebrating it. This album came out in 1970, and many songs make reference to the war in Vietnam[ref]If you haven't seen the PBS documentary The Vietnam War, by Ken Burns and Lynn Novick, it is phenomenal. Not perfect – but phenomenal.[/ref], and it's hard not to think it was on their minds in the terrific "War Pigs."
One of the first things I notice about this song (and the entire album) is how great it sounds.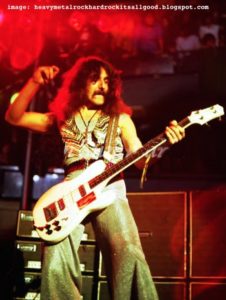 Each instrument is crisp and clear, from Butler's menacing bass line to Iommi's growling guitar. (Iommi played with strings that were extra heavy to give his guitar sound, well, extra heaviness.) The song builds wonderfully, through Ward's high-hat and Iommi's squiggles and Ozzy's sneering, angled voice. I love the bass through the riff starting at 2:06, before the second verse. Once again, Ward plays with a funkiness uncommon in heavy metal. And again – if the band is satanic, they sure do ask God to smite the evil quite a lot. The band again shows off their serious chops during Iommi's solo beginning at 3:30. The solo features a common Iommi trick – two different solos played at the same time, similar but slightly different, giving a crazy feeling to the sound. It's an incredible song – lyrics, sound, instruments – one of my favorites ever[ref]There's a great video of Spongebob singing it, too.[/ref].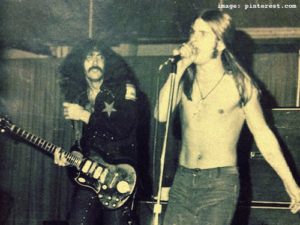 And it has a great finale, too, beginning at 5:45 (a section called "Luke's Wall" on the US release). Iommi's double guitar solo delivers all the way to the crazy speed-up ending.
Butler's lyrics also take on the growing threat of nuclear war – a fear that, unfortunately, is as relevant today as it was during the Cold War – in the wild "Electric Funeral." It features more double-tracked guitar, and furious bass work, and has an ominous fade-out.
"Electric Funeral" is a companion song to one of the band's most famous: "Iron Man."
The story told in "Iron Man" may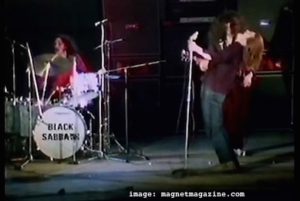 be the result of the annihilation described in "Electric Funeral." And musically, both songs feature simple, repetitive riffs. This was the first Black Sabbath song I ever heard, thanks to a tuba player during my freshman year of high school marching band, who played the riff nearly nonstop[ref]This seems to be something that tuba players everywhere, of all abilities, love to do.[/ref]. It's now one of their most famous songs, and – not meaning to damn it with faint praise – it's probably every 7 year old's favorite heavy metal song. And it is, frankly, scary sounding – particularly the beginning. The song features another Sabbath trick – guitar/bass/vocals all playing the same melody. This leaves drummer Ward to stand out – for (just one) example, the fills beginning about 1:18. The song also again highlights the band's ability to switch rhythms and styles – which speaks to Ward's ability. At 3:10, they go into a furious Iommi solo, then switch back to the main riff at 3:40.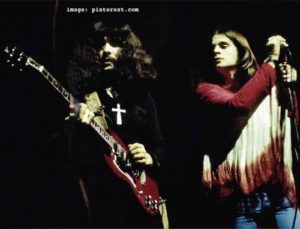 Then they change again for the ending part beginning at 4:40 (more double-tracked Iommi soloing). I'm amazed by it every time – it's powerful and impressive.
The musicians are so good, you may ask yourself "Do they even need a singer?" Well, you can find the answer on the instrumental "Rat Salad," a song that shows off the instrumentalists. It's a great song, but it is missing something: Ozzy.
Singer Ozzy Osbourne became the most famous member of the band, eventually becoming a caricature of himself in one of the first celebrity "reality" shows, The Osbournes. It played up his seemingly burned-out mental state and unintelligible speaking. But in Black Sabbath, in the early 70s, he was just a front man with his own unique style. It's on display on the title track, a pop hit around the world.
Butler has said the song was written in about 3 minutes,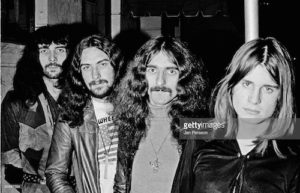 and it isn't throwing shade[ref]As the kids say.[/ref] to say it sounds like it. It's simple, with a revving engine guitar a driving beat and Ozzy's syncopated, direct delivery. It's got a great bass, and another great Iommi solo at about 1:23. The lyrics are actually quite sad, about the desperation of mental illness. But it's a barn-burner of a song, nonetheless.
After all this Heavy Metal Rock, you may want to chill out a bit. I imagine even the Treads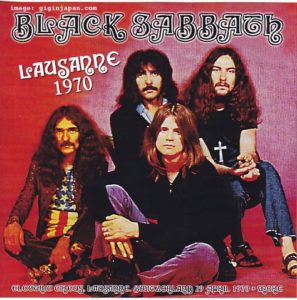 needed some time to decompress, meditate and think about all the havoc they'd wreak the next day on soft-spoken teens just trying to get through a day and get home to watch Mork & Mindy reruns. And for that, the band gives you "Planet Caravan." I can count on one hand the number of times I've ingested an illegal drug, but this song makes me think I should do it more often. Its "wow, man, far out" lyrics are sung through distorted effects, and Butler's McCartney-esque bass line bounces along behind them. Iommi plays a jazzy, angular solo and subtle piano chords play in the distance. It's a welcome break in an otherwise pounding album.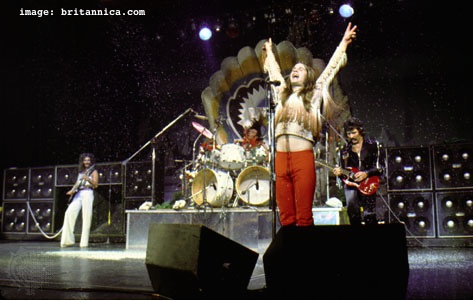 I have mixed feelings about The Treads. On the one hand, they caused me a significant amount of anxiety, creating the worst sense of fear a person can have: the fear of violence visited upon you simply for being yourself. On the other hand, they were clearly kids who were reflecting and diverting the shit they were receiving at home onto anyone and everyone to whom they could distribute it. There's not much more to be said about them, except I hope they got the help they needed. And I hope they're still listening to Black Sabbath. Maybe, like me, they learned a lesson from the band that's applicable to many parts of life, even the Treads themselves, even dorky Village People fans, too: things that seem dark and scary can actually have a lot more facets than we first realize.
Track Listing:
"War Pigs/Luke's Wall"
"Paranoid"
"Planet Caravan"
"Iron Man"
"Electric Funeral"
"Hand of Doom"
"Rat Salad"
"Jack the Stripper/Fairies Wear Boots"