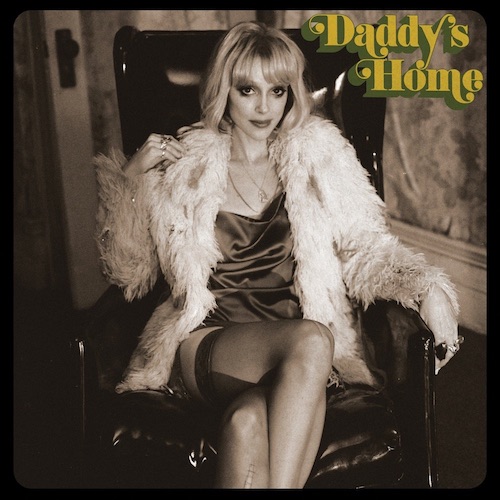 Daddy's Home
2021, Loma Vista. Producers: Annie Clark & Jack Antonoff
(3 minute read)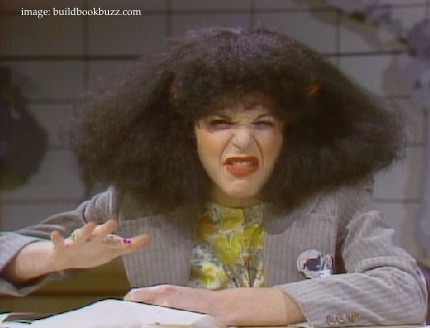 Saturday Night Live was on my childhood TV viewing schedule long before I was old enough to understand it. I know I watched the famed "Mardi Gras episode," from February, 1977[ref]I remember being especially excited that Henry "The Fonz" Winkler was a guest, and disappointed that he was on for just a few minutes.[/ref], and, seeing as it aired at 8:30 pm instead of 11:30, it could have been my entree into the show. I was in fourth grade then, around the same time I discovered Monty Python's Flying Circus on PBS. This means the inappropriate-comedy-for-nine-year-olds time frame checks out[ref]One of the first episodes of Monty Python I watched briefly flashed a woman's bare breasts, and I was so relieved to see my parents had fallen asleep on the couch and hadn't noticed![/ref]. An early episode of SNL featured Art Garfunkel as a "battered, masturbating husband." Even though I didn't know what that meant, I figured it was something interesting when my mom immediately ordered me to bed. By fifth grade I was wearing a Rosanne Rosannadanna t-shirt to school.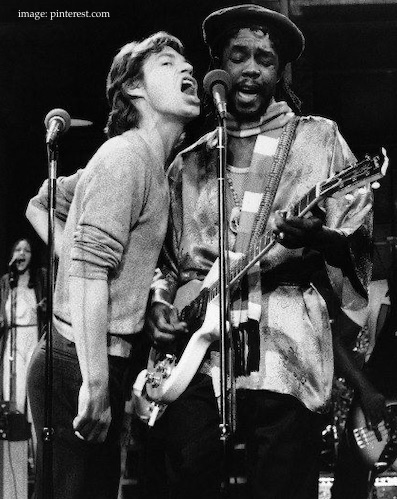 I watched the show for all the comedy I didn't understand. But I also loved the music on the show, too. Saturday Night Live famously has a musical guest that performs live[ref]Ashlee Simpson notwithstanding.[/ref] each week, and I saw some weird, cool stuff. It's where I first saw Devo, who became a favorite of mine in middle school. I saw The Talking Heads, who seemed even weirder than Devo, for some reason. I saw Peter Tosh and Mick Jagger, neither of whom I really knew at the time. (I'm sure I had heard of The Rolling Stones, but I didn't know band members' names.)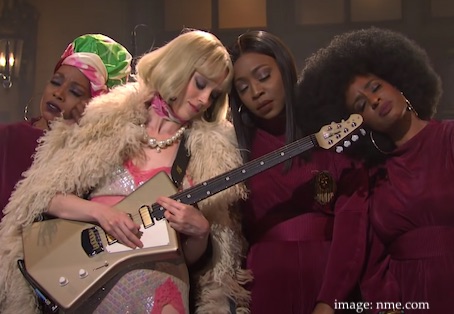 It's true that the comedy on SNL hasn't been consistent over the years. And as an early-adapter, I'm always prone to state that "the show's gone downhill ever since Bill Murray's first season!" However, even the great early years had some stinker skits. And the new seasons can still be pretty hilarious. My wife and I have been watching a lot recently, since we got YouTube TV and no longer have to stay up 'til 1 am to watch. (Yeah, I know. VCRs have been around for 40 years, TiVo for 20. But whatever.) And the musical guests are often really good. A case in point is the recent show featuring St. Vincent as musical guest. She was great. Both songs. When her new record, Daddy's Home, was released a few weeks later, I listened right away. It's a good one.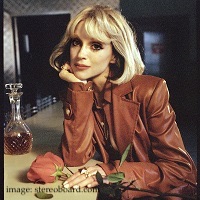 St. Vincent is the name used by one-woman-band Annie Clark, a great guitarist and all-around musical genius. Daddy's Home is her 6th record, and the title refers to her father's release from prison after serving time for fraud. The album is rather mellow, but it really reveals itself in multiple listenings. It's got great sounds, and lots of cool guitar work. What it lacks in rock it makes up for with groove and style.
The first song, "Pay Your Way in Pain," may be the best. It's got a slinky groove, and Clark's vocals, describing the tribulations of the everyday, twist around it, supported by great backing vocalists Lynne Fiddmont and Kenya Hathaway. "Down and Out Downtown," and ode of sorts, to NYC, has a sultry swing, with a lilting "I was flying" hook and chorus, and psychedelic-sounding guitars. "Daddy's Home" is an organ-based splash of slow funk about her father's return from prison. Clark's impressive guitar work is buried for much of the record, but the final two minutes of the lush, Pink Floyd-y "Live in the Dream" feature a terrific solo.
Speaking of Pink Floyd, "The Melting of the Sun" references them on another slinking, dripping groove. Much has been written about Daddy's Home being a salute to 70s Glam Rock. Frankly, I don't hear it. To me it sounds more like mellow 70s R&B. "The Laughing Man," a great headphone song, slows things down to a dreamy crawl while Clark describes depression. My favorite song on the record is "Down," which opens with a groovy, dirty organ. Clark's voice oozes around taps and clicks and guitar scratches, while the backing singers work their magic. It's an angry breakup song, and it's excellent.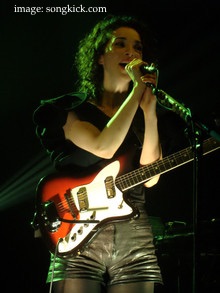 "Somebody Like Me" is another favorite of mine, with its lilting acoustic guitar and gently driving drums. It also has some sweet pedal steel guitar. I really don't like "My Baby Wants a Baby," which repurposes the mind-numbing Sheena Easton track "Morning Train." As much as I respect St. Vincent, she can't do it -the song still bites. (But nice try!) "…At the Holiday Party" has a flowing groove, and really shows off Clark's singing on lyrics about a past romance. It also incorporates great horns on top of fine guitar and bass work. Finishing up the record is "Candy Darling," a sultry number about a lost love.
It's a great record that improves with each listen. I could use a few more rockin' numbers, but I can't deny that it's got a lot to offer. I'll keep watching SNL to see what other new music I may find!
TRACK LISTING:
"Pay Your Way in Pain"
"Down and Out Downtown"
"Daddy's Home"
"Live in the Dream"
"The Melting of the Sun"
"Humming – Interlude 1"
"The Laughing Man"
"Down"
"Humming – Interlude 2"
"Somebody Like Me"
"My Baby Wants a Baby
"…At the Holiday Party"
"Candy Darling"
"Humming – Interlude 3"