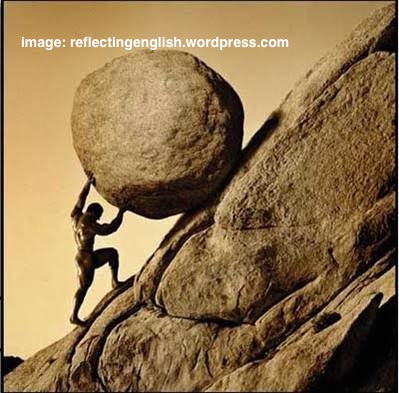 Now that I've listed my favorite albums, from 100 to 51, it's time for me to stop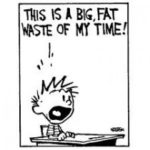 and consider just how much time I've actually wasted on a project that few will read and even fewer will care about. While considering how ridiculous this project has been, it's also useful to compound my negative feelings by recognizing that the length of time it's taken me to complete the rollout of the list has rendered it inaccurate, as well. You see, I have a static list in a dynamic world.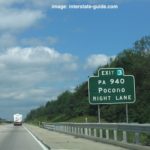 Way back in the last millennium, the exits on Pennsylvania highways were numbered from 1 to X, with X being however many exits a highway happened to have[ref]This arrangement was found in all states, and some still cling to this system. However, change is coming.[/ref]. This seemed like a reasonable arrangement at the time the highways were being planned and developed, however – like Phlogiston or Spontaneous Generation – a little more thought on the subject revealed what a bad idea it was.

You see, if exits are numbered sequentially there is no way to easily add new exits. You could call a new exit between, say, Exit Numbers 7 and 8, "Exit 8," and then renumber all subsequent Exits accordingly. However, this will give new numbers to Exits 8 through X, and will require lots of road sign changes[ref]Not only will the Exit Signs themselves have to change, but all the little "Hospital: Exit 8" type signs will also be rendered incorrect.[/ref]. But more importantly, it will confuse the shit out of motorists who used to know that Aunt Judy lived off Exit 26, but now she's off 27. And next year, when the new Exit 19 opens, she'll be off Exit 28!!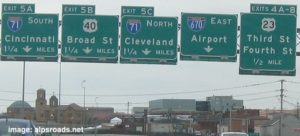 The alternative – and the path DOTs have used – is to add letters. The old Exit 7 is now Exit 7A! And the new exit is Exit 7B! This isn't as bad as changing all the Exit Numbers, but you'll still have to replace a bunch of signs[ref]Not to mention Billboards.[/ref]. And it isn't as clear to motorists as simply having numbers. For example … "I just passed Exit 7B, so I guess 7C is next? SHIT!! I just drove past Exit 8 because Exit 7C doesn't exist!"
The easiest Exit numbering scheme for motorists, for signage, and for everyone involved is to have unchanging numbers, and the only way to ensure that is to number the exits by mileage. The mileage won't change, unless some state does something crazy, like burrow an underground Mobius strip of highway into the earth. (Here is a list
of states dumb enough to do something like that. Actually, there are plenty of others.)
So, back in about 2000, the Pennsylvania Department of Transportation (PennDOT) decided to renumber the exits of its 1250 miles of state highways. I recall many Pennsylvanians were unhappy with the new arrangement, quick to assign the renumbering to nefarious liberals or crooked politicians. (I'll never again be shocked by the low mental aptitude of collective Pennsylvanians.) However, nearly 20 years later, the system seems to be working fine, and new projects don't have as big of an effect on the entire system.
This talk of Exit Numbering is relevant to my list because – much like highway Exit numbers of the 20th century – I can't add new albums to my list without affecting the entire list. In the time it's taken for me to post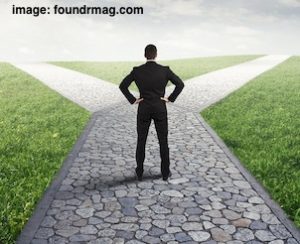 these first 50 records, I've heard some records that I might like better than some that are already on my list!!! HOWEVER – it's the nature of my list, which was compiled beginning some 4 years ago (it is now February, 2017), that it can't be amended without throwing things truly out of whack. Albums 100 – 51 have all been revealed, so if I add albums to my list, I now either have to bump a top-50 record completely off the list[ref]And what if a new record is really only about my 90th favorite record? It doesn't seem fair to exchange it for a Top 50 album. But if I re-do #90, what do I do with existing Albums 90-100?[/ref] or shoe-horn more than 100 records into it by calling something "49a" or "Bonus Album!" Neither situation appeals to me.
So, I've decided to have an "INTERMISSION UPDATE" and list a few albums that I've bought over the past 5 years (or in one case, an album I'd somehow overlooked) that – were I to do this project again – might (I say MIGHT) crack the Top 100 and bump a few others off the list. So here they are, in no particular order, except for the order in which I remembered them.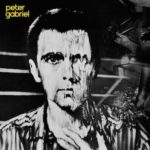 Peter Gabriel – Peter Gabriel aka 3; aka Melt. (1980). This has been a favorite record of mine since high school, but somehow I overlooked it when I listened to all my albums. Would likely be top-50 – I love Gabriel's voice and style. Cool guitar from Robert Fripp, David Rhodes, Dave Gregory and Paul Weller; cool drums from Phil Collins[ref]Whose drumming has always been as excellent as the rest of his shtick has been annoying.[/ref]; and terrific, diverse sounds and styles. It's got "Games Without Frontiers," "I Don't Remember," "No Self Control," and my favorite: "Biko."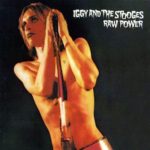 Iggy and the Stooges – Raw Power. (1973). I was really late to the party on Iggy Pop, pushed in the last couple years to listen by a friend who claimed that if I loved The New York Dolls, I'd love the Stooges. He was absolutely correct. Iggy's Punk/Morrison hybrid vocals on top of driving, fun and aggressive songs with great guitar work by James Williamson. Includes "Your Pretty Face is Going to Hell," "I Need Somebody," "Shake Appeal," and the classic "Search and Destroy."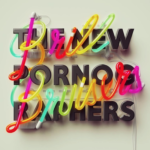 New Pornographers – Brill Bruisers. (2014). I'd been hearing about The New Pornographers for several years, but I'd had the impression they were sort of a bunch of weenies. But when this album came out I randomly happened to see them on David Letterman, and I rushed out and got the album! It's dance-y and pop-y, but sorta punk-y and guitar-y … and lavish-y, too. Songs include "Dancehall Domine," "War on the East Coast," "Champions of Red Wine," and my favorite "Born With a Sound."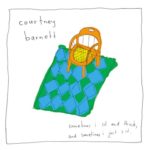 Courtney Barnett – Sometimes I Sit and Think and Sometimes I Just Sit. (2015). I was at a party and two friends were talking about this excellent new record that "everyone [was] talking about." The host put it on, and I began talking about it, too! Courtney Barnett has it all. Poppy punk, cool lyrics, great guitar and attitude from this Aussie artist! Includes "Elevator Operator," "Dead Fox," the epic, bluesy "Small Poppies," and my favorite "Nobody Really Cares if you Don't Go to the Party."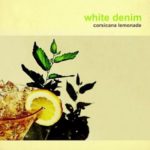 White Denim – Corsicana Lemonade. (2013). I happened to catch a set by these guys at the 2014 Boston Calling Festival. Their dual-guitar, classic-rock sound immediately won me over. Bandleader James Petralli is a virtuoso guitarist, and he hires other virtuosos to play with him. They pack a lot of guitar into their songs, and continue to impress me. Includes "At Night in Dreams," "Let It Feel Good (My Eagles)," "Cheer Up/Blues Ending" and my favorite, "Come Back."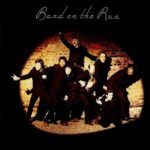 Paul McCartney and Wings – Band on the Run. (1973). It's hard to believe, as much as I like The Beatles, I only got this album in the last few years. I've had lots of Lennon, but not much Paul in my collection. My kids both loved the title song as youngsters, and they didn't even know that Paul played bass, lead guitar, keyboards and drums (!!) on the whole album!! Probably a Top-50 record if I started the list today. Includes "Let Me Roll It," "Nineteen Hundred and Eighty-Five," "Helen Wheels," and my favorite, "Jet."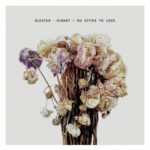 Sleater-Kinney – No Cities to Love. (2015). I was one of the many happy people in 2015 excited by news that Sleater-Kinney was reuniting for a new album. We weren't disappointed, even though it's a relatively short 32 minutes. Corin Tucker's screech is as cool as ever, the dual guitars are cool and interesting, and the drumming is sharp. It's a reminder of how great a band they are. Includes "Price Tag," "No Cities To Love," "Bury Our Friends," and my favorite "A New Wave."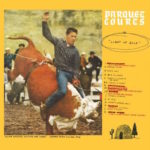 Parquet Courts – Light Up Gold. (2012) This album is one that my friends told me was an immediate classic. I wasn't so sure, and for some reason I resisted. Then I saw them live, and they were so powerful and fun and kind of weird, really, that I bought the record. It immediately became a favorite. Short fast songs, singing that's sort of not singing, angular guitars, energy … I love it. "Tears O Plenty," "Stoned and Starving," "Careers in Combat," and my favorite "Master of my Craft."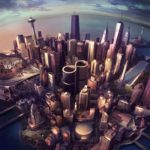 Foo Fighters – Sonic Highways. (2014). This soundtrack to Dave Grohl's HBO series of the same name was released to rather middling reviews, but I've liked it a lot from day 1! (I'm not afraid to love the albums others hate!) I think there's a lot of power and energy, cool guitars, and at a quick 8 songs, much of the fat has been removed. Includes "Something From Nothing," "What Did I Do?/God as my Witness," "Subterranean," and my favorite, "Congregation."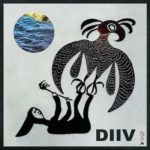 DIIV – Oshin. (2012). I've been a subscriber to Sirius/XM for almost 10 years now, having been lured by my enthusiasm for Howard Stern, and it was on the XMU channel, featuring new indie rock, that I originally heard the band DIIV (pronounced "Dive.") As an early MTV adopter, I'm a fan of the sort of 80s-ish, dreamy, alternative sounds, and these guys fit the bill. Ringing guitars, tribal drums, a bit of synth. Includes "How Long Have You Known?," "Druun (part 2)," "Follow," and my favorite, "Doused."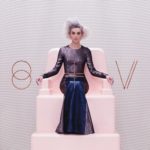 St. Vincent – St. Vincent. (2014). I'd heard St. Vincent's name for a while, but I really took notice when she performed with Nirvana at their Rock and Roll Hall of Fame induction. I listened to her album thinking it would be grungy, but it wasn't – but I loved it! It's got interesting sounds, cool beats, great guitar … I only bought the record in the past few months – so I haven't listened a ton – but it's already possibly-list-worthy. Includes "Bring Me Your Loves," "Prince Johnny," "Psychopath," and my favorite "Rattlesnake."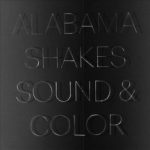 Alabama Shakes – Sound & Color. (2015). I am happy to say I was in on the ground floor on Alabama Shakes, my sister having called specifically to say "You have to hear this song!" when their first single was released. I saw them in concert, and singer/guitarist Brittany Howard and the band really impressed. This sophomore effort expanded their sound, deepened the soul and kept the dual guitars I so love! Includes the soulful "Gimme All Your Love," "Shoegaze," "Miss You," and my favorite, the hit "Don't Wanna Fight."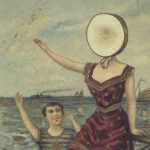 Neutral Milk Hotel – In the Aeroplane Over the Sea. (1998). I often have an impulse to reject art that is widely acclaimed, particularly when it's acclaimed by jerks at a snooty SF record store. I ignored this album for more than 15 years, but I saw them reunite at 2014's Boston Calling, and they were so good I had to get this record! Folky, smart, beautifully arranged (including a saw!) and moving[ref]It is rumored to be about Anne Frank, although hermit-like leader Jeff Mangum has never confirmed it.[/ref]. Includes "Holland, 1945," "In the Aeroplane Over the Sea," "Ghost," and my favorite, "King of Carrot Flowers, part 1."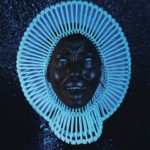 Childish Gambino – Awaken, My Love! (2016).This album is probably too new, and still-too-rarely-listened-to, to earn a spot here, but whenever I do listen, I love it! A friend texted to say it's "like Parliament/Funkadelic," and it's definitely got that 70s funk vibe! I always thought Childish Gambino was sort of a Weird Al Yankovic of hip-hop, but my teenagers set me straight. Includes "Redbone," "California," "Me and Your Mama," and my favorite, "Boogieman."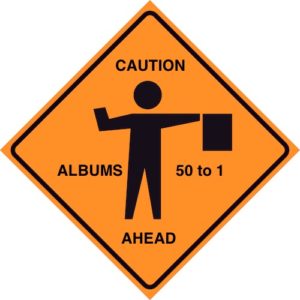 So, there you have it! A few possible new Exits on my Highway of Favorite Albums. I still have 50 more albums to reveal, which – unless something very unlikely happens – should take about three years, I guess. I'm sure I'll have new Exits to build after I reach Number 1, so I'll have another intermission.
Or MAYBE I'll listen to all my albums AGAIN, and start a NEW list!!! What's another ten years, right?