"Freedom! '90", from the 1990 George Michael album Listen Without Prejudice, Vol. 1.
It's amazing how direct George Michael was in these lyrics.
*Note – I'm not even going to try to rank songs. I just plan to periodically write a little bit about some songs that I like.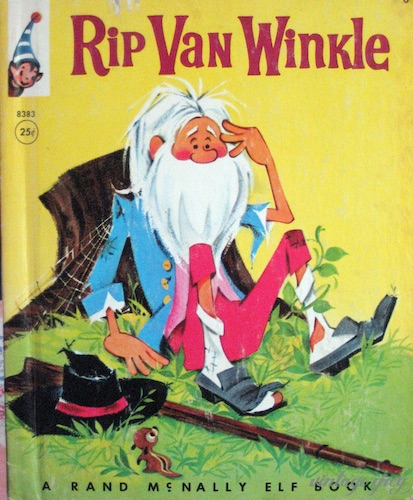 Back in 1990, if you'd time-traveled from today to tell me about it, I'd say, "You're lying. You're telling me 2020 America has a rotten, infantile grifter in charge, and, having botched its response to a pandemic, is now stripped of all its global prestige, influence and esteem, and on the precipice of a fraudulent fascist takeover by a tiny minority of white people who just 5 years ago thought tyranny was a national exercise program for kids[ref]The program was headed by a Black woman, so I guess it's understandable those particular white people disliked it.[/ref]?" But even more unbelievable to the 1990, 23-year-old me would be the fact that George Michael's "Freedom! '90" is now a favorite 'oldie' of mine.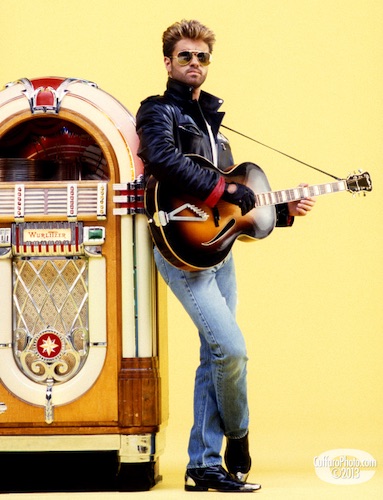 By October, 1990, George Michael was truly a pop music titan. His 5-year run on the pop charts had already produced nine American Number 1 Hits and fourteen total Top Ten Hits with both the UK act Wham![ref]"Wake Me Up Before You Go-Go," "Careless Whisper," "Freedom," (reached #3) "Everything She Wants," "I'm Your Man," (#3) and "The Edge of Heaven" (#10). Wham!'s now-standard Xmas tune "Last Christmas" charted at Number 11.[/ref] and as a solo artist[ref]"I Knew You Were Waiting" (with Aretha Franklin), "A Different Corner," "I Want Your Sex," (#2) "Faith," "Father Figure," "One More Try," "Monkey," "Kissing a Fool," (#5) and "Praying for Time".[/ref]. All but one of those songs were written and produced by him, an impressive feat by any measure.
And despite all of his success, I could not express to you the magnitude of the fuck I did not give. (That's a line from the amazing comedian DJ Hazard.) I was not interested in Top 40 music. I was in many ways at war with it, and I actively, aggressively, disliked any non-guitar, non-rockin' music[ref]I did, however, kind of like the song "Faith," as it had a catchy melody and bass line, and cool guitar sounds not too dissimilar from a contemporaneous Van Halen number …[/ref].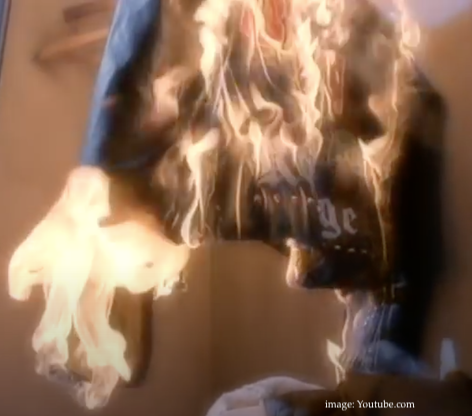 As for Michael, I knew he was super-successful, but I hadn't been paying attention. What I gleaned about this next smash record, "Freedom! '90," from watching MTV (and just being part of the US culture) was that this song was a kind of rebuke. It was supposed to express his weariness with a wretched music industry and the demands of worldwide fame. The video famously featured his iconic Faith-era accoutrements – leather jacket, Gretsch guitar, and fancy jukebox – being lit on fire and blown to bits. He, apparently, was shockingly biting the hand that had fed him, gnawing it off, even, and had no fucks left to give.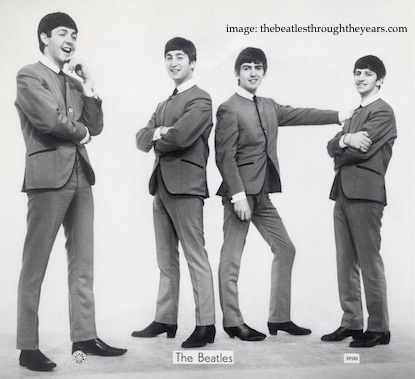 "Oh, puh-leeze," I thought. "Waa-waa-waa." Perhaps because of my lower-middle-class upbringing, I'm skeptical of any such complaints from wealthy folks. Upon hearing the song and watching the video in 1990, I thought, "Nobody is this upset about success. This song is bullshit." Totally catchy, sure, and a non-guitar song that I sort of liked, but bullshit. I knew all artists grow, and change, and sure, even The Beatles came to find their early mop-top years rather embarrassing. But they weren't setting their collarless suits ablaze[ref]Although I could probably make the case they sort of did (metaphorically) in their solo years, but that's for another post.[/ref].
Still, I've always found the song catchy. About 15 years ago I heard it in the car and paid attention to the words, and I realized I was right all those years ago. To my ears, the song isn't really a condemnation of showbiz hollowness and selling out. It's partly about that, but given George Michael's life story I think "Freedom! '90" is a coming-out anthem from a closeted gay man.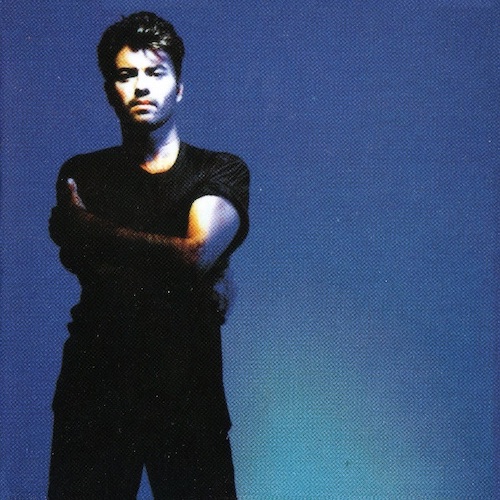 Musically, it's a funky groove that lifts the oft-sampled "Funky Drummer" drums from James Brown and puts them beneath a syncopated piano reminiscent of 60s Motown. Michael's voice enters softly on a slice of the chorus, and he immediately tries to set both the listener ("I won't let you down …") and himself ("Gotta have some faith in the sound") at ease. He reveals the despair that living a phony persona has brought him: he now thinks the sound is "the one good thing that I got." He begs the listener not to abandon him: "Please don't give me up/ … I would really love to stick around."
If you've come out, or maybe especially if you're closeted, I imagine the fear presented in this opening is familiar. "What will all the folks I've known think of me when they know?" If you've had friends or loved-ones come out, you probably recognize it, too. And if, like me, your own homophobia was thawed and evaporated by the experience, you may remember feeling a bit confused, even ashamed, as you realize this new fact has absolutely no bearing on your relationship with the other person. Throughout the song, this idea that nothing's changed – despite everything changing – is drilled home.
As the song builds, those opening words are developed and become the refrain. Look, listener, he's not who you think he is, okay? But he won't let you down! Trust his sound – it worked on those 14 Top Ten hits the past 5 years, right? He doesn't belong to you, and you don't belong to him. He only wants the freedom (Freedom! Freedom!) to be himself, so why should that change your love for his music? The bridge (at 4:30; "Well it looks like the road to heaven …") sums things up beautifully. It ends with a powerful "Sometimes the clothes DO NOT make the man!" and the lyrics that started as a bashful suggestion become a forceful insistence. He's no longer asking your permission with those words, he's telling you it's how it's going to be. It's a pretty stunning feat, lyrically and musically. As the song fades he announces, "May not be what you want from me/ Just the way it's got to be."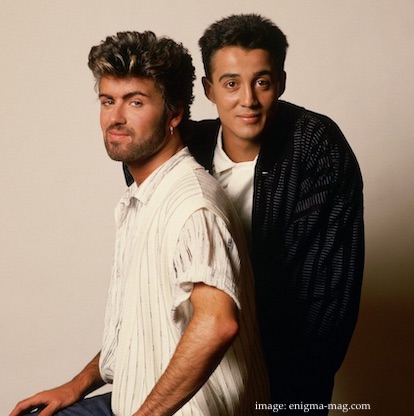 The verses are great, too, a typical story of chasing a dream and making compromises along the way. He gives a nice shout-out to luckiest-man-alive-candidate Andrew Ridgeley ("what a kick, just my buddy and me"), his childhood friend and Wham! bandmate who smiled charmingly and wore cool clothes and wisely sat back and let his talented mate take over[ref]Today, Ridgeley looks like the CEO of a British pharmaceutical company.[/ref]. (Too bad John Fogerty's bandmates in Creedence Clearwater Revival didn't have his example back in the 70s.) Plus Michael acknowledges that it was all a lot of fun! He was living the dream and loving it ("we were living in a fantasy/ we won the race, got out of the place"). But over time it got old, and now he realizes what he really wants is happiness. He doesn't want to pretend to be someone he's not, and that doesn't seem like an audacious request.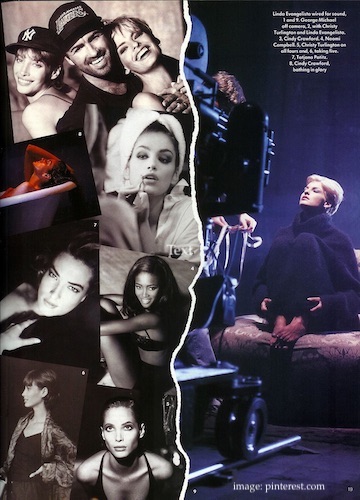 The music remains funky throughout, and Michael himself plays that bouncing bass line. During the bridge there's a nifty wah-wah guitar from ace session man Phil Palmer. And I'd be remiss if I didn't take a second to mention the video. As a heterosexual young man in 1990, it's the reason I listened to the song so often even though I wasn't a big fan. Seeing supermodels Naomi Campbell, Cindy Crawford, Cristy Turlington, Linda Evangelista and Tatjana Patitz poutily lip-synch the song was not unenjoyable.
But you know, maybe I'm wrong about all this. Maybe the song really is as it was originally described. The early '90s were an era when people were more skittish about sexuality. Maybe "Freedom! '90" is simply about Michael dealing with fame and the music industry. Maybe he wasn't coming out. After all, he didn't come out publicly until 8 years later, when an arrest for a lewd act in Beverly Hills sort of forced him.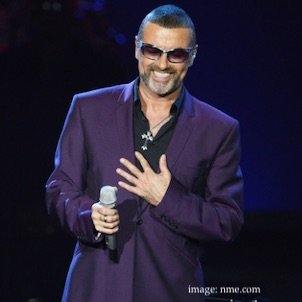 But to me it all adds up and makes sense. I'm a 53 year old man that never had to worry about coming out, but I still can relate to the idea of staying true to myself. "Freedom! '90," and the meaning I see in it, really resonates with me. It's a song that caused my entire estimation of George Michael to rise. I still strongly prefer guitar rock to dance pop, but the song is a favorite of mine. Sadly, George Michael died in 2016 from an enlarged heart and fatty liver after years of struggling with addiction. He was 53 years old.