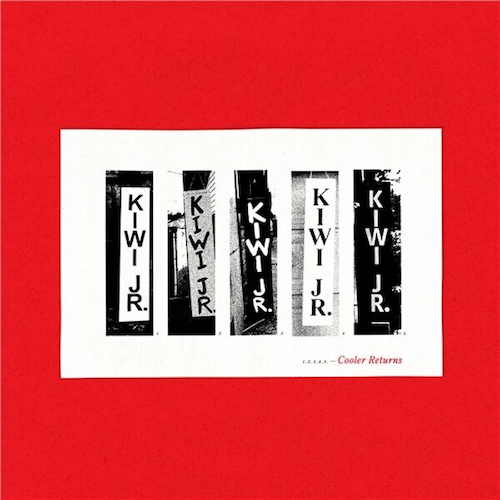 Cooler Returns, by Kiwi Jr.
2021, Sub Pop Records. Producer: Kiwi Jr.
(2 minute read)
The song "Undecided Voters," from Kiwi Jr., popped up in my Spotify feed recently, and, sadly, I'm now familiar with the creepy feeling of having a computer understand my personality and tastes, so I didn't even think twice. I just heard the song, loved it, and thought, "I gotta hear more of this!"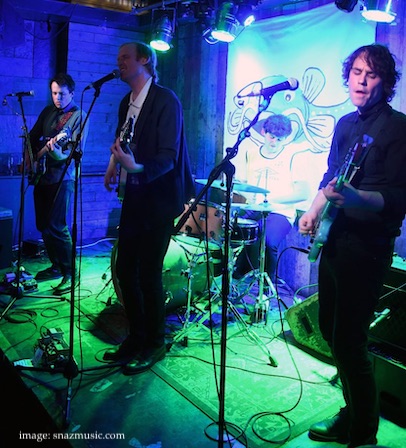 Cooler Returns, from the Canadian quartet, sounds like a cross of some of my favorite old and not-so-old bands. I hear some Modern Lovers in the deadpan vocal delivery of front man Jeremy Gaudet, and the double guitars of Gaudet and Brian Murphy, with the propulsive rhythm section of bassist Mike Walker and drummer Brohan Moore, call to mind Parquet Courts. Their loose sound and quirky style give them a Pavement vibe, as well. Cooler Returns puts those sounds I like to great use in songs that are catchy, fun and invite repeated listening.
Opening track "Tyler" starts in a singer/songwriter vibe, then introduces jangly guitars and rangey bass as Gaudet speak/sings about some strange events. But the closing song, "Waiting In Line," might be the best example of what the band's doing.
Throughout, the lyrics on Cooler Returns are obscure stories told by an outside observer, in a vein of Steely Dan or Belly. "Maid Marian's Toast" demonstrates the band's facility with melody, and introduces some harmonica. The songs are all catchy and interesting. "Only Here for a Haircut" is a swaying feast of slide guitar and backing vocals. "Guilty Party" is my favorite song on the record. It's a bit of a rave-up, with a catchy riff and nice vocal harmonies. The title track is a Strokes-esque piece, but a bit less arch.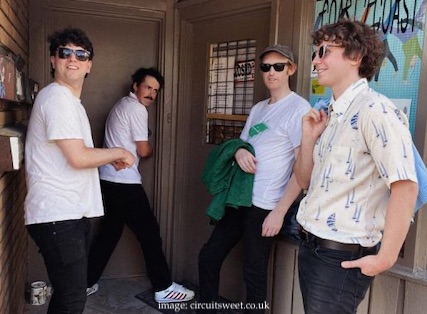 The songs are generally under 3 minutes, and the spare nature allows for interesting additions, like the instrumentation (is that an accordion?) and multiple sections in "Omaha." The song "Nashville Wedding" is a jangle-fest with lyrics expressing a desire to "strangle the jangle pop band." "Dodger," in which Jack the Ripper plays "Daytripper" on the bari sax, is a simple, fun number chugging along to a circular riff, before introducing a few new patterns.
The guitars on the record are cool, bouncing off each other playfully, and the vocals and melody are strong, with nice harmonies. The songs are often supported by piano and keyboards to fill out the song. It's a record I recommend to anyone with a taste for jangly, clever, tuneful bands.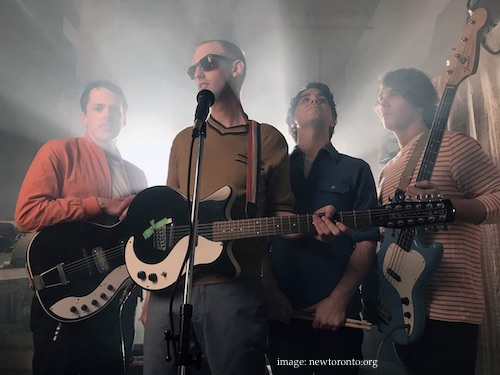 TRACK LISTING:
"Tyler"
"Undecided Voters"
"Maid Marian's Toast"
"Highlights of 100"
"Only Here For a Haircut"
"Cooler Returns"
"Guilty Party"
"Omaha"
"Domino"
"Nashville Wedding"
"Dodger"
"Norma Jean's Jacket"
"Waiting In Line"