[twitter-follow username="100favealbums" scheme="dark"]
Two Shoes. The Cat Empire.
2007 (USA), Virgin/Velour Recordings. Producer: Jerry Boys, Felix Riebl, The Cat Empire.
Purchased, 2007.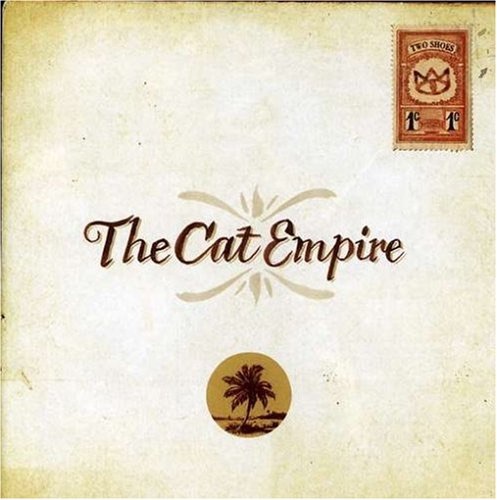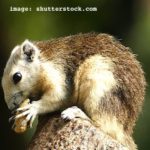 IN A NUTSHELL: Is it ska? Is it jazz? Is it world music? Whatever it is, it doesn't have a guitar – but I still can't get enough of their joyous party sound! The Australian band features co-lead singers in mellow Felix Riebl and frantic Harry James Angus, and together with a tight-as-a-drum rhythm section and DJ the band bounces from style-to-style, always inviting the listener in to have a good time.
NOTE: The setup – below the line ↓ – might be the best part … Or skip right to the album discussion.
~~~~~~~~~~~~~~~~~~~~~~~~~~~~~~~~~~~~~~~~~~~~~~~~~
When I was a kid, I thought The Golden Rule was the most important standard for humans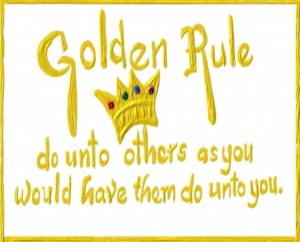 to follow. I attended a Methodist Church when I was little, and church (Sunday School, more precisely) is where I first learned about it[ref]I'm sure my mom referenced it from before I was even born, but Sunday School is where I remember making the religious connection.[/ref]. "Do unto others as you would have them do unto you." Sometimes for kids (or just normal people who are like, "Why all the fancy language in all these old religious books?") it's stated as "Treat others the way you want to be treated."
I heard about it in my own church, but it's a common tenet of most religions (often called "The Ethic of Reciprocity") and has been around forever. In the Christian faith, it appears as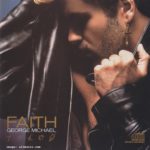 part of Jesus's famous "Sermon on the Mount," which is sort of like His version of George Michael's Faith album: it's not a true "Greatest Hits" collection, but most of the stuff you remember from Him is in it. But regardless of where you heard The Golden Rule, and who first started the idea, it's definitely a good way to get folks to consider those around them and to work on being less selfish.
I held onto the belief in the supremacy of the Golden Rule into my twenties, when – while working as a chemist at an aspirin factory – my buddy Weenie Bill laughed at me for saying it was the most important rule.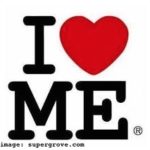 When I asked why he laughed, he said he thought I was joking, then explained that he believed it was far more important to treat people the way THEY would like to be treated, not the way YOU would like to be treated. The Golden Rule was actually selfish, he said, unnecessarily putting yourself into the equation. "What does it even matter how you want to be treated?" he asked. Weenie Bill's Golden Rule would state: Do unto others as they would like you to do unto them. More plainly: Treat others the way they want to be treated.
It turns out Weenie Bill isn't the only one who ever found the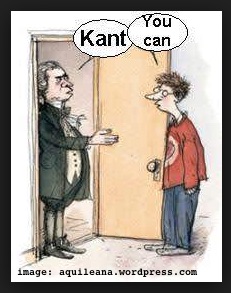 Golden Rule problematic[ref]While it is problematic, some view that problem as self-correcting, and therefore not a problem, rendering the Golden Rule identical to Weenie Bill's Golden Rule. However, it's only self-correcting if those applying the correction are aware of it.[/ref]. Way back in the 1700's the philosopher Immanuel Kant wrote about his problem with it[ref]Which, if I understand properly (which is a 50/50 proposition), is not that the other person may not like what you like, but instead that you BOTH might be wrong about what to do.[/ref]. Next, well, there were a bunch of other critiques, and then, during World War II, Karl Popper suggested, in his book The Open Society and Its Enemies, what has come to be known as "The Platinum Rule," or Weenie Bill's Golden Rule, in which the other person's desires are placed before one's own[ref]By the way, these philosophical matters get increasingly complex the further they are dissected. And if you read a few threads in a philosophy message board or two, you may find yourself agreeing with yourself while strongly disagreeing with yourself over the same point made three different ways. Which is all to say that I prefer philosophers with an "S" in their name.[/ref]. Of course, Weenie Bill's Golden Rule (WBGR) has problems of its own (e.g. if you'd like me to whack you in the face with a meat cleaver, I'm going to politely decline), but it is a guidance by which I've tried to live. I try to treat you the way you'd like to be treated.
The difference between The Golden Rule and The Platinum Rule is similar to the difference between being "nice" and being "kind," a distinction I became very aware of when my kids reached school-age and they realized there'd be all kinds of misfits, assholes and dorks they'd have to interact with in life. When they complained about kids, my first instinct was to encourage them to "be nice." However, this advice seemed superficial, an invitation to duplicity; akin to "say something positive to them, but when they're gone say and do anything you like." However,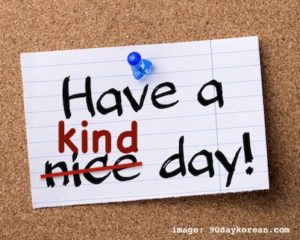 if I encouraged them to "be kind," it implied that one's responsibility to others didn't end when they were out of sight. I felt like it encouraged respect for others, not simply an absence of hostility. When you are "nice," the focus is on yourself and your actions. When you are "kind," others get the spotlight.
One might assume that to abide by WBGR I'd have to divine all the intricacies of others' beliefs and feelings; to delve and prod into strangers' personal lives; to set aside all aspects of my own morality to be able to meet everyone else's pleasures and demands. However, it's not as impossible as all that. The first step, really – and perhaps the only step necessary – is to understand that others have perspectives and experiences that are as valid as your own. Everyone in the world says, "yes, yes, of course I know that!" But it actually IS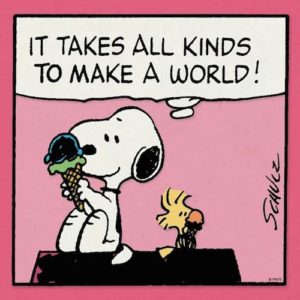 a bit of work to set one's self aside and listen to another's perspective. "Stop complaining!" is often my first thought when confronted with another's point of view. "We all have problems."
In the moment, that work of setting one's self aside is tough. However, on my own I can do such things as read books and articles about people different from me. I can watch movies that aren't my usual type. I can attempt to move outside my comfort zone in social situations and talk to as many folks as I can. I can listen to others and resist my first impulse to scoff[ref]While reserving the right to scoff if the impulse continues.[/ref], something that becomes easier to do the more I broaden my experiences. I suppose such activities would be derided as "politically correct." (A term I find humorous, even ridiculous. I have yet to figure out how I've built any political capital by trying to enhance my kindness.) But I just chuckle at the notion, and try to understand the perspective of someone who finds kindness such a chore.
One of the byproducts of this effort to continue to live by the WBGR (which remains challenging and elusive, even after 25 years of living it) is that I'll often look at aspects of my life and consider them in the context of the larger world. This is why, when I looked at the 60 albums already on my list in preparation for Album #40, I said to myself, "Wow! Not a whole lot of diversity in that group!" Sure, Jimi Hendrix is black,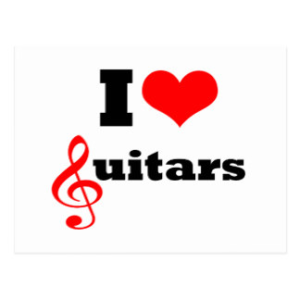 and Sleater-Kinney are women, but this doesn't make my list very diverse. Both are guitar-based acts, and my list is mainly white guys with guitars. But while these observations can spur me to seek out new (to me) artists or styles, I can't pretend to like what I don't like. The fact is that if you're not guitar-based rock, you'll have a tough time cracking my list regardless of your ethnicity or gender. Johnny Cash, Pizzicato Five, Randy Newman, Fiona Apple, Cornershop … Other than these five acts, my list has been super-extra guitar-rock-heavy.
And now let me add to the "different" list Two Shoes, by Australia's The Cat Empire. They're a band that doesn't even include a guitar!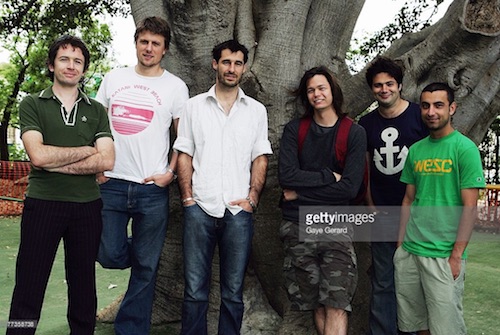 I can remember exactly where I was when I first heard a song by the band. In 2007 I was riding in my car, probably taking a kid somewhere, not two blocks from my house, when the don't-call-it-an-oldies-station-cuz-they-mix-in-new-tracks-among-the-80s-songs Radio Station played a bouncing, horn-fueled, dance-insistent song that stayed in my head the rest of the day. I looked up the song the minute I got home and ordered the CD on Amazon. That song, which was a Top-40 hit in their native country, was called "Sly."
It opens with a simple, killer electric piano riff, thumping drums and a trumpet fanfare that introduces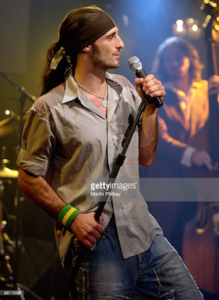 singer Felix Riebl's fast-tongued yet self-possessed style. When the band shouts "Show us the money!!" at about 0:25 it's clear that this is a fun group looking to show us a good time, and they succeed impressively. The lyrics are standard "I saw a beautiful woman" fare, with terrific dance-step allusions thrown in. At about 0:52 the full Cat Empire sound is introduced when Harry James Angus's trumpet blows a counter melody, continuing to build the fun. After a quick breakdown at 1:03, the main melody re-enters, the band shows their jazz roots on an Ollie McGill piano solo about 2:00. Then it's just a joyous celebration to the end. Whenever I hear this song I get a big smile. It's fun and infectious, a sonic party[ref]The band pulls it off live, too, as I can attest, having seen them live several times in the past decade. As evidence, here they are on David Letterman back in the day.[/ref].
Indeed, The Cat Empire is a fun time, party band, and they're proud to announce it on the song "Party Started," which features another key aspect of the band's music: dual lead singers, with both Riebl and Angus taking turns.
The band incorporates a multitude of musical styles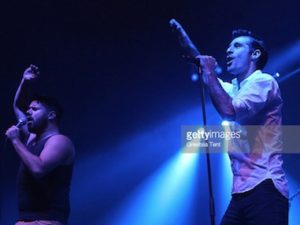 into their sound, and on this song they include hip-hop, with scratching from the band's DJ, Jamshid "DJ Jumps" Khadiwhala, and a sort-of rap from Angus. The lyrics are clever and require multiple listenings to catch all the funny lines about the fun parties the band throws, and at about 3 minutes the horns come in to help deliver a false ending (and I always love a false ending).
The two singers have distinct styles, with Felix Riebl's voice deeper and melodic, while Harry James Angus sounds frantic and more out of control. But he's an exceptional vocalist – his live scat breakdowns are brilliant – as evidenced on "Saltwater."
It almost sounds like a novelty song from the 40s, a bit Spike Jones-y. But it turns into a fun ska song – with terrific scatting from Angus about 1:45 – about crying over a lost love. But at about 3:00, another common Cat Empire trick is pulled, in which the style of a song shifts in an instant. In this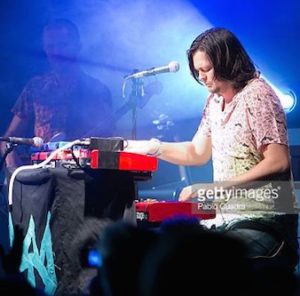 case the swinging ska becomes a smoky lounge vamp.
The band has its roots as a jazz act, so these switches feel organic, never forced. The band shows off their chops on songs like the Latin-jazz "Sol y Sombra," where the players – particularly pianist McGill – solo over a fine salsa groove. The Latin style is heard on the title track, "Two Shoes," as well. And given the album was recorded in Cuba, with some Cuban horn players, it makes sense that their jazzy ska would show the influence of the island's sounds. Riebl and Angus blend well on a song full of creative internal rhymes about dancing your troubles away.
Those island sounds are also on full display on the terrific "In My Pocket."
Angus has a unique voice, but it fits the band well[ref]When they play live, while Angus sings, Riebl plays hand drums and other percussion.[/ref]. It also fits the cool, nonsensical lyrics, as well.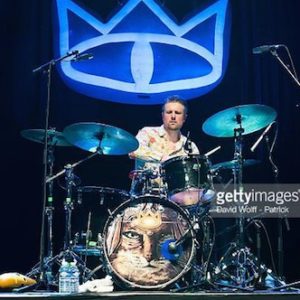 Drummer Will Hull-Brown is a master of all styles and rhythms, and introduces the chorus (about 1:18) with a terrific flurry. It's a song that makes my feet want to move – especially as it builds through the 4:00 section to the final chorus.
Angus's trumpet takes center stage on one of my favorite Riebl songs, "Lullaby." It starts slowly but picks things up by the 28 second mark, DJ Jumps making his presence felt once again.
It takes the "Sly" blueprint, slows it down a bit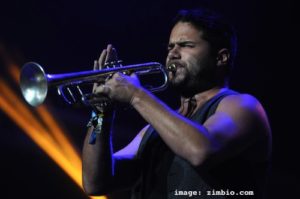 to more of a groove, but leaves Riebl's fast-talk rapping about a lady he loves in place. At 3:20, Angus plays a trumpet solo that makes me wish more contemporary artists used a trumpet. He's a very talented guy, a multi-instrumentalist and leader of a 1930s-style traditional jazz band in Australia.
He's also the writer, and singer, of the band's funniest song, an uptempo reflection on lost potential and life perspective, "The Car Song."
It's a 60's soul song, as close to straight-ahead rock as these guitar-less wonders get.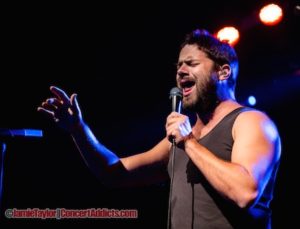 And songs about high school, lost opportunities and long-held dreams are always favorites of mine, so I hold it closely in my heart! The chorus (about 1:15) sounds like classic Motown, with a sing-along "someday!" and fun "Woo-hoos." At 3:00 it breaks into a section of solo trade-offs from turntable, piano, drums, and fuzz bass before the exultant final chorus comes around again. (There's a funny video for the song that I didn't post as the main video because it's a shortened version of the album track. But I think it's a great video.)
They're a wonderful band, with a terrific message of love and peace within their bouncing rhythms. "Protons, Neutrons, Electrons" uses a Tin Pan Alley style to espouse the idea of letting go.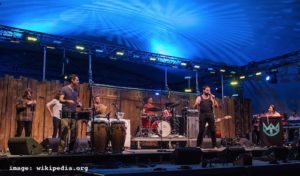 Even their serious songs are fun. "The Chariot" demonstrates the band's weapons of peace: its instruments. It's a history of the band, and posits a world where love can triumph over hatred. It's packed with a fiery ska beat, irrepressible dance rhythms, Riebl's charming rap/sing and Angus's blaring trumpet, and it's one of my favorites.
The record ends with "The Night That Never Ends," another multi-part, multi-style gem, and the perfect album closer.
It's begins as a sultry lounge song, then turns to a quiet lullaby.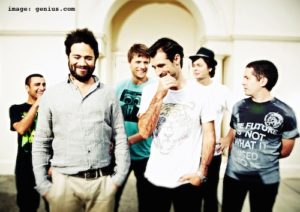 Riebl and Angus harmonize, either on voice or on voice and trumpet. It's another ode to fun and partying, and begins to build at about 3:00, then at 3:30 becomes a wild klezmer song like you'd hear at a Jewish wedding reception. It's a song that invites everyone everywhere to come and join the fun.
And The Cat Empire is a band that invites everyone to come join the fun. (I highly, highly recommend seeing them live!) Their blend of styles and sounds from around the world, all of shaped by dancing and joyfulness, never sounds old or unexciting. They're reaching out to everyone by understanding, and incorporating, the "other" around them. They'll do unto you what YOU want to do – because you want to have a good time, right? That's so kind of them.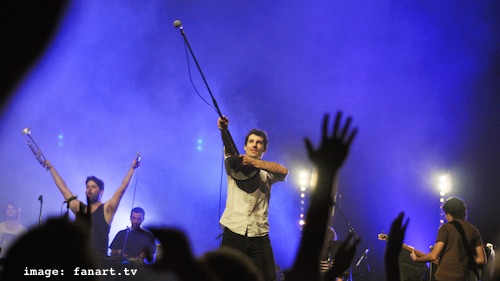 Track Listing
"Sly"
"In My Pocket"
"Lullaby"
"The Car Song"
"Two Shoes"
"The Chariot"
"Sol y Sombra"
"Party Started"
"Protons, Neutrons, Electrons"
"Saltwater"
"The Night That Never Ends"